SEVEN ICEHOGS INVITED TO BLACKHAWKS DEVELOPMENT CAMP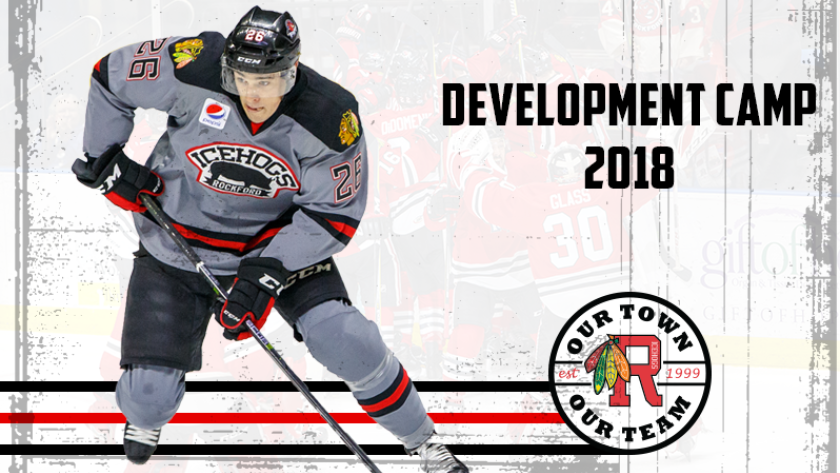 CHICAGO – The Chicago Blackhawks today announced the invitees to their 2018 Development Camp at MB Ice Arena in Chicago from Monday, July 16 – Friday, Jul 20. Of the 41 total players scheduled to report to camp, seven skated with the IceHogs during 2017-18 in forwards Radovan Bondra, Alexandre Fortin, Mathias From, Kyle Maksimovich and Nathan Noel, and defensemen Dennis Gilbert and Joni Tuulola.
On-ice sessions will begin on Monday, July 16, and will run from approximately 1 – 5 p.m. at MB Ice Arena. Practices will be conducted Monday through Thursday and the group will hold one scrimmage on Friday beginning at approximately 9:30 a.m.
Bondra, 21, skated with the IceHogs during the 2016-17 season before being sidelined through the majority of the 2017-18 campaign with an upper-body injury. The Trebisov, Slovakia native scored one goal in 11 ECHL games with the Fuel last season, and has combined for 93 points (47g, 46a) with 68 PIMs in 121 career games in the Western Hockey League (WHL) from 2015-18.
Fortin, 21, made his professional debut with the IceHogs on Oct. 7 at Cleveland and tallied three points (3a) over his first two AHL contests. He posted three multi-point efforts during the 2017-18 regular season, and logged a total of 21 points (4g, 17a) with 92 shots on goal in 53 appearances prior to the playoffs. The Blainville, Quebec native then skated in the IceHogs' first game of the Calder Cup playoffs on March 21 against the Chicago Wolves.
From, 20, skated in both the top level of the Swedish Hockey League (SHL) and the Swedish second league (Allsvenskan) during the 2017-18 season. He logged five points (2g, 3a) and six penalty minutes in 21 games with Rogle BK in the SHL, and combined for five points (2g, 3a) and 10 PIMs in 23 contests in the Swedish second league between Södertälje SK and AIK during the regular season. The Frederikshavn, Denmark native then signed a PTO with the IceHogs on April 5 and skated with Rockford's Black Aces squad throughout the team's playoff run to the Western Conference Finals.
Maksimovich, 20, concluded his fourth consecutive season with the OHL's Erie Otters in 2017-18, serving as the team's captain and ranking first among Erie skaters with 31 goals in 65 games. The Hamilton, Ontario native signed an ATO with the IceHogs on March 18, made his pro debut on March 23 vs. Milwaukee and collected four shots and two penalty minutes in four total AHL contests with Rockford.
Noel, 21, split the 2017-18 campaign between the ECHL's Indy Fuel and IceHogs. He began the year with the Fuel, tallying 11 points (4g, 7a) in 21 ECHL contests, before scoring one goal and collecting 18 penalty minutes in 17 AHL games with Rockford. The St. John's, Newfoundland native made his AHL debut on Feb. 13 vs. Cleveland and netted his lone goal as the game-winning tally in a 4-3 win over San Antonio on Feb. 18 at the BMO Harris Bank Center.
Gilbert, 21, completed his junior season at the University of Notre Dame in 2017-18, where he scored 10 points (4g, 6a) in 39 games. The Buffalo, New York native capped his three-year college career with 42 points (6g, 36a) in 116 career contests prior to signing an ATO with the IceHogs on April 14. Gilbert, who was selected by the Blackhawks in 2015, skated in two practices with the IceHogs during the 2017-18 season.
Tuulola, 22, skated in his fifth consecutive season in the Finnish Elite League in 2017-18, appearing in all but one of Vaasan Sport's 59 games and establishing career-high marks with seven goals, 23 assists and 30 points. The Hämeenlinna, Finland native signed a PTO with the IceHogs on March 23 and suited up with Rockford in two games during the regular season. Tuulola made his AHL postseason debut in Game 3 of the Western Conference Finals against the Texas Stars, and combined for five shots on goal with two penalty minutes in his four total playoff games with the Hogs.
Season Tickets for 2018-19 on Sale Now:
Don't miss a moment of the action by reserving your seats for the IceHogs' 20th season of professional hockey in Rockford and 12th as the top AHL affiliate of the Chicago Blackhawks. The IceHogs' home opener is set for Oct. 13 and ticket packages begin as low as $105 for a seven-game mini pack. Please contact us at (815) 847-6399 or visit icehogs.com to claim your spots for this upcoming season.