SEVEN-GAME POINT STREAK HIGHLIGHTS WEEK 20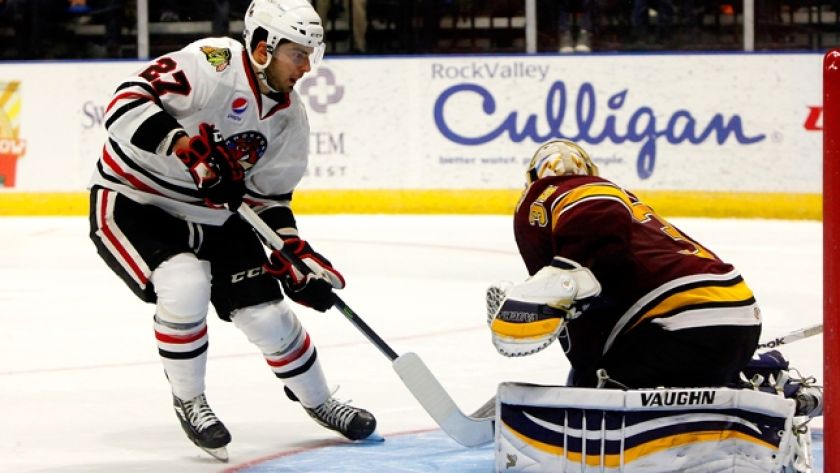 Another week without a regulation loss gives IceHogs third place in Midwest

Week 20 Recap:
After four days off for the AHL All-Star break, during which Brandon Pirri won the All-Star Game MVP, the IceHogs took on the Chicago Wolves Friday night at the BMO. Rockford held the lead with 3.5 seconds left before the Wolves tied it up and took the victory in a shootout. In the middle of a three-game weekend, the IceHogs headed to Iowa to take on the Wild. The hot scoring continued as Rockford took a 5-3 win on Saturday. To end the week, the IceHogs faced off against the Wild once again, pushing their point streak to seven games with their 4-2 win and sweeping the Wild on the weekend.


Week 20 Results
Friday, Feb. 14: Chicago 5 vs. Rockford 4 SO
Saturday, Feb. 15: Rockford 5 at Iowa 3
Sunday, Feb. 16: Rockford 4 at Iowa 2

Week 21 Schedule
Friday, Feb. 21, vs. Chicago, 7 p.m.
Saturday, Feb. 22, vs. Milwaukee, 7 p.m.

Bacon Bits:
-Rockford has earned a point in a season-high seven straight games (6-0-0-1)
-During the seven game hot stretch Rockford has scored 34 goals, an average of 4.25 goals per game
-Rockford has scored goals in six straight third periods, outscoring their opposition 12-5 during that stretch
-After losing 11 straight road games in the Midwest Division, Rockford has won three straight contests on the road against the division
-Winger Jeremy Morin is riding a seven-game point streak and has totaled 6g-7a-13pts dating back to 2/1/14
-Forward Brandon Pirri is on a point streak of his own, accumulating points (4g-2a) in four straight games and goals in three of those four tilts
-Winger Pierre-Marc Bouchard has points in three of the four games with Rockford, notching 1g-6a-7pts, with all the points coming against the Iowa Wild
-Defenseman Klas Dahlbeck has recorded a plus/minus rating of +11 over his past seven games and now leads Rockford with a +17 rating
-During that seven game span, Dahlbeck has 1g-5a-6pts
-Goalie Jason LaBarbera has won four straight games, matching an IceHogs season high dating back to 2/4/14
-During that four-game stretch, LaBarbera has a 3.21 goals against average and an .898 save percentage
-LaBarbera has won six of the last seven games dating back to 1/26/14

Hot Hog: Week 20
Left Wing, Jeremy Morin
Once again Rockford's offense kept rolling in Week 20 and it was led by Jeremy Morin who continued his career-best point streak, now up to seven straight games. The fourth year pro began the week with a goal and two assists in the IceHogs 5-4 shootout loss to Chicago on Friday night. On Saturday, Morin dished out two assists, including on Adam Clendening's game winning tally, to help the IceHogs take a 5-3 win in Des Moines against the Wild. The Auburn, New York native closed out the week with his team leading 17th goal of the season on Sunday as the Hogs swept the Wild with a 4-2 victory. Over his seven game hot streak, Morin has accumulated 6g-7a and the IceHogs are 6-0-0-1 during that span.

Upcoming Games: Week 21
Friday, Feb. 21 vs. Chicago Wolves: Game time is set for 7 p.m. For the second straight Friday, the IceHogs take on their Midwest Division rival Chicago Wolves. The first 2,500 fans to the BMO will receive a water bottle courtesy of Rock Valley Culligan.

Saturday, Feb. 22 vs. Milwaukee Admirals: Opening face-off will be at 7 p.m. In their fifth of six straight games against the Midwest Division, Rockford hosts the Milwaukee Admirals at the BMO Harris Bank Center. The first 1,500 fans to the BMO get a 15th Anniversary T-Shirt by Toyota.
Illinois Lottery Cup Series Standings
Teams Record Points
Chicago 3-2-0-1 8
Rockford 2-2-0-2 6

Upcoming Illinois Lottery Cup Games:
Feb. 21: Chicago at Rockford, 7 p.m.
Mar. 21: Rockford at Chicago, 7:30 p.m.
Mar. 22: Chicago at Rockford, 7 p.m.
Mar. 30: Chicago at Rockford, 7 p.m.