SEE THE ICEHOGS IN THE COMMUNITY NEXT WEEK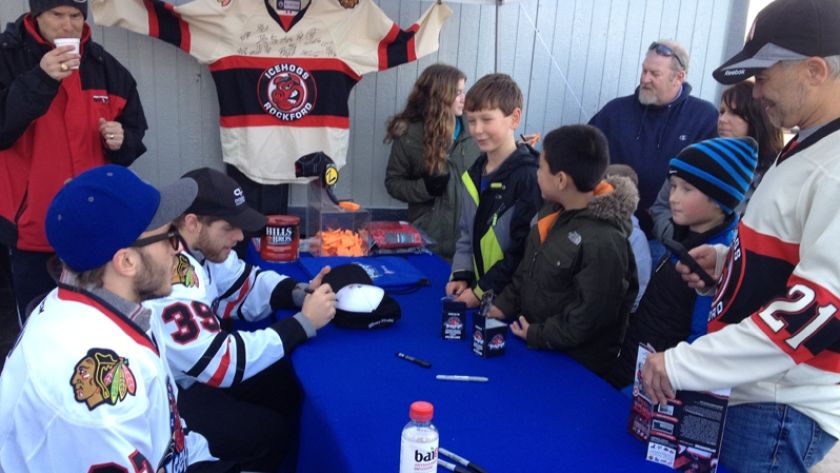 Rockford, Ill. – The Rockford IceHogs ring in the new year with several community events slated for the beginning of January. From Anti-Bullying to Celebrity Serving, join your favorite players next week as they contribute to charitable efforts around the Rockford community.
Monday, Jan. 9 – Anti-Bullying Seminar – (UIC Health Services College of Medicine) - Join P.C. Labrie and Kyle Baun at the UIC Health Services College of Medicine from 6-7 p.m. as they speak out against bullying at the Anti-Bullying Seminar. Learn how you can make a difference and take the pledge with Labrie and Baun to put an end to bullying.
Tuesday, Jan. 10 – Outdoor Practice – (Riverside Ice Arena) - The IceHogs will be teaming up with the Belvidere Park District to hold their annual outdoor practice at Riverside Ice Arena. The event will start at 6 p.m. and fans are invited to stick around for a brief autograph session. The event is free to attend, come out and enjoy an evening of hockey with the IceHogs.
Wednesday, Jan. 11 – Veteran Item Drive – (Old Chicago) - Join the IceHogs from 6-7 p.m. at Old Chicago Pizza and Taproom for an Item Drive benefitting the Veteran Drop-In Center. The event will include giveaways from local businesses and an auction for an IceHogs team signed hockey stick will be available to bid on. Suggested items to donate include paper goods, non-perishable goods and gently used clothes.
Thursday, Jan. 12 – Celebrity Serving – (Blueline) - Several IceHogs players will be on hand as celebrity servers at Blueline Sports Pub from 6-7:30 p.m. Proceeds from the event will go to the IceHogs Charitable Foundation. Guests must be 21 years or older to attend the event.
The IceHogs also host six home games in January, including an opportunity for fans to Skate with the Hogs following the contest against the Chicago Wolves on Sunday, Jan. 8. To find more IceHogs in the community, visit IceHogs.com.
Next Home Game: Sunday, January 8 vs. Chicago Wolves: Game time is 4 p.m. at the BMO Harris Bank Center. The first 2,500 fans to enter the arena will receive a copy of the 2016-17 IceHogs team card set, compliments of the Rockford Register Star. The Major League Baseball's Commissioner's trophy, presented to the 2016 World Series Champion Chicago Cubs, will also be at the game on the BMO Harris Bank Center concourse. After the game, fans have the opportunity to participate in Skate with the Hogs on the BMO Harris Bank Center ice. Fans are required to bring their own skates as there are no rentals available.