SECOND ROUND HOME DATES RELEASED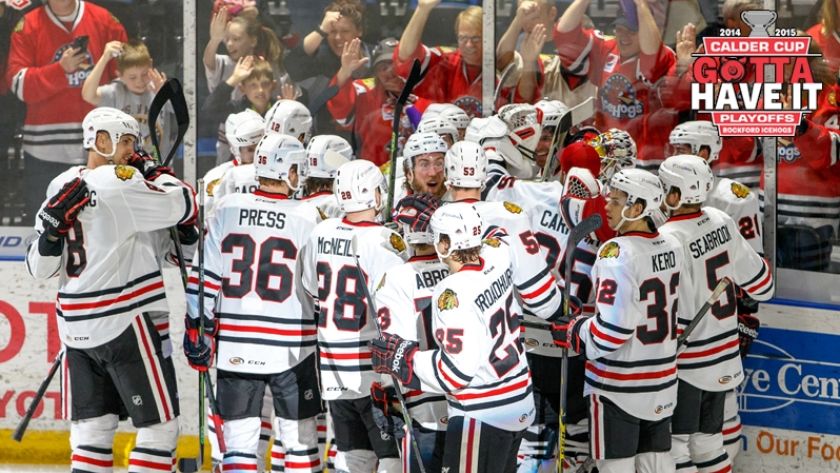 Rockford, Ill. – While the Rockford IceHogs still wait for an opponent and a full schedule in the Western Conference Semifinals, the team has announced two home dates for the second round of the 2015 Calder Cup Playoffs.

As confirmed with the American Hockey League, the IceHogs will play at least two second round games at the BMO Harris Bank Center on the following dates:

Wednesday, May 13, 7 p.m. at BMO Harris Bank Center (Home Game D)
Thursday, May 14, 7 p.m. at BMO Harris Bank Center (Home Game E)

Tickets for the playoffs are being sold at any Ticketmaster outlet, including the BMO Harris Bank Center Box Office, online through IceHogs.com or by phone at (815) 968-5222.

As the IceHogs continue their quest for the Calder Cup, fans can enjoy all the exciting action by purchasing a Playoff 10-pack. The package includes 10 vouchers that can be used for any games in the second and third round with a savings of $5-8 per ticket. Any unused vouchers will be applied to a ticket plan for the 2015-16 regular season.

For the rest of the 2015 Calder Cup Playoffs, including the second round, the format switches to a best-of-seven series. The IceHogs opponent and complete series schedule will be announced at a later date.

Each home game throughout the Hogs' postseason run will feature a Pre-Game Block Party presented by Swedish American Hospital. The festivities, which include inflatable bounce houses for kids, live music and food and drink specials, will begin at 4 p.m. for each game and are located outside the BMO on Elm and Main St.