SECOND PERIOD WOES SINK ICEHOGS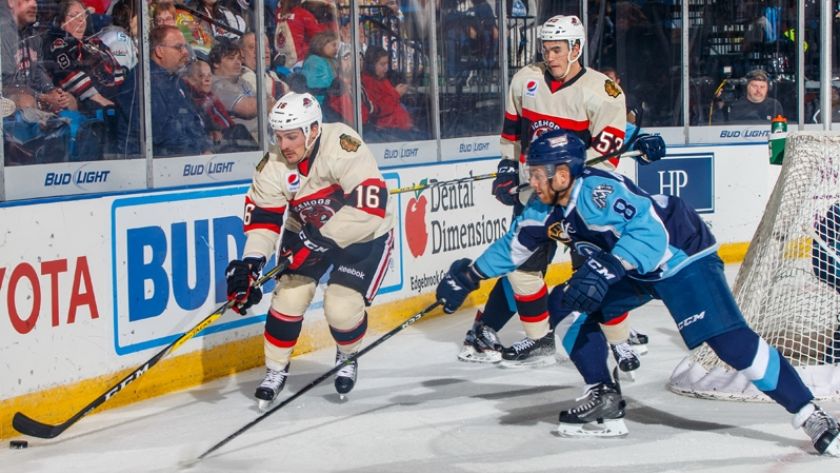 Rockford, Ill. – The Rockford IceHogs (4-4-0-0) skated to a 2-2 first period tie on Sunday afternoon, but a four-goal explosion by the Milwaukee Admirals (4-2-0-1) in the second frame led to a 7-3 victory for the visiting squad.

With the score knotted up at 2-2 to enter the middle period, Milwaukee needed just 25 seconds to take the lead. Vladislav Kamenev found the back of the net with a drive to get past Lars Johansson, advancing the Admirals to a 3-2 lead over Rockford.

Trevor Smith doubled the lead with a strike from behind the goal line at 8:33. After Smith raced in a breakaway, he snapped a shot that was stopped by Johansson. He quickly controlled the rebound and bounced the puck off the Rockford netminder for his second goal of the year.

Matt White notched his second goal of the night when he finished off a rebound in front of the net to push the Milwuakee lead to 5-2 over Rockford at 13:56.

Spencer Abbott cut into the deficit when a deflected pass from the left wing ended up sailing past Jusse Saros. However, less than a minute later Milwaukee struck right back with a goal by Vladislav Kamenev and the Admirals took the three goal advantage going into the final frame.

Milwaukee got going early and got on the board just 4:21 into the match up with a goal from Matt White, as he finished off a pass from Kamenev. Just 1:03 later, Mark McNeill notched his second of the year with a one-timer on the power play to even the score at 1-1.

Martin Lundberg gave the IceHogs a brief lead when he struck for a 4-on-4 goal after taking a pass from Jake Dowell, but the Admirals scored just 32 seconds later on a blast from Pontus Aberg to knot the score at 2-2, setting the stage for Milwaukee's big second frame.

The IceHogs increased the pressure to start the third with a series of scoring chances, including a slapper by Erik Gustafsson that just caught the glove of Saros. The final frame proved to be much more physical between the two teams as tempers flared between Viktor Svedberg and Adam Payerl, resulting in each player taking a seat in the box.

With 1:31 left, former IceHog Mike Liambas scored an empty netter to seal the 7-3 final score. The Admirals ended the contest with a total of 40 minutes in penalties, while the IceHogs finished with 28 PIM.

Next Home Game: Sat., Nov. 12 at 7 p.m. IceHogs will host the Charlotte Checkers for the first time of the 2016-17 season after playing in their home turf in back-to-back contests the week prior. Doors open at 6 p.m., tickets can be purchased at icehogs.com.