SEASON RECAP: LATTA BATTLES HIS WAY TO LEADERSHIP ROLE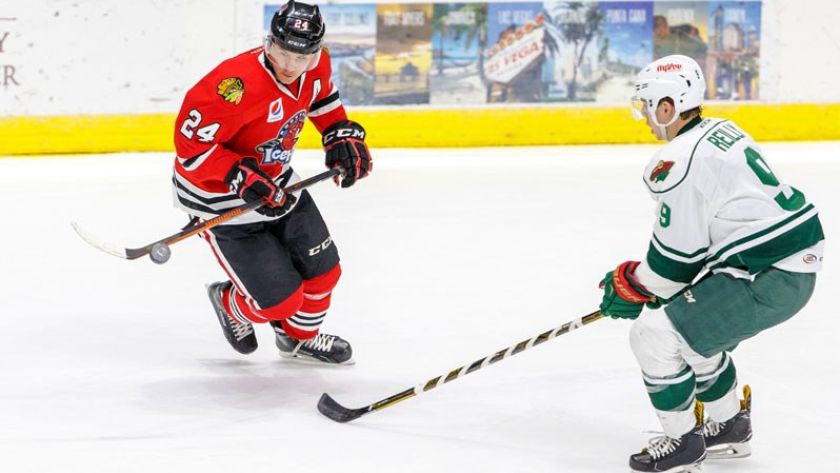 Rockford, Ill. – A new addition to the Rockford IceHogs Roster this past January, Michael Latta effortlessly joined the crew after playing for five teams over the past six seasons.
Latta was originally drafted by the Nashville Predators where he played for their AHL affiliate, the Milwaukee Admirals, for three seasons. During the 2012-13 season he was suddenly traded to the Washington Capitals.
After performing with the Capitals for three campaigns he was picked up by the Los Angeles Kings and played with their AHL affiliate, the Ontario Reign, for the start of the 2016-17 season. Midway through the year, he was traded to Rockford and the Chicago Blackhawks.
"It's tough (being traded), but I mean I've done it before, it's not my first time," said Latta. "There's a really good staff here (Rockford) and really good people here that made it a lot easier, but I was really thankful to come here."
Latta quickly found success in Rockford, notching an assist in his first game in an IceHogs sweater. Through 20 games played in Rockford, he accumulated nine points (1G-8A), and his swift success and high experience level put him in a leadership role on and off the ice.
"I'm not that old but I got a lot of experience, I just finished my sixth year pro, and it's been fun," Latta said. "Good group of guys here, younger team, so it's been fun just coming in, not teaching, just hanging with the guys and being a part of the crew."
The way he conducted himself on the ice and earned the trust of his teammates in the room awarded him one of the alternate captain spots in order to rally the IceHogs through a tough 2016-17 season. That role was not taken lightly by Latta.
"It's always an honor to represent an organization like this that's got some time to it," said Latta. "(You earn) a lot of respect from the guys and that's the biggest thing where the guys respect you."
Latta was brought in to help lead the Hogs, along with veteran leaders such as Captain Jake Dowell and alternate captains Brandon Mashinter and Pierre-Cedric Labrie. Being the new kid on the block, he was leading as well as learning from his veteran teammates.
"I've learned a lot from them too, they're older guys, they've been through a lot, and they are a very good leadership group," Latta said. "I learned a lot from them watching them and just being a part of it."
One way Latta brought the energy to the team is through fighting, but with the new AHL rules he may have to change his ways. Players who acquire 10 fighting majors over the regular season are punished with a one-game suspension. For every fighting major over 10, until 13, they are given an addition one-game suspension for each. After 13, each fighting major will result in a two-game suspension.
"There's a lot of rules that we don't make but you have to deal with them," said Latta. "It takes away from the game a little bit, but it is what it is."
Due to receiving his 10th fighting major in the last game of the 2016-17 season (against Hunter Warner of the Iowa Wild), Latta will be suspended for the first AHL game of the 2017-18 campaign. Latta is currently a free agent as of the conclusion of the 2016-17 season.
Season Tickets for 2017-18 on Sale Now: Don't miss a moment of the action by reserving your seats for the IceHogs 19th season of professional hockey and 11th as the top AHL affiliate of the Chicago Blackhawks. Opening night is Oct. 14 and ticket packages begin as low as $105 for a seven-game mini pack. Please contact us at (815) 847-6399 or visit icehogs.com to claim your spots for this upcoming season.