SEABROOK FEELING RIGHT AT HOME IN ROCKFORD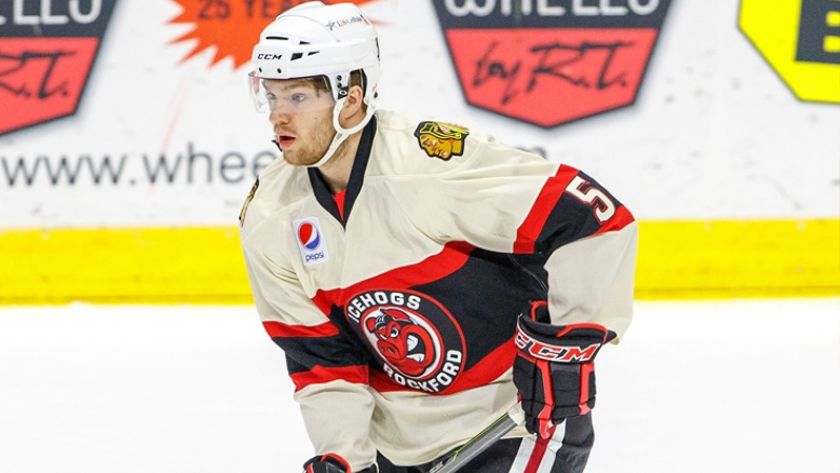 The latest twist in Keith Seabrook's wild hockey journey has been a welcomed one

It has become an annual occurrence for American Hockey League teams to open their doors to a few fresh faces every spring. With collegiate and junior seasons coming to a close, many of the new players across the league come to get their feet wet in the professional ranks via amateur tryout contracts. Others arrive under slightly different circumstances.

For defenseman Keith Seabrook, the road to the Rockford IceHogs featured stops in Stockton, Vancouver and Italy – and that is only tracing back to 2013. Acquired by the IceHogs from the Bridgeport Sound Tigers on March 4, Seabrook has made his long-awaited return to the AHL following a two-year absence; a period that has taken him to Europe and back, and even saw him step away from the game for a whole season.

But it is not easy to quit competitive hockey cold turkey, as Seabrook's hiatus turned out to be a brief one. After resurfacing with the ECHL's Stockton Thunder to begin this season, the 26-year-old from Delta, British Columbia now finds himself in Rockford. While his comeback brought him to a couple of new locales in California and northern Illinois, it gave him the chance to return to somewhere near and dear to him – the dressing room.

"I missed the boys, I missed the camaraderie, and the physical aspect of the game," said Seabrook. "After doing it since you were a young kid, you miss that physical challenge as soon as you don't have it in your life. It's nice to be back."

A Washington Capitals second-round (No. 52 overall) draft pick in 2006, Seabrook jumpstarted his career when two strong years with the Western Hockey League's Calgary Hitmen got the attention of Calgary's NHL residents. Seabrook made his pro debut in 2009-10 with the Abbotsford Heat, and went on to appear in 186 AHL games over the next three years, including stints with the Manitoba Moose and San Antonio Rampage.

But the NHL lockout in 2012-13 brought with it a speedbump, as Seabrook soon found himself en route to Bruneck, Italy.

"I had a very steep incline coming into my pro hockey years, and for whatever reason it tailed off a bit and I found myself over in Europe," explained Seabrook. "It wasn't really where I wanted to be – I wanted to be in North America. Obviously every kid's dream is to play in the NHL."

While he performed at a point-a-game pace with Val Pusteria HC in Italy's Serie A league, Seabrook's tenure overseas lasted only 18 games before he realized something wasn't right internally.

"I wasn't really ready to be over there. I had kind of lost that inherent joy for the game at that point," Seabrook said. "I thought that the best thing for me personally and mentally was to just take a step back and reevaluate things, and focus on something else going back home. I always knew in the back of my mind I was going to get back into hockey, I just didn't know how or in what fashion."

Seabrook sat out the 2013-14 season before the itch caught back up with him in April. He told his agent he wanted back in the game, and before long he was grinding to regain his playing shape. His summer was spent in Vancouver, on the ice and with his trainer - work that yielded a roster spot with Stockton the following October.

It didn't take long for him to get his legs back, and after 51 games played Seabrook led all Thunder defensemen with 27 points (7g-20a). But when the Chicago Blackhawks packaged two of their top affiliate's most-tenured blueliners in trade deadline deals, a new opportunity opened up for Seabrook.

"I was taking a pregame nap and I got a call from my coach in Stockton, so I thought 'Thank God, I'm going up to Bridgeport,'" Seabrook recalled. "But then he told me I was traded to Rockford, and I got excited. It was all a surprise to me."

After taking a weekend to get his bearings with his new IceHogs teammates, Seabrook was inserted into the lineup during a weekend road trip in Grand Rapids and Chicago on March 14-15, and hasn't left since. The departures of T.J. Brennan (to Toronto), Klas Dahlbeck (to Arizona) and Adam Clendening (to Vancouver) subtracted over 700 combined games of professional experience from Rockford's back end, putting increased pressure on rookie rearguards Stephen Johns, Ville Pokka and a host of young first-year pros to fill the gaps. With the green nature of the IceHogs defensive corps, Seabrook saw a chance to step in and provide some needed experience.

"It's nice to be able to come into a new team and be looked at right away to play a lot of minutes," Seabrook said. "The mission from my first day here was to gain the coaches' confidence defensively and go from there, so that's what I've been focusing on."

With the ever-evolving nature of Rockford's lineup, IceHogs Associate Coach Mark Osiecki admits that it is still too early to know exactly where his new defensive weapon fits in looking forward. But he knows that he brings something crucial to the table.

"I think [Seabrook's experience] is tremendously important, whether he's playing a ton of minutes, a few minutes, or not playing, it's really nice to have that veteran player in the locker room," Osiecki said. "It helps us immediately in the room and in practice, and obviously his play has helped us in the game. He's certainly put himself in a good spot to help us out."

Just as the soft-spoken Seabrook's history in the professional ranks and his maturity has been a great fit for Rockford's defense, Rockford has been a perfect fit for Seabrook. There was a noticeable buzz spanning from the Forest City to the Second City from the moment news of Seabrook's acquisition surfaced.
Photo by Todd Reicher

Most of this excitement, of course, comes from the fact that his sibling has already become a household name throughout the state of Illinois. Keith, three years the minor of Blackhawks all-star defenseman Brent Seabrook, has relished the chance to play just a short trip down I-90 from his brother.

"During my first couple of years as a pro [the IceHogs] were in our division so we played against them quite a bit. With everyone here being Blackhawks fans too, every time I came here there were Seabrook signs and jerseys, which was pretty cool to see," Seabrook said. "When I got traded here I did feel a sense of [coming] home. I was very fortunate to get to come here, I couldn't ask for anything better."

While throughout their respective careers the Seabrook brothers have always kept in touch, Seabrook admits that the reduced distance has – as redundant as it sounds – brought the two closer together than ever before. On off days he often tries to make the trip down to Chicago, taking every opportunity to catch up with Brent and to visit his nephew and sister-in-law.

"Yeah it's been really nice, our communication has definitely picked up since being here. [I've been around the Blackhawks] since I was 17 and Brent first came here, I would always visit during Christmas and stuff like that," Seabrook explained. "Now being part of the organization, it's pretty special for me."

Not far removed from when he made the decision to step away from hockey, Seabrook finds himself in a comfortable environment with an inner-passion freshly rejuvenated. As such, it is a lot easier for him to fully enjoy the latest task his hockey career has presented: helping the IceHogs earn their first playoff berth since 2010.

"That's what you want, that's what you dream of, coming in and playing on a great team like we have here that is going to make a great playoff run," Seabrook said. "It's a great situation to be in."