SAMUELSSON FINDING EARLY GROOVE WITH ICEHOGS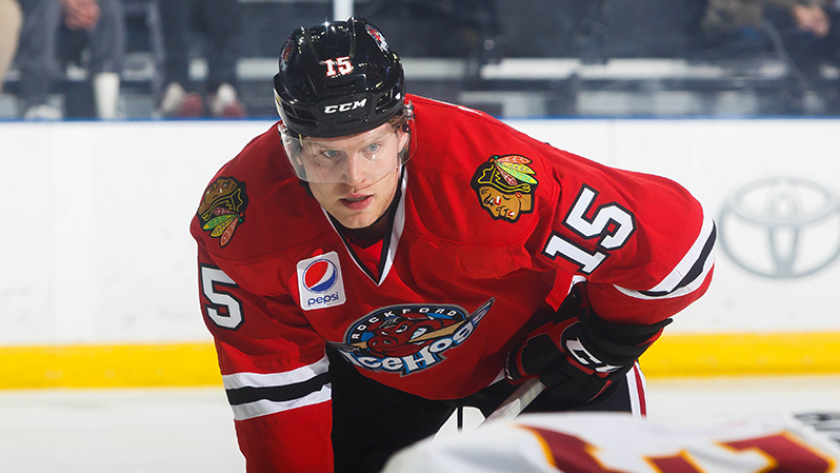 ROCKFORD, Ill. – After being drafted in the first round of the 2012 NHL Draft and struggling to crack the Arizona Coyotes' lineup, Henrik Samuelsson hit a crossroads in 2015-16 while playing with the Springfield Falcons – Arizona's American Hockey League affiliate at the time.
An ankle injury and subsequent surgical procedure saw his production stumble and Samuelsson found himself falling down the Coyotes' growing list of prospects.
"I was standing in front of the net when I took a puck to the stomach so I was kind of hunched over and not balanced," Samuelsson told Arizona Sports 98.7 in 2016, "I got pushed over and my foot got stuck in a rut. I heard a pop and went down and someone fell on top of it.
"There's tons of guys here that have tons of skill and are probably ahead of me on the prospects rankings. It's definitely stiff competition. I have to bring something that they don't," he added at the time.
Despite his efforts to work his way back up the depth chart in Arizona, Samuelsson's career eventually shifted from the AHL to the East Coast Hockey League at the start of the 2017-18 campaign.
It was in the ECHL that a refreshed and refocused Samuelsson rattled off 43 points in 49 games playing for the Idaho Steelheads – and his solid performance in Idaho did not go unnoticed, earning him a Professional Tryout Agreement with the AHL's Rockford IceHogs on Feb. 11.
"I had three games in Colorado (against the Eagles)…Saturday (Feb. 10), after our last game there – I had a pretty good game – my coach Neil Graham gave me a call and said that Rockford was going to reach out to me to see if I wanted to come up, and obviously I did. I'm pretty lucky to be here, and I'm just thankful for the opportunity," said Samuelsson.
Since joining the IceHogs, Samuelsson hasn't missed a beat. He scored in each of his three contests, and is developing an early chemistry with Rockford's leading scorer Matthew Highmore.
"It's nice to get in and score a goal right away. Highmore made a really nice play so I just had to get it up to score," Samuelsson said of his early success.
"(Highmore) is a really good player. He works hard and has lots of skill, so I'm happy to get to play with him. We clicked pretty well in our first few games, and I expect the chemistry to keep building throughout our games," he added.
Highmore echoed his new linemate's comments, and noted the importance of extra correspondence when initially playing together.
"Whenever you get a new linemate or someone new comes into the team, you always want to make sure there's a lot of communication. Between Sammy (Samuelsson) and myself, there's a lot of communication on the bench," said Highmore, "He's a very, very smart player who likes to go to the net, so any time I can get the puck on his stick is better for our team because he's got great hands around (the net)."
Samuelsson's eagerness to make the most of his second chance has helped his game reach another level, and perhaps even rubbed off on some of his fellow IceHogs.
"You get kind of re-energized (with a new teammate) – not that things get stale, or whatnot, but you do. And he (Samuelsson) is a great finisher, so it's a lot of fun to play with him," said Highmore.
There's also a fairly unique element to Samuelsson finding his way to Rockford – his father, two-time Stanley Cup champion Ulf Samuelsson, is an assistant coach for the Chicago Blackhawks, the IceHogs' affiliate in the National Hockey League. Still, Henrik says that fact doesn't change his mindset going forward.
"It's business as usual. My dad didn't have an idea that I was going to come here, I actually had to tell him, so he was pretty surprised too. He's super supportive and has been amazing through the first four years of my pro career so I'm thankful for him," he said.
Instead, Samuelsson says the chance to join the team in somewhat of a starring role has been and will be a driver of his success.
"The opportunity to come here and actually play is huge. I got to come in the first games and play a lot of minutes, which was awesome, and luckily I played a pretty decent game. Hopefully I can continue that to the next few games."
But the window to once again carve out his place in the AHL didn't open overnight, and Samuelsson knows it. The lessons learned during the past two seasons have prepared him to make the most of his time with his new team.
"Keep working hard. Everyone has ups and downs in their career, you just have to keep working and believing in yourself. There will obviously be times where it's hard to believe in yourself, but you just have to refocus and set new goals," he said.
And what are his "new goals" as Samuelsson continues his journey in the AHL?
"My number one goal right now is to stick around and help this team win," he said.
"I don't like losing, so I want to help this team make the playoffs and then be a big part of that."