ROOKIE NETMINDER DELIA MAKING MARK IN ROCKFORD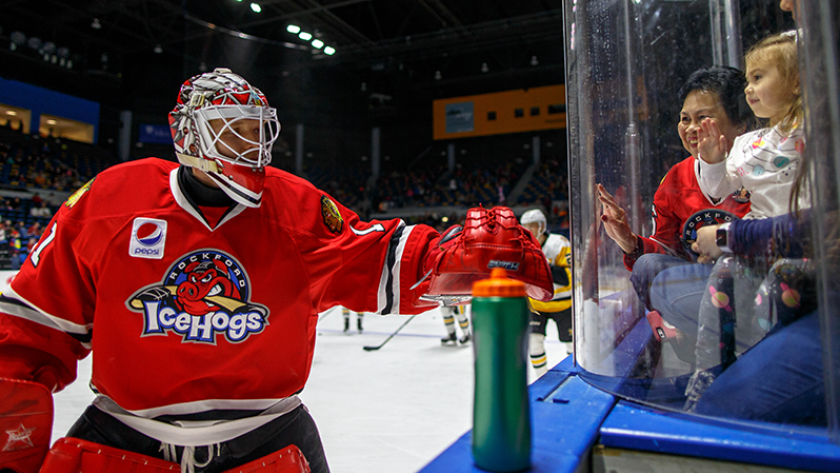 By Peter Dewar
ROCKFORD, Ill. – Four months ago, Collin Delia gave up four goals on 16 shots in his American Hockey League debut – a 5-3 loss for his Rockford IceHogs against the Iowa Wild on Nov. 9, 2017. Two days later, he returned to the Indy Fuel of the ECHL for the third time in the span of a month. But he was again reassigned to Rockford on December 1, and this time he stayed.
Fast forward to March 5 – Delia is named CCM/AHL Player of the Week following a pair of performances in which he stopped 72 of 73 total shots and earned his first professional shutout with 34 saves. He now boasts an impressive record of 11-6-3-1 on the year.
Suffice it to say, Delia's development has been on a steep upward curve this season. With injuries in net affecting the Chicago Blackhawks goaltending depth, he has quickly warmed to the IceHogs' starting role. He has lost just twice in regulation across his last 15 starts – picking up wins in 10 of those – and has posted save percentages above .935 in each of his last three outings.
If you ask him, it's focusing on the little things and some helpful mentorship that have propelled his ascent.
"The level of detail that (Blackhawks Developmental Goaltending) Coach (Peter) Aubry has made me aware of, I think that's really led into (me developing) the consistency and the day-in, day-out habits that are required of a professional. I think in some ways I was aware of it, but I didn't fully understand to the utmost degree what it took…now, more than ever, I think I'm very aware of the effort and attention to detail that it takes, so I'm very grateful for his impact there," said Delia.
The Rancho Cucamonga, CA native's rapid improvement this season can also be credited to his own ability to adjust to new surroundings. After three years at Merrimack College, including a sterling final year that drew the eye of the Blackhawks, Delia prepared to learn as he transitioned to pro hockey.
"I didn't really know what to expect, coming from a pretty controlled environment in college. You make a commitment to a college and you're there for around four years where you know you're not going to move around…then you come to this, and you know it's a business. You're only as good as your last game, so you have to be consistent, you can't take any days off.
"I think in college, some guys can kind of get a little complacent. Not saying that was my mindset, but being around that environment and then coming here, it's a night and day difference…you have to have that better mindset that you're fighting for your life every day," he said.
Of course, it helps to have veterans like Jeff Glass and J.F. Berube around – Delia's counterparts between the pipes who have a combined 18 years of pro hockey experience to their names – to learn how to mentally and physically deal with the rigors of their profession.
"(I learn from) their composure…I think for both of them, no matter what's going on, circumstance doesn't dictate how they show up," said Delia, "Watching them play, whether on the bench or in practice, they have that maturity and that experience that you would expect a five-year or 10-year pro to have. And seeing that as a first-year pro, if that's something I can implement into my game now, that would help me be a little bit ahead of the curve."
Now, with Berube recalled to the Blackhawks, Delia and Glass look to prove a stout test for opposing offenses. It's a win-win for Delia – as he spends time in goal, his confidence continues to climb, and games in which he backs up Glass simply serve as different learning opportunities.
"I think just playing helps, just playing as much as I can and if I'm not playing, getting to watch (Jeff) Glass…he's an exceptional pro, I don't think I've ever seen any goalie work as hard as he does. He's set the bar really high, and to see someone who has played in the League before, and been around for probably 10 years of pro hockey, working that hard sets a precedent," said Delia.
But there's more to Delia than his abilities in the goal crease. Since his first season of junior hockey in 2012-13, the rookie netminder has made sure to make as much of an impact outside of the rink as he does in games.
"I don't know if it's something innate or in how I was raised, but it all started in relationship to hockey in juniors with the Amarillo Bulls. Head Coach Dennis Williams and Assistant Coach Rocky Russo placed a great emphasis on serving your community and letting people know that you're not just a hockey player, but also a person, a contributing member to society," said Delia.
Delia went on to win the 2013-14 NAHL Community Service Award in his final season with the Bulls, and his dedication to the communities surrounding the teams for which he plays has only strengthened since then.
"You have a duty, not only to your teammates, but also to the people you serve in the community as well. This is their entertainment, a lot of them look forward to this on the weekends, so it's best to form a relationship with them," he said, "And I think you have to go out of your way a bit because these people are supporting you, buying jerseys, bringing family to the game, so it's the least we can do to put a little effort and go the extra mile for them."
And while Delia "goes the extra mile" to lend a hand and form relationships with those cheering him and his teammates on in the stands, the people he meets begin to impress upon him as well.
In the case of Lucas St. Onge – a young boy with short bowel syndrome who Delia had the chance to get to know during his collegiate career – a simple meeting has become an inspirational friendship spanning the distance between Massachusetts and wherever Delia happens to be playing at the time.
"When I was at Merrimack, I had the opportunity to make a real impact with (Lucas) through the Make-A-Wish Foundation…The doctors told his mom that he wouldn't live past – I don't know – five weeks, so 'you might as well not even have him.' But she persevered, they pushed through that and I think Lucas is going to be six years old this summer. Lucas was born without five internal organs, so he had to get a transplant last year. Just to see an individual such as himself and to interact with him and see that he has just such a zest for life, you can't help but be inspired by that and want to do more," Delia said.
The duo was recently reunited following the Hogs' meeting with the Wilkes-Barre/Scranton Penguins, as the Hogs made their lone trip eastward, and Delia was especially appreciative of the special gesture by the St. Onge family.
"His mom drove them, like, six hours from Massachusetts (to Wilkes-Barre), and I didn't even play. But that was pretty special, and I think that just speaks to the type of people that they are," said Delia.
As he continues his career onward, Delia plans to further foster budding relationships with the Rockford fanbase.
"Here, the community just feels like such a big family. You want to be here, and have an impact for as long as you can because these people are going to be supporting you all throughout your life hopefully, and I think it's important to make those good grassroots relationships right now," he said.
On the ice, Delia's attention is placed solely on finding ways to win with the IceHogs.
"You kind of split it up into short-term and long-term goals. I think short-term right now, we just want to make the playoffs. We have a string of crucial games in front of us, so our focus is there. Long-term we want to be in the (Calder Cup) Finals. Those are my individual goals as well…I think team success also leads to personal success. If you visualize where you want to be, you're going to be a part of that equation. If we get to where we want to be, all the rest will take care of itself."
And with the potential for playoffs on the horizon, Delia keeps perspective by relying on a strong foundation of self-belief.
"Just relax. You know you're here for a reason and you just have to trust your instincts, try not to do too much," he said.
"Just go out there, free your mind and play."