ROCKFORD TAKES DOWN CHARLOTTE 3-0 WITH SHUTOUT AND HAT TRICK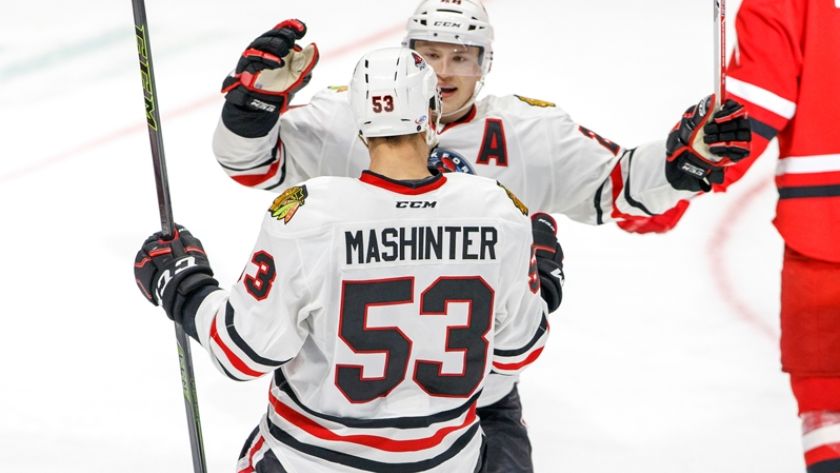 Rockford, Ill. – Lars Johansson record his first AHL shutout and Brandon Mashinter notched the first IceHogs hat trick of the season to propel the Rockford IceHogs (5-7-1-0) past the Charlotte Checkers (7-4-0-0) 3-0 Saturday night at the BMO Harris Bank Center.

Johansson stopped all 28 shots he faced to outduel AHL shutout leader and former IceHog Michael Leighton (31 saves) to earn his first career shutout in North America.

With Johansson in net, a Rockford forward was finally able to crack the stat sheet after a 275-minute scoring drought. Sam Carrick skated into the Checkers zone on the power play and beat his brother Trevor down the right side. Leighton made the initial save but left the rebound on the doorstep for Brandon Mashinter, who pounced on the puck at the left dot and beat Leighton stick side to put Rockford up 1-0 at 17:06 in the first period.

Mashinter notched his second goal of the game to increase the IceHogs lead to 2-0 in the second frame. Mark McNeill won the faceoff and nudged it to Nolan Valleau, and after Valleau ate a Checkers check behind Leighton on the right boards, he backhanded a pass to Mashinter who was camped just outside the crease. Mashinter hammered it home right to give Rockford a 2-0 edge at 7:43 in the second frame.

Charlotte emptied the net with a little less then three minutes remaining to give the Checkers an extra skater. Sam Carrick punched a puck off the glass to lead Mashinter who outskated the Checkers defense and deposited his third goal of the game to seal the Rockford victory and earn the natural hat trick.

Rockford was 1-for-5 on the power play while Charlotte was 0-for-4.

Next Home Game: Sunday, Nov. 13 against the Ontario Reign at 4 p.m. The IceHogs face the Reign for their first-ever meeting. Fans have the opportunity to take photos with and explore vehicles from the Rockford Police Department, Rockford Fire Department and Air Force outside the BMO Harris Bank Center on Elm Street before the game from 2-4 p.m. After the game, IceHogs fans can skate on the BMO Harris Bank Center ice during a postgame open skate (players not in attendance). Fans are required to bring their own skates as there are no rentals available.