ROCKFORD SNAPS UP 3-1 WIN IN IOWA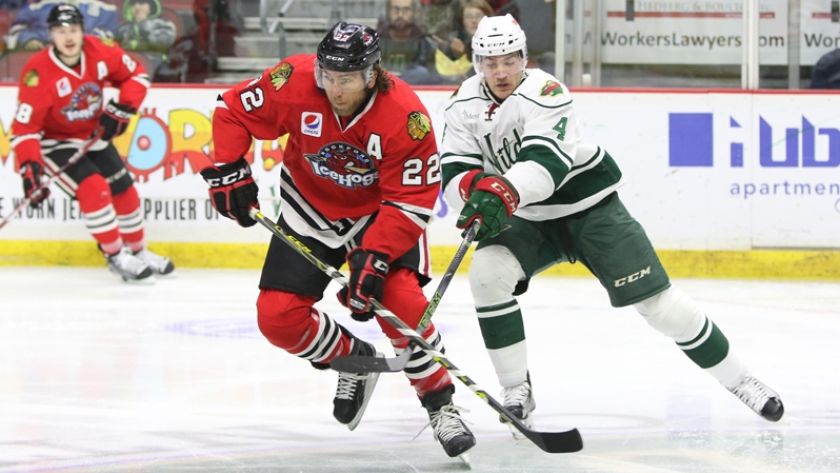 Des Moines, Iowa – The Rockford IceHogs (21-9-2-3) used two second period goals and another multi-point game from defenseman Ville Pokka to knock off the Iowa Wild (9-24-2-3) on Sunday afternoon. The win also snapped a brief two-game road losing skid for Rockford.

An early power play helped the Wild put home the first goal of the game. Christoph Bertschy fired a shot from the left circle that was quickly redirected by Jordan Schroeder just on top of the goal crease to give Iowa a 1-0 lead at 4:37 of the first.

Rockford answered back with a power play goal of their own just under five minutes later. Pokka found Ryan Hartman in the right circle, and P.C. Labrie deflected Hartman's shot home to even the score at 1-1.

Both teams scored on their lone power plays of the first period.

Ryan Haggerty gave the IceHogs the lead for the first time of the night 2:30 into the second period. Jake Dowell worked the puck free from behind the net and Haggerty snapped a sharp-angle shot over the shoulder of Leland Irving to put Rockford in front 2-1.

The IceHogs penalty kill came up with a big effort less than five minutes into the frame. Back-to-back penalties put Rockford shorthanded by two skaters for 1:17, but Michael Leighton and the penalty kill stood tall to preserve the lead.

With just 3:46 to play in the second, Chris DeSousa provided some breathing room for the Hogs. A shot from Pokka at the right point was deflected by DeSousa up underneath the crossbar, and Rockford took the 3-1 lead into the third period.

Carrying a two goal lead into the third, the IceHogs defense stiffened, surrending just four shots in the frame despite facing six attackers from Iowa for nearly all of the final 3:15 of the contest. Leighton earned first star honors while stopping 33 of the 34 shots he faced in the game. Iowa goaltender Leland Irving turned aside 28 of 31 shots.

Next Home Game: Jan. 12 vs. Chicago Wolves at 7 p.m. The Illinois Lottery Cup contest is also another "Winning Weekday." If the IceHogs win, every fan in attendance will receive a free ticket of equal or lesser value to the next weekday game. Fans can also enjoy $2 beers, sodas, hot dogs, and companion tickets. The first 1,500 fans who enter through the doors will receive a slice of pizza from Papa Johns.