ROCKFORD REBOUNDS IN 4-3 WIN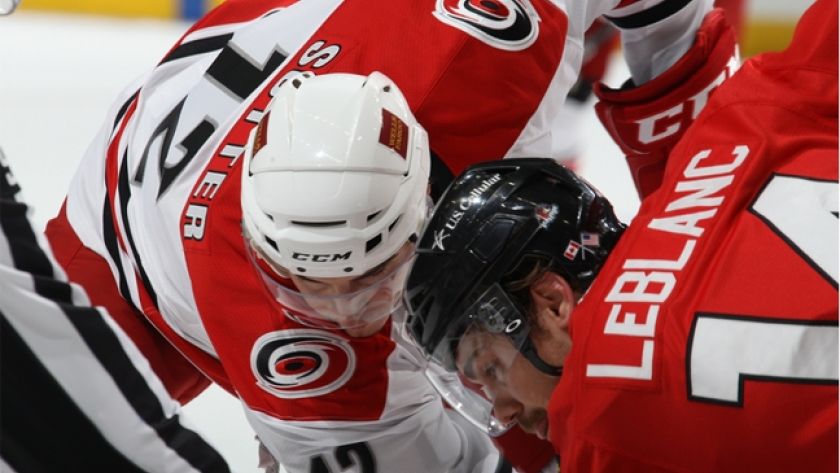 Hogs end four-game losing streak

Charlotte, N.C.-Less than 24 hours after the Rockford IceHogs penalty kill cost them against the Charlotte Checkers, the same unit helped them top Charlotte 4-3 at Time Warner Cable Arena.

The win snapped a four-game road losing streak for the IceHogs and they split their two-game weekend set with Charlotte.

Adam Clendening gave Rockford a 1-0 lead in the first frame on Sunday. In transition, Brad Winchester dropped a pass to Clendening on the right wing in the Charlotte zone and the Hogs d-ma fired home his fourth goal of the season over Rick DiPietro at 7:05.

Later in the frame Rockford made it a 2-0 game. Maxim Shalunov wrapped a puck in front of the Charlotte net and Garret Ross tapped in his fourth marker at 14:12 of the opening stanza.

Charlotte got a goal back at 18:24 of the first to make it 2-1 at the first intermission. Defenseman Keegan Lowe blasted home his first of the year past a screened Kent Simpson.

In the second frame the Checkers would capitalize while skating 4-on-4 late in the period. Victor Rask found Mark Flood streaking to the Rockford net and the blue liner one-timed home his seventh goal of the season, and third against Rockford, at 18:09.

Rockford would break the tie in the third frame with Philippe Lefebvre's first goal of the season. Lefebvre cleaned up a Jared Nightingale rebound at 3:36 to make it a 3-2 game.

On Saturday, Rockford's penalty kill struggled, on Sunday it helped make it a 4-2 game. While shorthanded, Phillip Danault led a 2-on-1 rush and found Klas Dahlbeck where he knocked home his sixth goal of the season.

Philippe Cornet made it a 4-3 game when he potted a power play goal at 14:36 for his first goal of the season, but that was as close as the Checkers would get.

Simpson also snapped out of a personal four-game losing streak as he turned away 29 Checkers shots. DiPietro made 26 saves in the loss.

Next Home Game: Wednesday, Nov. 27 vs. Milwaukee Admirals. Game time is 7 p.m. The game will be a WXRX Dollar Day. Fans can purchase hot dogs, soft drinks, beer and companion tickets for $1. Fans can also purchase IceHogs jerseys for half off at Oink Outfitters.