Rockford More Than A Waypoint for Beaudin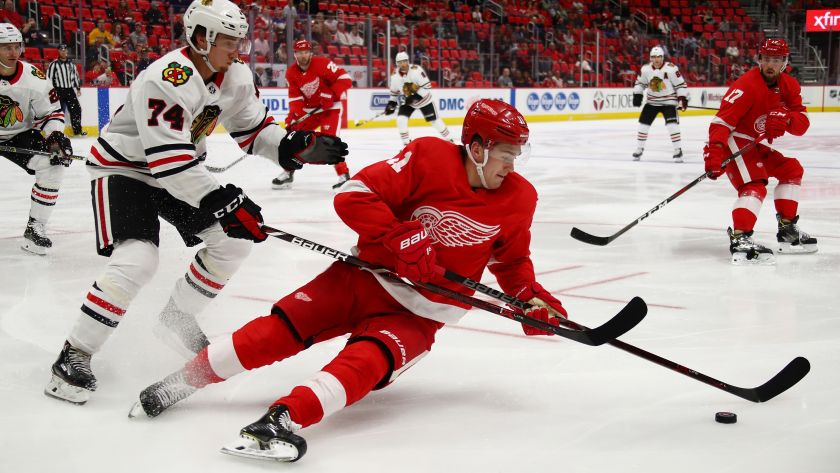 ---
ROCKFORD, Ill. - Nicolas Beaudin is confident he has a bright future ahead of him, but the Chicago Blackhawks' 2018 first-round selection isn't looking past his time with the IceHogs.
"I'm ready to take the next step," said Beaudin. "When I went back to juniors last year, I was only able to train for seven weeks because of the draft, but this year I had 14, so I feel a big difference. I'm feeling really strong and ready to go in my first year pro."
The Chateauguay, Quebec native spent the last four years with the Drummondville Voltigeurs of the Quebec Major Junior Hockey League and amassed 167 points in 211 games. He was named a QMJHL Second-Team All-Star in both 2017-18 and 2018-19 and joined Team QMJHL in the CHL Canada-Russia Series last November.
However, the promising young defenseman understands he has room to grow and is driven to capitalize on the development system in place in Rockford.
"My mental preparation is largely the same, but I want to be stronger both in my legs and upper body," said Beaudin. "I also want to work on my defensive game, my gap up ice. I know I can be better at closing off guys in the corner and neutral zone, and I think offensively I have to continue working on my feet so I can beat guys at the next level."
Beaudin had the opportunity to skate with the Blackhawks in both the prospect tournament and training camp earlier in the month and noted similarities between the Hawks and IceHogs.
"It's a bit grittier out here [in Rockford], but guys are playing the same way in the same system, which is helpful," said Beaudin.
While the end goal for Beaudin is to have success in Chicago, he remains focused on creating a lasting impression on and off the ice as a member of the IceHogs.
"I am a quiet guy off the ice, but I do really enjoy and have fun seeing the fans—after all, they are the ones out here cheering for [us] every night," said Beaudin. "On the ice, I'm going to be a dynamic guy and try to create offense every game. But, I don't want to just be an offensive guy. I want to be that two-way guy that coach can rely on in every situation."
In fact, Beaudin has a specific player he's hoping to emulate come Oct. 4 when the IceHogs begin their season on the road against the Iowa Wild.
"I really like Torey Krug's game," said Beaudin. "I think he's got some grit on top of the rest of his game and you'll see I've got some grit too."
As both an offensive threat and undersized defenseman, Krug is a worthy model for Beaudin. The former has overcome comments about his stature to become one of the top blueliners for the Bruins while the latter is hoping to do the same with the Blackhawks.
The transition from junior to professional isn't an easy one, and IceHogs assistant coach Anders Sorensen detailed how the coaching staff plans to help Beaudin comfortably make the adjustment.
"We do all kinds of things [to help first-year guys]," said Sorensen. "We'll work with him on video, work with him on the ice, talk to him and try to identify some players in the NHL that he can kind of model his game after. I think Krug is a fair comparison."
Sorensen also commented on how Beaudin has performed in his first week before adding some goals he hopes the 19-year-old can meet in the upcoming season.
"He's looked good…he's got some more man strength on him now," said Sorensen. "[Success for him] will be making progress in his game overall in both ends of the ice and hopefully getting an opportunity to get called up. But, that will obviously be dictated by his play down here. The biggest thing is to focus on what he can control and to put in the work every day."
With a roster that boasts multiple first-round picks and Stanley Cups, Beaudin sees the opportunity for both personal and team success.
"We're all excited about this year," said Beaudin. "We want to get better every day and at the end of the season we want to bring home the Calder Cup."
---
NEXT HOME GAME: Saturday, Oct. 12 vs. Grand Rapids Griffins | 6 p.m.
The Rockford IceHogs will host their home opener for the 2019-20 season on Saturday, Oct. 12 against the Grand Rapids Griffins at 6 p.m. at the BMO Harris Bank Center. The first 4,000 fans in attendance to Rockford's first home game of the campaign will receive a free IceHogs calendar, courtesy of Impact Networking. Call the IceHogs front office at (815) 968-5222 or visit icehogs.com to purchase tickets.