ROCKFORD HOSTS BROVEMBER NIGHT THIS WEEKEND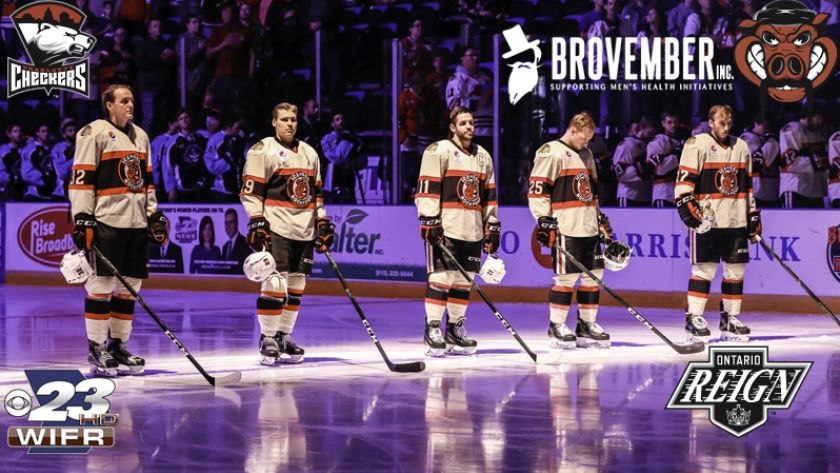 Saturday, Nov. 12, 2016 vs. Charlotte Checkers
Time: 7 p.m. at the BMO Harris Bank Center. Doors open at 6 p.m.
Promotion: It is Brovember Night in support of local prostate cancer research and education. Fans can donate to this cause at the BMO Harris Bank Center Box Office and receive a Brovember Go Bro Card.
Matchup: The IceHogs take on the Charlotte Checkers at home after a four-game road stretch that ends Friday in Grand Rapids. This will be the third of four season meetings for the two teams as the Checkers swept the IceHogs last week in a two-game series at the Bojangles' Coliseum. Former Hogs goaltender Michael Leighton also makes his return to Rockford.
Sunday, Nov. 13, 2016 vs. Ontario Reign
Time: 4 p.m. at the BMO Harris Bank Center. Doors open at 3 p.m.
WIFR Sell-Out Night: Sunday's game is sold out as it's the annual WIFR Sell-Out Night. Although the game is sold out, fans can now print out a voucher on WIFR.com that allows them to purchase $10 upper end zone tickets for the IceHogs game on Wednesday, Nov. 23 against Cleveland. The $10 ticket voucher cannot be redeemed for any other IceHogs game or BMO Harris Bank Center event.
Touch-a-Truck: Fans have the opportunity to take photos with and explore vehicles from the Rockford Police Department, Rockford Fire Department and Air Force outside the BMO Harris Bank Center on Elm Street before the game from 2-4 p.m.
Open Skate: After the game, IceHogs fans can skate on the BMO Harris Bank Center ice during a postgame open skate (players not in attendance). Fans are required to bring their own skates as there are no rentals available.
Matchup: Rockford faces the Ontario Reign in their first ever meeting at the BMO Harris Bank Center. The Reign are affiliated with the Los Angeles Kings. The IceHogs travel to Ontario, Cal. on Feb. 26 in the second and final matchup of the season.
Tickets: Tickets can be purchased at the BMO Harris Bank Center Box Office or any Ticketmaster location, by phone (815 968-5222) or online at www.icehogs.com. There are no tickets available for Sunday's tilt but tickets can still be purchased for Saturday's game.
Broadcast: Fans can tune in to all the action on The Justice Network 23.3 beginning with IceHogs Warmup. IceHogs fans can also listen to the games at WXRX.com, sportsfanradio1330.com, or watch live at AHLlive.com. Sunday's contest can also be heard on the radio on AM 1330.