ROCKFORD FALLS TO MARLIES 3-2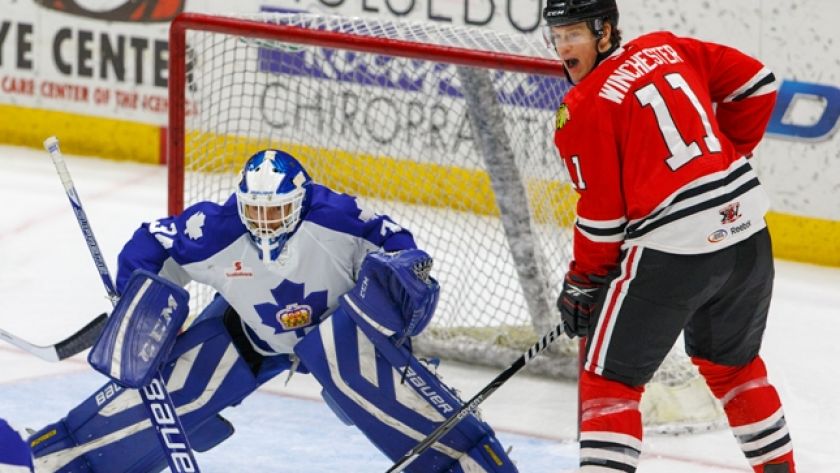 Rockford, Ill. – Despite scoring the first goal in eight of their last 10 games, including Monday, the Rockford IceHogs fell to the Toronto Marlies 3-2. Even with their recent strong first period play, the IceHogs have eventually lost in five of those eight games.
Rookie winger Alex Broadhurst caught a piece of a Viktor Svedberg shot from the left face-off circle at 11:13 of the opening frame to give Rockford the 1-0 lead. New IceHogs defenseman Zach Miskovic picked up his first point for Rockford with an assist on the goal.
After Adam Clendening and Mark McNeill were called for minor penalties, the Marlies' Greg McKegg took advantage with a 5-on-3 power play marker. A shot by Spencer Abbott rebounded off the boards and found McKegg for the flip in at 9:40 to tie the game at one.
The Marlies would take the lead less than one and a half minutes later when Abbott potted a goal of his own for his second point on the game. With bodies in front of the net, the Toronto winger eventually poked the puck underneath Jason LaBarbera at 11:04 for the 2-1 lead.
With Brad Winchester in the box for an elbowing minor, Toronto stretched their lead to 3-1 with a power play goal at 4:13 of the final period. T.J. Brennan fired a slap shot from the blue line that found its way past LaBarbera with McKegg and Abbott, the previous goal scorers, being credited for assists on the play.
The IceHogs wouldn't let those three goals go unanswered, however, as Joakim Nordstrom netted his team leading 13th goal of the season with a power play marker with 7:18 left in regulation. The centerman cleaned up a rebound off MacIntyre from a Jeremy Morin shot and a Winchester tip to bring the game within one at 3-2.
Rockford had a late power play and a chance to force overtime, but couldn't get another chance past MacIntyre.
MacIntyre earned the win by making 40 saves on 42 shots, 20 coming in the first period, an IceHogs single-period season high. LaBarbera was saddled with the loss after blocking 19 Marlies shots.
Next Home Game: Saturday, Jan. 25 against the Milwaukee Admirals. Come to the Barn for Rockford's annual Pink in the Rink night with a 7 p.m. puck drop. Watch as these two Midwest rivals take on one another in the middle of a three-in-three weekend set. The first 5,000 fans through the gates will receive thunder sticks courtesy of Swedish American Hospital.

Ted Dent:
Alex Broadhurst: