ROCKFORD DROPS TWO HEADING INTO CHRISTMAS BREAK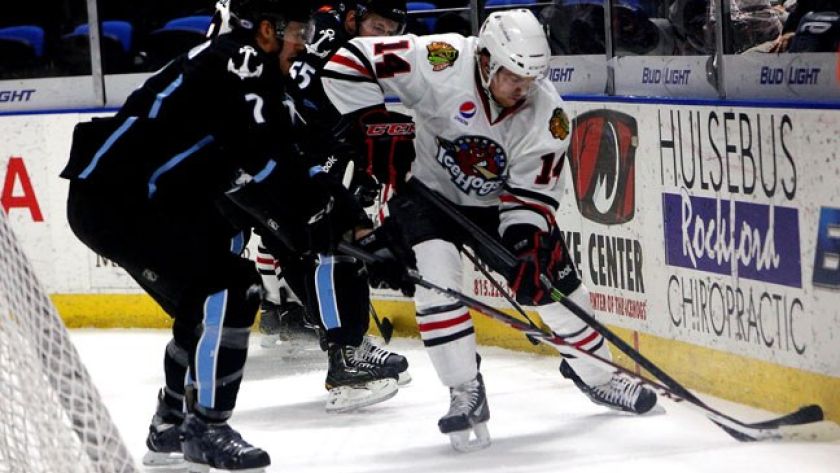 IceHogs earn a point during two-game Week 12

Week 12 Recap
After picking up points in five straight games, the Rockford IceHogs have now dropped three straight (0-2-1-0) contests. Rockford picked up one point in a short two-game Week 12. After earning a point on Friday night in a 3-2 overtime loss in Grand Rapids, the IceHogs dropped a 3-1 contest at the BMO Harris Bank Center on Saturday. After a brief Christmas break, Rockford is slated for two more Midwest Division contests in Week 13.

Friday, Dec. 20: Rockford IceHogs 2 at Grand Rapids Griffins 3 OT
Saturday, Dec. 21: Milwaukee Admirals 3 vs. Rockford IceHogs1

Week 13 Schedule
Thurs., Dec. 26 at Iowa, 7:05 p.m.
Fri., Dec. 27 vs. Grand Rapids, 7:05 p.m.

Bacon Bits:
-The IceHogs are 5-8-1-0 against the Midwest Division this season and 10-5-2-0 against the North and South Divisions combined

-Six of Rockford's next seven games are against the Midwest Division

-Center Brandon Pirri has been held without a point in three straight games

-Last season, Pirri led the AHL in scoring and in 76 games was held without a point in three-straight games just twice, including five game stretch from Jan. 25 to Feb. 5

-Rockford has four overtime decisions on their record so far this season and goalie Kent Simpson was in goal for all four of them

After Friday's 3-2 overtime loss in Grand Rapids, Simpson and the IceHogs are 1-3 in overtime this season

-The IceHogs are 3-0 in the shootout in 2013-14 and haven't lost in the skills session since Oct. 13, 2012, Opening Night last season, a span of 106 games without a shootout loss

-For the first time this season, the IceHogs suffered a regulation loss when scoring the game's first goal and when leading after the first period when Milwaukee topped them 3-1 on Saturday night

-After getting held without a point over his first six games with Rockford this season, Joakim Nordstrom has 8g-3a-11pts over his past 15 contests

-Winger Brad Winchester has registered a point in five of his last seven games dating back to 12/5/13, totaling 4g-2a

Hot Hog: Week 12
Kent Simspon, Goalie
Fresh off his first career NHL recall, rookie goalie Kent Simpson was solid in his return back to Rockford despite getting saddled with a pair of losses. On Friday night in Grand Rapids, Simpson made 31 saves in the IceHogs 3-2 overtime loss to the Griffins. It marked just the third one-goal home game for the Griffins this season. Then on Saturday, Simpson turned away 28 Milwaukee Admirals shots in a 3-1 loss at the BMO Harris Bank Center.

Upcoming Games:
Thursday, Dec. 26 at Iowa Wild: Game time is set for 7:05 p.m. After a brief Christmas break, the IceHogs head to Iowa on Boxing Day. It's Rockford's second visit to the Wells Fargo Arena and fourth of ten meetings on the season between the Midwest Division foes.

Friday, Dec. 27 vs. Grand Rapids Griffins: Puck drop is 7 p.m. when the IceHogs battle the top team in the Midwest Division in Rockford's final game of 2013. The game is the sixth of 10 on the season between the Midwest Division rivals, including third at the BMO Harris Bank Center.

The IceHogs Broadcasting Network:
Catch every IceHogs game, home and road, in 2013-14 on WIFR's 23.2, "Antenna TV." The games can also be viewed on Comcast Cable Channel 436 or Mediacom 101 in the Rockford market and online through AHLlive.com. Fans can listen to the action for free on AHLlive.com. For a complete listing of TV stations carrying IceHogs games, visit IceHogs.com. Every broadcast will start with the IceHogs Warmup 30 minutes prior to puck drop.

Tickets On Sale for 2013-2014!
IceHogs individual game tickets are now on sale! Call (815) 968-5222 to reserve your seats for any IceHogs regular season game during the 2013-14 season. Tickets can also be purchased online at IceHogs.com, in person at the BMO Harris Bank Center Box Office in downtown Rockford, or any Ticketmaster outlet, including Wal-Mart. Tickets start at just $8.