ROCKFORD CLOSES ROAD TRIP WITH LOSS TO HEAT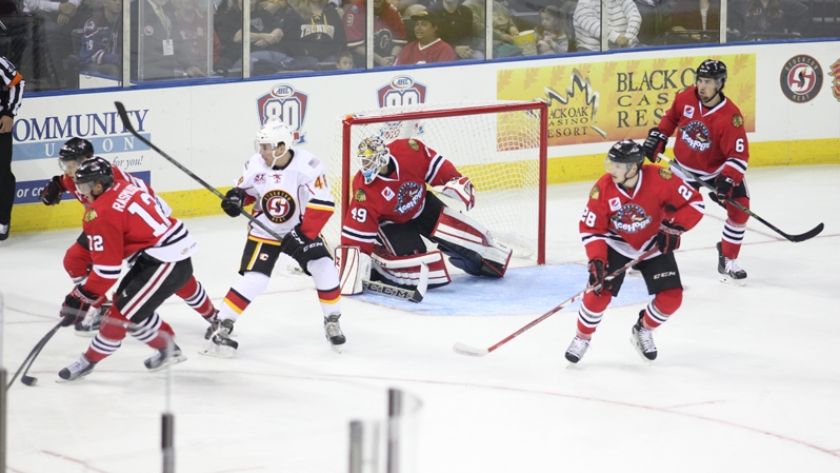 Stockton scores four in the first en route to 7-0 victory
Stockton, Cal. – An onslaught by the Stockon Heat in the opening frame saw the team grab a four goal advantage as they eventually took down the Rockford IceHogs by a 7-0 score. By the time the final horn sounded, seven different Heat players had collected multiple points and goaltender Jon Gillies posted a 19 save shutout to start the AHL era of Stockton hockey.

Drew Grant took a feed from Turner Elson 4:22 into the contest to score the first goal in Stockton history and push his team to a 1-0 lead. The next two tallies each came on the power play, as Bill Arnold redirected a shot from the point at 8:08 and Markus Granlund did the same at 12:14 to boost Stockton to a 3-0 advantage. The scoring for the period was closed out by Oliver Kylington who had an open look from the slot at 14:35.

Mac Carruth came into the game in relief of Michael Leighton folliowing the fourth Heat goal.

Stockon picked up right where they left off in the middle stanza. Jakub Nakladal found himself wide open in the slot and fired a shot just over the glove of Carruth to add to the Heat advantage just 39 seconds into the frame.

Another early goal in the third pushed the Heat to a 6-0 lead, as Grant netted his second goal of the game on an open look from Emile Poirier at 1:02 of the third. Stockton closed out the scoring with their third power play strike of the night as Freddie Hamilton lifted a wrist shot from the top of the left circle that went off the shoulder of Carruth and into the top right corner of the net.

Stockton finished the night 3-for-6 on the man advantage while Rockford was 0-for-2.

Next Home Game: Saturday, Oct. 17 vs. Texas Stars. Game Time: 7 p.m. The first 5,000 fans to the game will receive an IceHogs calendar courtesy of Mulligan's Pub and Grill.