ROCKFORD CLOSES OUT 2013 AND WELCOMES 2014 WITH BUSY WEEK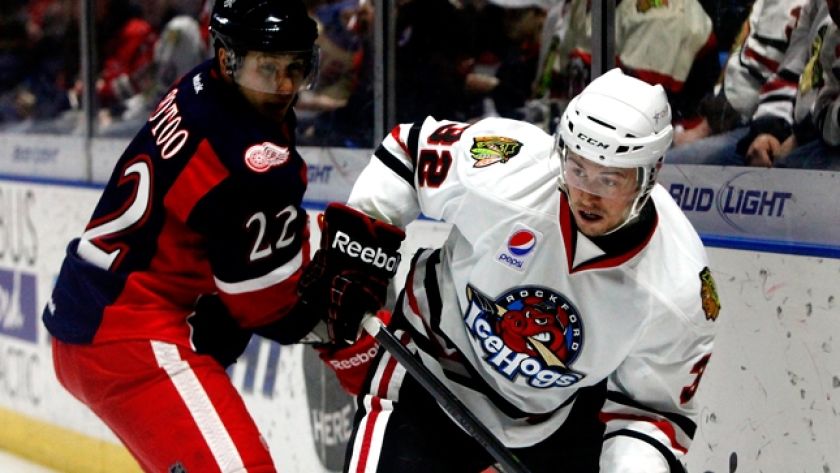 Week 13 Results
Thursday, Dec. 26: Rockford 2 at Iowa 5
Friday, Dec. 27: Grand Rapids 4 vs. Rockford 2

Week 14 Schedule
Monday, Dec. 30 vs. Charlotte, 7:00 p.m.
Friday, Jan. 3 vs. Iowa, 7:00 p.m.
Saturday, Jan. 4 vs. Grand Rapids, 7:00 p.m.
Sunday, Jan. 5 at Chicago, 3:00 p.m.

Bacon Bits:
-After picking up points in five straight games from 11/30-12/14 (4-0-1-0), Rockford is winless in five straight contests (0-4-1-0)

-Despite outshooting their opposition 81-60 over the two game Week 13, Rockford was outscored 9-4

-During Rockford's five game winless drought, the club has scored just eight goals

-The IceHogs have registered 30 or more shots over their last nine outings, averaging 35.6 shots per game over that stretch

-Center Joakim Nordstrom has points in four-straight games, totaling 1g-3a-4pts

-Since returning from a recall to the Blackhawks on Dec. 7, Nordstrom has 3g-4a-7pts in eight games with a plus/minus rating of +4

-Rookie winger Garret Ross has points in three straight games, racking up 1g-3a-4pts

-Defenseman Jared Nightingale potted his first goal of the season on Friday against Grand Rapids

-Both Alex Broadhurst and Klas Dahlbeck missed their first respective games of the season over the weekend leaving just Adam Clendening, Mark McNeill and Drew LeBlanc as the lone IceHogs to have appeared in all 33 games so far this season

-Winger Jeremy Morin has 71 shots in 17 games with Rockford this season, an average of 4.2 shots on goal per game

-Rockford has held their opponents without a first period goal in each of their last three games, but have allowed 12 goals in the second and third periods combined

Week 14 features a busy four-game week for the IceHogs, their second of four, four-game weeks in 2013-14

Hot Hog: Week 13
Left Wing, Garret Ross

Rookie winger Garret Ross picked up three points in two games during Week 13. Ross earned his third career multi-point game on Thursday night in Iowa, figuring in on both of Rockford's goals in a 5-2 loss to the Wild, including a goal and an assist. Then on Friday night, Ross marked an assist for a third straight game in Rockford's 4-2 loss to Grand Rapids. Through 31 games, Ross now shows 8g-7a-15pts.

Upcoming Games:
Monday, Dec. 30 vs Charlotte Checkers: Game time is set for 7 p.m. The first Monday night game of the season, the IceHogs host the Charlotte Checkers. It's Rockford's seventh meeting with the Checkers this season. The first 1,000 kids (14 and under) will recieve a youth hockey jersey courtesy of Rockford Orthopedic.

Friday, Jan. 3 vs. Iowa Wild: Puck drop is 7 p.m. when the IceHogs battle the Wild, to redeem themselves from their loss last week against Iowa. The first 2,500 fans at the BMO Harris Bank Center will recieve a Scotty Bowman Bobblehead courtesy of U.S. Cellular.

Saturday, Jan. 4 vs. Grand Rapids Griffins: The IceHogs and Griffins take the ice at 7 p.m. It's the second meeting in just over a week between the Midwest Division foes. The game marks the seventh of 10 matchups slated in 2013-14, and the fourth of five at the BMO Harris Bank Center.

Sunday, Jan. 5 at Chicago Wolves: The IceHogs take on their second three-in-three of the season as they travel east to take on the Wolves with a 3 p.m. puck drop. This is the fourth meeting between the two Illinois Lottery Cup rivals.

The IceHogs Broadcasting Network:
Catch every IceHogs game, home and road, in 2013-14 on WIFR's 23.2, "Antenna TV." The games can also be viewed on Comcast Cable Channel 436 or Mediacom 101 in the Rockford market and online through AHLlive.com. Fans can listen to the action for free on AHLlive.com. For a complete listing of TV stations carrying IceHogs games, visit IceHogs.com. Every broadcast will start with the IceHogs Warmup 30 minutes prior to puck drop.

Tickets On Sale for 2013-2014!
IceHogs individual game tickets are now on sale! Call (815) 968-5222 to reserve your seats for any IceHogs regular season game during the 2013-14 season. Tickets can also be purchased online at IceHogs.com, in person at the BMO Harris Bank Center Box Office in downtown Rockford, or any Ticketmaster outlet, including Wal-Mart. Tickets start at just $8.