ROCKFORD BLOWN OUT IN GRAND RAPIDS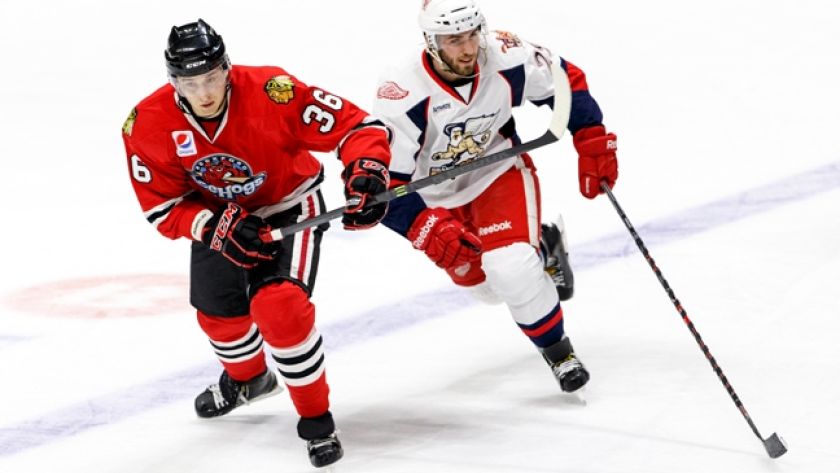 Four second period goals sink Rockford

Grand Rapids, Mich.- Chasing goals has officially caught up to the Rockford IceHogs. Rockford dropped a 6-2 contest on Wednesday afternoon to the Grand Rapids Griffins at Van Andel Arena

For the 11th time in 14 games, Rockford's opponent struck first. On Wednesday, Andrej Nestrasil finished off a sequence in the Rockford zone that had the Griffins pinning the IceHogs in deep and the winger jammed home his first goal of the season at 10:22 under Antti Raanta.

Grand Rapids tacked on another after a Rockford breakdown following a neutral zone face off. Riley Sheahan led a breakaway and fed Luke Glendening for an easy tap in at 13:39 of the opening stanza.

In the second period, Rockford cut their deficit down to 2-1. Adam Clendening's shot from the left wing snuck past Tom McCollum at 1:17 for his third goal of the season. That would be the high point in the second period for Rockford.

Grand Rapids responded quickly with two more markers to gain a 4-1 lead. Gustav Nyquist made it 3-1 when he flipped a Ryan Sproul rebound past Raanta at 2:09 before Teemu Pulkkinen scored his fourth goal of the season against Rockford and fifth overall at 3:54.

The Griffins kept the pressure coming as Kent Simpson replaced Raanta in goal for the IceHogs. Nyquist added his second of the period and seventh of the season at 6:44 of the middle frame before Nathan Paetsch cranked home a power play goal at 13:49 to make it 6-1 at the second intermission.

Brad Winchester bagged his second goal of the season in the third period when he cleaned up a Dylan Olsen rebound and backhanded home the marker at 9:06.

Rockford, who has now dropped four straight on the heels of a six-game point streak (5-0-1-0), were outshot 41-29.

Next Home Game: Friday, Nov. 8 against the Iowa Wild, puck drops at 7 p.m. Los IceHogs Night is back as the IceHogs will be honoring the local Hispanic heritage by wearing special jerseys. Los IceHogs Dos will focus on the rich music tradition in the Hispanic community and the night will include music from Banda Aires de Guanajuato.