ROCKFORD ALL-STARS HELP CENTRAL DIVISION TO CHAMPIONSHIP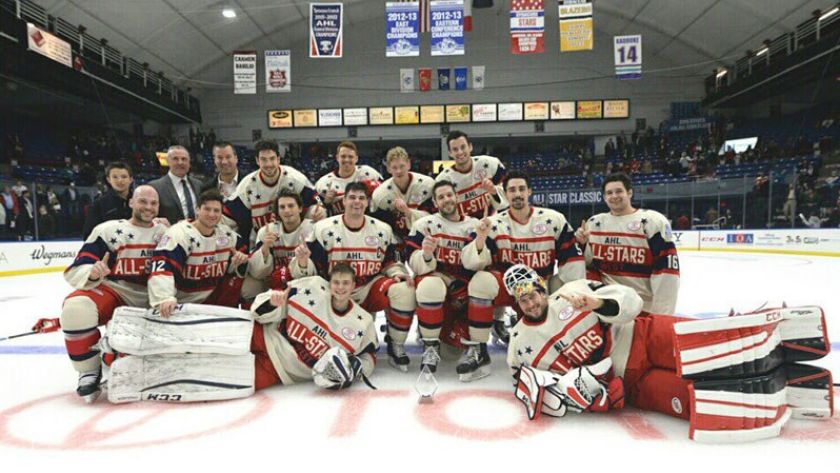 Syracuse, N.Y. - The Rockford IceHogs All-Star representatives teamed up with their Central Division counterparts to win the 2016 Toyota AHL All-Star Challenge on Monday.

Jake Dowell, Ryan Hartman and Michael Leighton helped the Central Division squad to a 2-1-0 record in round-robin play before shutting out the Atlantic Division in the championship game.

Leighton propelled his team to a 2-1 shootout victory in the first game, allowing only one goal to the Atlantic Division team before stopping all three shooters in the shootout.

Hartman and Dowell ensured the Central team's position in the championship game as the IceHogs captain scored the second and third goals in a 4-2 win over the North Division in the third contest. Dowell also assisted on Hartman's empty net goal to seal the victory.

With four shutouts to his name this season and the record-tying 45th of his AHL career, Leighton fittingly turned aside all nine Atlantic Division shots in the final game of the tournament to give the Central Division a 4-0 victory and the All-Star Challenge win.

Dowell contributed three goals and an assist while Hartman scored a goal in addition to two assists. Leighton turned aside 13-of-14 shots over the course of two games to lead his team to the championship.

Dowell, Hartman, and Leighton also helped the Western Conference take a 19-14 win over the Eastern Conference in the 2016 Toyota AHL All-Star Skills Competition on Sunday evening.

Next Home Game: Friday, Feb. 5 vs. Grand Rapids Griffins at 7 p.m. The IceHogs return from the AHL All Star break with the first game in a home-and-home weekend series against the Griffins. It's "White Out" night at the BMO Harris Bank Center as fans are encouraged to wear white while the first 2,500 fans through the doors will receive a white IceHogs t-shirt courtesy of Toyota.