RIVERVIEW ICE HOUSE ADVANCES TO FINALS TO WIN FREE LED LIGHTING UPGRADE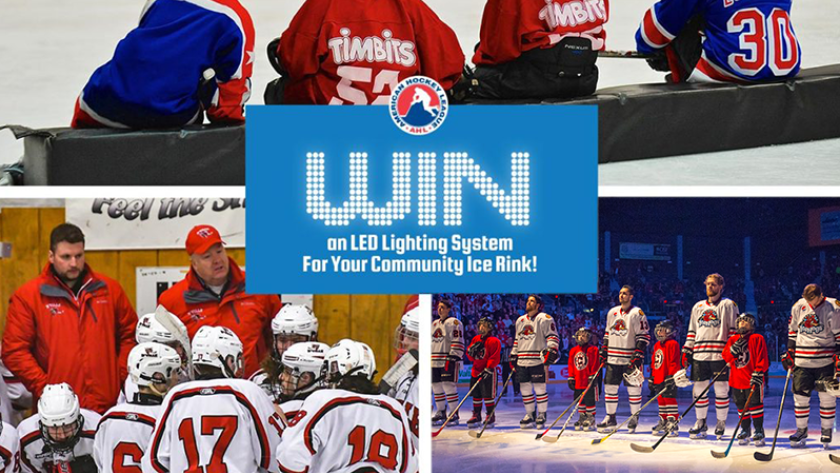 SPRINGFIELD, Mass. - The American Hockey League and power management company Eaton announced that Riverview Ice House is one of five skating rinks to be selected as a finalist in the innovative consumer promotion, "Light Like the Pros," which will award a free Ephesus LED sports lighting system to one community ice skating rink in an AHL market.
Fans are encouraged to vote for Riverview Ice House in the Light Like the Pros Contest at LightLikeThePros.com/vote and selecting the corresponding rink choice on the voting page. Fans may vote once every 24 hours until the conclusion of the contest on Wednesday, March 21.
Riverview Ice House is located in downtown Rockford and is the official off-site practice facility of the Rockford IceHogs. The IceHogs and Rockford Park District have enjoyed a successful partnership that includes hosting the Jr. IceHogs Youth Hockey program at Riverview Ice House since 2003. Through 15 years of partnership, the IceHogs and Rockford Park District have utilized Riverview Ice House to promote the growth of hockey in the local Rockford community.
"Numerous AHL teams have benefitted from Eaton's Ephesus LED lighting and control systems in their arenas, so it's fitting that we are able to provide one deserving community skating rink in an AHL market with the same great lighting that our players and fans experience at many AHL arenas," said Christos Nikolis, executive vice president, Marketing and Business Development for the AHL. "We commend all of the rinks that were nominated. It was not an easy job narrowing the field to these quarter-finalists."
Eaton's Ephesus light-emitting diode sports lighting product line provides optimal lighting that illuminates more uniformly on the playing surface and offers an improved stage for players and fans. The system is easy to install, requires little to no maintenance for years and offers the lowest total operating costs compared to other traditional sports lighting systems. The BMO Harris Bank Center upgraded to an LED HD lighting system prior to the 2013-14 season.
"Our Ephesus LED sports lighting solution is well-known for illuminating some of the most famous sports venues in the world, including more than a dozen AHL and NHL arenas. What many people don't realize is that LED sports lighting is now a reality for fields, arenas and ice skating rinks of all sizes," said Mike Lorenz, president, Eaton's Ephesus Lighting business. "We hope that by rewarding one deserving rink with this fantastic prize, we'll inform all hockey rinks across North America that LED lighting is within their reach."
ABOUT EATON:
Eaton is a power management company with 2016 sales of $19.7 billion. Eaton provides energy-efficient solutions that help their customers effectively manage electrical, hydraulic and mechanical power more efficiently, safely and sustainably. Eaton is dedicated to improving the quality of life and the environment through the use of power management technologies and services. Eaton has approximately 95,000 employees and sells products to customers in more than 175 countries. For more information, visit Eaton.com.
Next Home Game: Tuesday, March 13 | Rockford vs. Iowa (7 p.m.)
The IceHogs host the Iowa Wild at 7 p.m. at the BMO Harris Bank Center. Fans who attended Rockford's victory against the Texas Stars on Feb. 28 can redeem their ticket stub from that game for a free ticket of equal or lesser value to the game against the Wild on March 13. Fans can also enjoy $2 tacos, select beer, and companion tickets as part of Taco Tuesday. Tickets can be purchased at IceHogs.com, by calling (815) 968-5222 or in-person at the BMO Harris Bank Center Box Office.