Reichel Scores Twice in Hogs' 3-2 Loss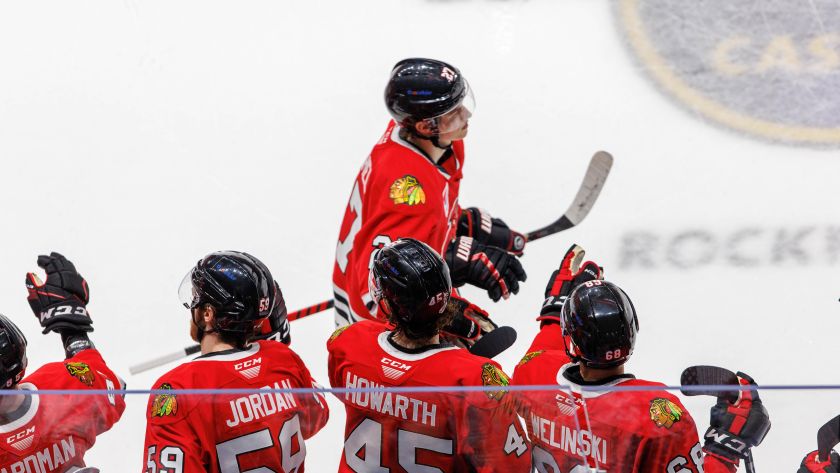 1st
2nd
3rd
Final

—
—
—

—
—
—

Monday, October 2
Rockford, Ill. – The Rockford IceHogs fell 3-2 to the Manitoba Moose on Saturday night in front of a sold out crowd at the BMO Center.
Manitoba took an early 1-0 lead after defenseman Leon Gawanke caught a cross-ice pass from Simon Lundmark and netted a slap shot from the left point at 5:48.
Capitalizing on Moose defenseman Dean Stewart's slip down to the ice, Rockford forward Joey Anderson chipped the loose puck to forward Rocco Grimaldi in the left circle. After Grimaldi connected with forward Lukas Reichel in the right circle, Reichel buried a one-timer over the pad of Moose goaltender Evan Cormier at 12:31 to even the score 1-1.
Anderson's assist on Reichel's goal was his first in a Rockford sweater.
Manitoba defenseman Tyrel Bauer ran into Rockford goalie Arvid Soderblom at 8:45 in the second stanza after the whistle blew. Chaos ensued as 62 minutes worth of penalties were called between both teams after a brawl in front of Soderblom's net. Rockford's Alec Regula and Manitoba's Tyrel Bauer dropped the gloves and were each given five minutes for fighting. The festivities resulted in 62 penalty minutes including three 10-minute misconducts.
After the melee in the IceHogs' zone, Rockford went on its second power play of the contest at 8:45. Anderson dropped back a pass to the right circle and picked up his second assist of the night when Reichel punched another one-timer past Cormier at 9:41 to take a 2-1 lead with his fifth power-play goal of the season.
The Moose tied the game 2-2 late in the middle period when forward Greg Meireles fired a shot over the glove of Soderblom from the right circle at 15:55 just as the IceHogs' first penalty kill came to an end.
Manitoba took its second lead of the night when Lundmark netted a slap shot from the right point immediately after the faceoff, taking a 3-2 lead at 8:01 of the final frame.
Soderblom suffered his 12th loss of the season after turning away 27 of 30 Manitoba shots, and Cormier marked 33 saves on 35 shots to earn the win.

Tune In LIVE on the IceHogs Broadcast Network Presented by BMO
Watch and listen to every game this season on the IceHogs Broadcast Network presented by BMO! Listen from your favorite device, at home, or on the road at IceHogs.com and on the IceHogs app and watch LIVE on AHLTV and selected games on 23.3 Circle TV! Fans can also tune in on all of Mid-West Family's local stations including 104.9 The X, B103, 95.3 The Bull, and Rockford Greatest Hits 100.5 and featured on Rock River Current, the Stateline's premiere source for local events, news and culture.