RECENT DRAFT CLASSES SET FOUNDATION FOR FUTURE SUCCESS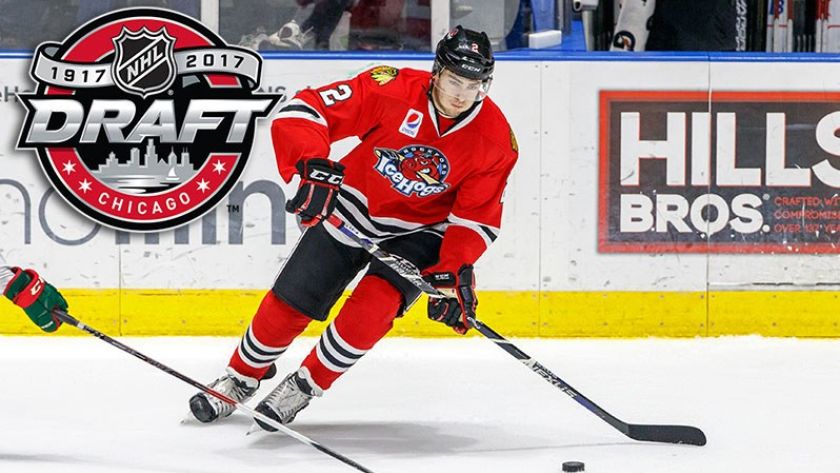 Call it a "changing of the guard."
For the Rockford IceHogs, it means a bittersweet mix of departures and acquisitions. The sendoffs of several of the team's longtime standouts, think Jake Dowell and Mark McNeill, for example, and an influx of new talent in the Hogs locker room and along the team bench.
And these new guys are good.
The IceHogs' ongoing youth movement is rooted in strong draft classes from each of the last four NHL Entry Drafts. Courtesy of Rockford's parent affiliate, the Chicago Blackhawks, the IceHogs already began bolstering their current roster with late additions last year, and can potentially feature some of the top prospects in all of hockey during the upcoming 2017-18 season.
The 2017 NHL Entry Draft takes place at the United Center in downtown Chicago - home to Rockford's NHL affiliate, the Chicago Blackhawks. Round one begins on Friday, June 23.
---
2013 NHL Draft:
Luke Johnson (5th round, 134 overall)

Anthony Louis (6th round, 181 overall)
The longest tenured IceHogs skater among the wave of new prospects, Luke Johnson was recognized as Rockford's Rookie of the Year after skating in all but three of the team's 76 games in 2016-17. Johnson, who was originally selected by the Blackhawks in the fifth round of the 2013 NHL Draft, concluded 2016-17 with 8g-9a-17pts in 73 games and ranked first among IceHogs rookies in points, assists and shots (134). He also chipped in a game-winning goal during his debut season with Rockford, and notched a season-high three-game point streak from Jan. 13-16.
Drafted just one round after Johnson in 2013, fellow Hogs forward Anthony Louis signed an ATO with Rockford on March 14, 2017. The Winfield, Ill. native netted a game-winning, shootout goal in his AHL debut just three days later March 16 at Manitoba, before finishing his first stint with the IceHogs with 1g-2a-3pts in 13 total appearances.
2014 NHL Draft:
Matheson Iacopelli (3rd round, 83 overall)

Luc Snuggerud (5th round, 141 overall)
Matheson Iacopelli led Western Michigan University in goals (20) for the 2016-17 collegiate season before signing an ATO with the IceHogs on March 30, 2017. The 23 year old then scored the game-winning tally in his professional debut March 31 vs. Texas, later notched his first multi-point game April 8 at Milwaukee (2a) and capped his first campaign at the AHL level with 1g-3a-4pts in eight games for the Hogs.
Blueliner Luc Snuggerud finished the 2016-17 collegiate season ranked second among NCHC defenseman in scoring with 31 points in 39 games for the University of Nebraska-Omaha. Snuggerud made his professional debut with Rockford March 17 at Manitoba en route to finishing the 2016-17 AHL season with 1g-4a-5pts and 18 shots in 13 games with the Hogs. The 21-year-old defenseman capped his debut with points in two of his last three games, including an assist April 12 vs. Milwaukee and his first professional goal March 14 at the Admirals.
2015 NHL Draft:
Graham Knott (2nd round, 54 overall)
Selected 54th overall in 2015, the 20-year-old Graham Knott averaged nearly a point-per-game in the OHL between the Niagara IceDogs and Windsor Spitfires in 2016-17. Knott amassed 15g-37a-52pts in 59 games between the two clubs, beginning with 17 points in 14 games with Niagara before being acquired by Windsor Nov. 11 this season. Knott then produced a pair of goals and assists in seven postseason contests with the Spitfires, as well as 3g-1a-4pts in four appearances during the 2017 Memorial Cup.
2016 NHL Draft
Alex DeBrincat (2nd round, 39 overall)

Nathan Noel (4th round, 113 overall)
Drawing arguably the most hype of the Blackhawks' upcoming prospects, Alex DeBrincat recently completed his third consecutive campaign scoring 50+ goals and 100+ points in the OHL. The winger capped the 2016-17 season with a league-high 127 points in 63 games to earn recognition as the OHL's Most Outstanding Player for his standout campaign. Following the regular season, DeBrincat then piloted the Erie Otters to a league championship with 13g-25a-38pts in 22 postseason contests, before earning a selection to the Memorial Cup's All-Star team with 2g-8a-10pts in five games during the 2017 tournament.
Nathan Noel, 19, finished his fourth straight season in QMJHL Juniors with the Saint John Sea Dogs, where he again reached the 50-point plateau with 24 goals, 26 assists, a +19 rating and 82 penalty minutes in 52 contests during the 2016-17 campaign. Like DeBrincat, the forward helped guide his club to a league championship last year, finishing with 2g-7a-9pts, a +11 rating and 31 penalty minutes in 18 playoff games with the Sea Dogs. Noel ultimately capped the 2016-17 hockey schedule with points in two of his four appearances in the Memorial Cup with Saint Johns.
---
Primed with upcoming talent, the Rockford IceHogs may boast some of the top firepower in the AHL during the 2017-18 season. The proven commodities in the likes of Johnson, Louis and Snuggerud, coupled with the potential of recent drafts from Knott to DeBrincat, set a foundation for a turnaround as Rockford seeks to regain its form atop the Western Division.
Season Tickets for 2017-18 on Sale Now: Don't miss a moment of the action by reserving your seats for the IceHogs 19th season of professional hockey and 11th as the top AHL affiliate of the Chicago Blackhawks. Opening night is Oct. 14 and ticket packages begin as low as $105 for a seven-game mini pack. Please contact us at (815) 847-6399 or visit icehogs.com to claim your spots for this upcoming season.