RAVE AND BMO HARRIS BANK ANNOUNCE NAMING RIGHTS EXTENSION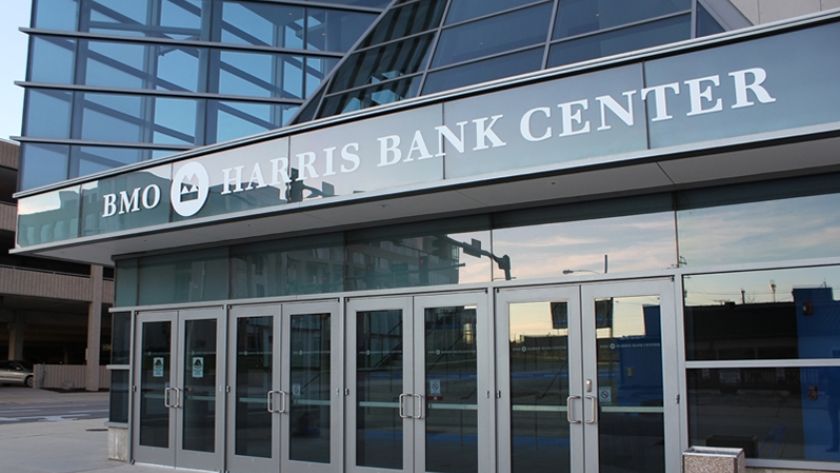 Rockford, Ill. - Rockford Area Venues and Entertainment (RAVE) and BMO Harris Bank announced today an agreement to extend the naming rights for the BMO Harris Bank Center in downtown Rockford for five more years. The agreement extends the partnership through June 2022.

Currently in the sixth year of the original naming rights agreement, the BMO Harris Bank Center and RAVE attract nearly 400,000 patrons annually to downtown Rockford and is the home of the American Hockey League's Rockford IceHogs, the top affiliate of the National Hockey League's Chicago Blackhawks.

"Continuing to support and stay active in the Rockford community is very important to us," said Andrea Ward, Market President, BMO Harris Bank. "We are proud to extend our partnership for another five years and are also excited to continue giving back to the Rockford community working together with our community partners to meet this endeavor."
"We couldn't be more excited about our partnership extension with BMO Harris Bank," said Troy Flynn, Executive Director of RAVE. "The BMO group has been an outstanding partner in our Rockford community and an exceptional team to collaborate with on and off the Ice. We are looking forward to rolling out additional elements to our guests that will make the customer experience here at the arena event better in the upcoming season."

With the new agreement, an exclusive door will be implemented at the arena for BMO Harris Bank customers. The door will be available for all IceHogs games and for select shows at the BMO Harris Bank Center.

Since forming this partnership and becoming the exclusive financial institution sponsor of the arena and the IceHogs, BMO Harris Bank has been at the forefront of the IceHogs community efforts. Community initiatives have included Goals For Grades and the annual Sock Drive, which have generated nearly 10,000 pairs of socks for Project Undershare. Most recently, BMO Harris Bank and the IceHogs teamed up to help build a playground at RocVale Children's Home in Rockford.

The BMO Harris Bank Center hosts a wide variety of events including family shows, concerts, sporting events and more, and has served as a cornerstone in the Rockford community since 1981. Some of the acts featured over the past six years include the Zac Brown Band, KISS, Carrie Underwood, Brad Paisley, Miranda Lambert, 3 Doors Down, Harlem Globetrotters, Cirque du Soleil, WWE Smackdown, Jeff Dunham and Jim Gaffigan.

Since RAVE was formed in 2010, the BMO Harris Bank Center has undergone a second wave of renovations following a major overhaul in 2007. A new high definition lighting grid and the entire lower level seating structure in the arena was replaced in 2014 while the concession stands have experienced consistent upgrades since 2013. Most recently, Oink Outfitters, the IceHogs official merchandise store, has been expanded on IceHogs game nights offering fans a greater selection of Hog wear. A new LED outdoor lighting system was also implemented last year to provide more adequate lighting around the exterior of the arena.

About BMO Harris Bank
BMO Harris Bank provides a broad range of personal banking products and solutions through nearly 600 branches and approximately 1,300 ATMs in Illinois, Wisconsin, Indiana, Kansas, Missouri, Minnesota, Arizona and Florida. BMO Harris Bank's commercial banking team provides a combination of sector expertise, local knowledge and mid-market focus throughout the U.S. For more information about BMO Harris Bank, go to the company fact sheet. Banking products and services are provided by BMO Harris Bank N.A. and are subject to bank and credit approval. BMO Harris Bank® is a trade name used by BMO Harris Bank N.A. Member FDIC. BMO Harris Bank is part of BMO Financial Group, a North American financial organization with approximately 1,500 branches, and CDN $692 billion in assets (as of July 31, 2016).