RAMPAGE POWER PAST ICEHOGS IN THE THIRD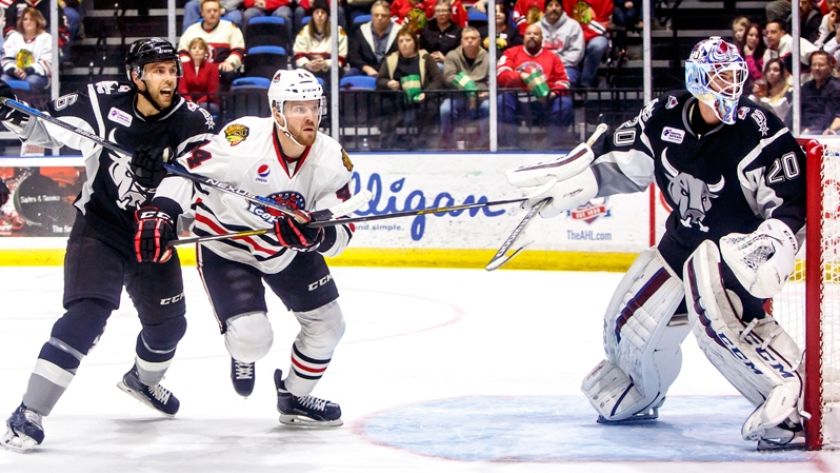 Rockford, Ill. - The San Antonio Rampage controlled the third period and took advantage of four unanswered goals to take a 5-2 decision over the Rockford IceHogs Friday night at the BMO Harris Bank Center.

With the score tied at 2-2 after 40 minutes, San Antonio outshot Rockford 17-7 over the final frame of play en-route to a three-goal stanza and their fifth-straight win. The IceHogs dropped the final game of the season series against the Rampage after winning the first three. Trevor Cheek (1g-1a), Alex Belzile (2a), and Mikko Rantanen (2a) all registered two-point nights for the visitors.

Rockford broke through with 1:47 remaining in the opening period to take a lead into the first intermission. Ville Pokka tipped a pass from Vince Hinostroza towards goal, where it hit the chest of Pierre-Cedric Labrie and dropped between his skates. Labrie located the puck and snuck it under Reto Berra for his 19th tally of the season.

San Antonio equalized off a Rockford defensive lapse at the 7:41 mark of the second period. After Mac Carruth stoned Cheek on a breakaway, Maxim Noreau controlled the puck at the top of the circle and snapped his 12th goal of the campaign past the Hogs netminder.

Chris DeSousa and the IceHogs answered back while shorthanded just 1:22 later. Kyle Baun chipped a loose puck through a stick-less Brandon Gormley to DeSousa, who raced in on Berra before snapping a shot under his blocker to retake the lead at 2-1.

San Antonio scored on either side of the second intermission to take a one-goal lead over Rockford. Garry Nunn tied the contest once again with 20.9 seconds remaining in the middle stanza off a feed from Ben Street, and Garrett Thompson gave the Rampage the lead for good with a one-timer 2:09 into the third period.

The Rampage closed out the IceHogs with a pair of goals over the next eight minutes. Cheek picked up his second point of the game on a two-on-one as he tipped home a saucer pass from the stick of Belzile at 6:40 of the final frame. Borna Rendulic capped the scoring on the power play by tipping a shot-pass from Rantanen at 10:06 to give San Antonio a 5-2 advantage.

Carruth turned aside 34 shots in defeat while Berra saved 26-of-28 for the Rampage. Rockford was 0-for-4 on the man advantage and allowed one power-play goal in three opportunities.

Next Home Game: Saturday, April 2 vs. Iowa Wild at 7 p.m. The first 2,500 fans who enter the building will receive an IceHogs garden gnome, courtesy of Riverside Dental. The contest marks the last time the IceHogs face the Wild on BMO ice this season.