RAANTA SHUTS DOWN CHECKERS IN GOALTENDERS DUEL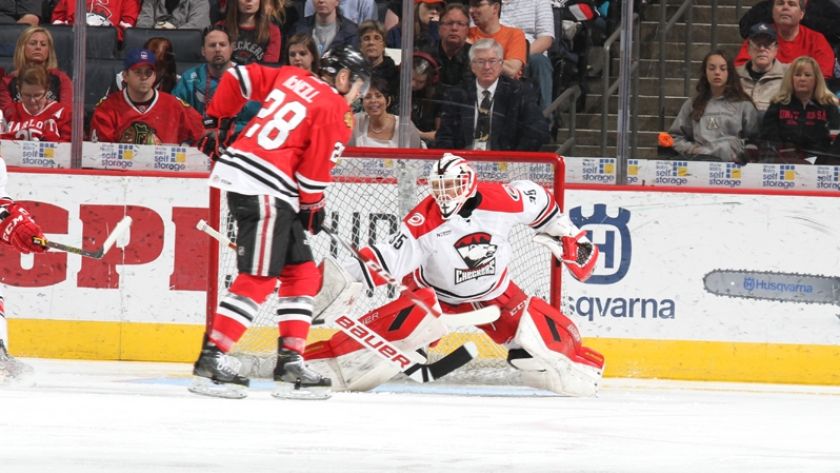 Raanta records second career AHL shutout and team's 10th of the season

Charlotte, N.C. – With a playoff spot already in their pocket, the Rockford IceHogs (44-21-5-2) have their sights set on a Midwest Division title. The IceHogs moved closer to achieving that goal with a 2-0 blanking of the Charlotte Checkers (29-36-6-1) on Saturday night.

With just four games remaining on the regular season schedule Rockford climbed back in control of the Midwest Division leapfrogging the Grand Rapids Griffins, whose game with San Antonio was still in progress at the conclusion from Charlotte. The win for the IceHogs also guaranteed them home ice advantage for the first round of the Calder Cup Playoffs as the team is assured to have at least a fourth seed to begin the postseason.

Both goaltenders turned in solid performances on the night with Antti Raanta picking up his second career AHL shutout and an IceHogs franchise record 10th of the season for the team. While Raanta received goal support from his teammates, he also came up big down the stretch holding the Checkers off the board as they were pressing late in the contest. In all, Raanta stopped all 25 shots he faced to improve his record to 8-1-1.

It was a familiar source that got Rockford's offense going as Spencer Abbott collected his 18th of the season to give the IceHogs a 1-0 lead at 7:58 in the second period. The IceHogs received an abbreviated power play after skating 4-on-4 for 39 seconds and cashed in for the game's first tally. Peter Regin dug a puck out along the boards and sent it cross-ice to Ryan Hartman. The winger collected the pass before dishing out a no-look feed for Abbott to tap past Drew MacIntyre.

The goal extended Abbott's goal scoring streak to three straight games and Rockford's leading scorer has now notched points in five straight contests (4g-6a).

MacIntyre was stellar between the pipes for Charlotte despite being tagged with the loss. The Checkers netminder stopped numerous IceHogs chances to keep his team in it until the very end as he finished with 33 saves.

Mark McNeill claimed the club's goal-scoring lead as he sealed the game with an empty-netter for his 22nd of the season. Rockford earned their AHL-best 22nd victory on the road this season, tying a franchise record last set during the 2006-07 season.

Next Home Game: Wednesday, April 15 vs. Charlotte Checkers. The IceHogs begin a three-game homestand to close out their regular season schedule when they host Charlotte at the BMO. It is the final WXRX Dollar Day of the season, so fans have one last chance to enjoy hot dogs, sodas, beers and companion tickets all for just $1 each.