Q&A WITH ROBIN NORELL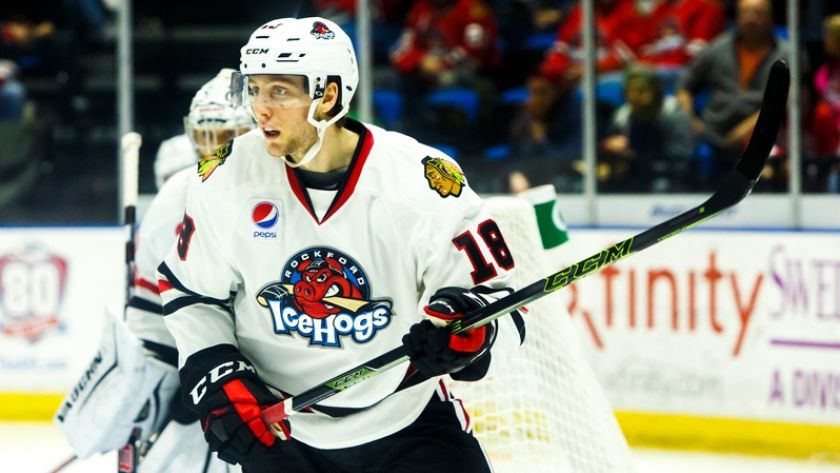 Defenseman Robin Norell completed his fourth Prospect Camp with the Blackhawks last week in Chicago. The 21 year-old is entering his first season in North America after signing a three-year entry level contract with the Blackhawks on March 31. Last season, Norell notched eight points (2g-6a) in 51 games with Djurgardens IF in the Swedish Hockey League before joining the IceHogs for the final eight games of the regular season.

IceHogs.com recently caught up with Norell after the third day of Prospect Camp to get his thoughts on camp and the season ahead.

This is your fourth Prospect Camp with the Blackhawks. How have things changed since your first camp?

Norell: I've had a little bit more confidence. I know more of the staff and I feel a little bit more relaxed. I can play out my game a little bit more so it's good.

You are one of quite a few Swedes under contract with the Blackhawks, how close are you to some of the others?

I know all the guys pretty much. It's really fun to have them all here because everyone is a good guy. We all compete with each other. I think we all have a good connection and know what we're supposed to do here in Chicago.

How nice has it been from a comfort level to be able to talk to the other players from Sweden going through the same process as you (Dahlstrom, Forsling, Johansson)?

Of course it's really good to have because you have someone to talk to during and after the games and practices. It's really nice to have that.

Talk about your season last year in Sweden?

Last season ended pretty good. We went to the quarterfinals which was nice. Of course, our goal was to win the gold medal but sometimes it's too hard to make it. I think we ended pretty good and overall my season was good. I was able to get a lot of ice time over there and I thought overall it was a good season for me.

You have been able to get a couple games under your belt in the AHL the past two seasons, what has that been like?

Of course it's nice. It's been really good for me because when we went out in the Division Semifinals I felt like I have more in me. So it's a really good opportunity for me to come over and play in the last 10 games. It was a lot of fun too.

What is the biggest change coming from Sweden to hockey in North America?

It's a little bit different. I should say it's more straight-forward here in the AHL. Back home in Sweden it's more tactical with how you use the puck and don't throw it away too much.

How exciting was it to sign a contract with the Blackhawks in late March?

It was like the greatest thing that I have ever been through in hockey. It's a dream come true and it felt so nice. It's a great opportunity and will be a really big challenge for me.

What would you say is the biggest thing that you have been working on heading into the 2016-17 season?

I'm working on everything. I want to be better in every area. Just keep on going every day and try to learn something new. I've just been practicing with what I have to do better.

What does your summer look like in terms of off-season conditioning/training?

Of course, it picks up now. I'm heading back home to Sweden. I train with a really good friend of mine. We train really really hard to get ready for next season.

Have you had some time to enjoy the offseason?

Actually, after we finished the season with the IceHogs, I went to Malaysia in Borneo with Dahlstrom and Forsling. We did some hiking and diving, it was a lot of fun.