PROSPECT PREVIEW: 2018-19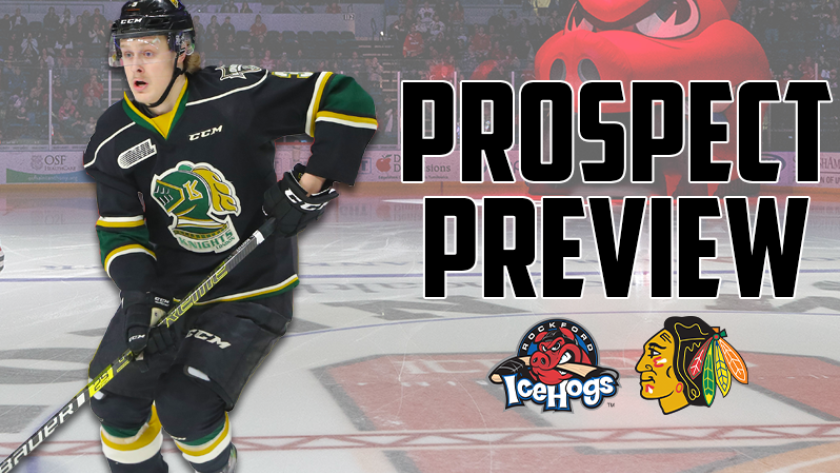 ROCKFORD, Ill. -- As Juniors and the collegiate season wrap up for the 2018-19 campaign, several prospects in the Chicago Blackhawks' system can potentially suit up with the Rockford IceHogs for the stretch run of the 2018-19 AHL season. Players listed below, if eligible, can return to Juniors after this season rather than skating with the IceHogs, and collegiate players can return to the NCAA if they do not skate with Rockford.
Some notable amateur players who joined the IceHogs at the tail end of a campaign include Kyle Beach (2008-09), Ben Smith (2009-10), Phillip Danault (2011-12), Mark McNeil (2011-12) and Stephen Johns (2013-14). More recent additions to an IceHogs late-season roster also include Anthony Louis (2016-17), William Pelletier (2016-17) and Joni Tuulola (2017-18).
---
D – Adam Boqvist | Rd. 1 (8th overall) | 2018 NHL Draft
The 18-year-old defenseman has excelled with the Ontario Hockey League's (OHL) London Knights this season, posting a better than point-per-game average with 59 points (20g, 39a) in 52 games. He is currently second among league defensemen in goals and fifth among OHL blueliners in total scoring as of Monday, March 11. The blueliner was recently tabbed the league's Defenseman of the Month after leading all blueliners in scoring with 19 points (6g, 13a) over just 13 contests.
Boqvist also skated at the World Juniors this season, tallying a goal and three assists in five tournament games with Sweden's U-20 team.
---
D – Nicolas Beaudin | Rd. 1 (27th overall) | 2018 NHL Draft
The 19-year-old blueliner nearly matched Boqvist's production with 56 points (7g, 49a) in 51 games during the regular season with Drummondville. He led all team defensemen in both scoring and assists this season and finished first among all league blueliners with an impressive +60 rating over his 51 appearances. Beaudin posted an even-or-better plus/minus rating in 46 of 51 games, while his +60 overall rating finished as five better than any blueliner in the Quebec Major Hockey League (QMJHL)
Through four seasons in the QMJHL, Beaudin has totaled 167 points (24g, 143a) in 209 games.
---
F – Philipp Kurashev | Rd. 4 (120th overall) | 2018 NHL Draft
The 19-year-old forward completed his third consecutive season in the QMJHL, posting career-high totals with his 62 points, 28 goals, 34 assists and 33 penalty minutes in 57 games. Kurashev's 62 points are currently 15 more than any other skater on Quebec's roster and his 28 goals are nine more than the next-closest skater. He also won more than 50 percent of his faceoffs for the second straight season, concluding the year having won 52.5 percent of his draws.
Kurashev also skated at the World Juniors this year and posted a point-pet-game average with six goals and an assist in seven tournament games. He concluded the tournament ranked first on Switzerland's U-20 team for the 2019 showcase.
---
D – Chad Krys | Rd. 2 (45th overall) | 2016 NHL Draft
The 20-year-old defenseman has logged 16 points (7g, 9a) in 26 Hockey East games during his junior season at Boston University this year. Krys is first among all blueliners at Boston in goals this season, and his four power-play goals are second among all Terriers skaters behind only Dante Fabbro's team-high five power-play markers. He is also just one game removed from tallying a five-point game with two goals and three assists against Merrimack on March 2.
Overall, Krys has combined for 54 points (19g, 35a) in 101 NCAA games over the last three seasons.
---
F – Mathias From | Rd. 5 (143rd overall) | 2016 NHL Draft
The 21-year-old forward skated as a Black Ace with the IceHogs during the conclusion of the 2017-18 season before returning to Denmark for the 2018-19 campaign. In his second season at the top level of the Swedish Hockey League, From totaled eight goals and eight assists over 45 appearances with AIK. He also posted a +6 rating, which ranked 10 points better than his first season with AIK and logged 16 penalty minutes with the team.
From has combined for 21 points (10g, 11a) and 26 PIMs in 68 career games in the top level of the SHL (Allsvenskan).
---
Next Home Game: March 16 vs. Cleveland | 6 p.m.
The Rockford IceHogs host Dino Night on March 16 at the BMO Harris Bank Center. The first 2,500 fans in attendance will receive a FREE bobblehead of Jane, the T-Rex, which is displayed in Rockford's own Burpee Museum of Natural History, courtesy of Register Star Media.