PROSPECT KNOTT SEEKS TO CONTINUE SUCCESS IN BLACKHAWKS ORGANIZATION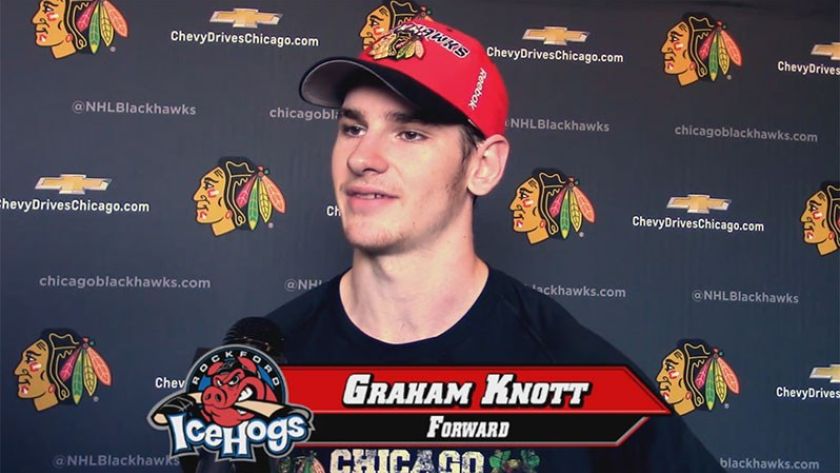 Rockford, Ill. – Graham Knott believes having a championship mentality is what will give him a leg up as he starts his professional career – And after winning the 2017 Memorial Cup, he has exactly that experience.
Chicago's second-round selection from the 2015 NHL Draft skated with the Niagara IceDogs in the Ontario Hockey League for four seasons before getting traded this year to the future 2017 Memorial Cup Champions, the Windsor Spitfires. Knott tallied 124 points (49G, 75A) in 205 games with the IceDogs prior to the deal.
Over those four seasons, Knott focused on developing leadership through his seniority, which he hoped to bring to Windsor after being traded.
"I'm just trying to be a leader whenever possible, on and off the ice. It's something that I can bring to the team."
Knott then totaled four points (3G, 1A) in four games in the Memorial Cup to help lead the Spitfires to a championship title. For Knott, that championship is what can give him the advantage as he works his way into the Chicago Blackhawks organization.
"Everyone likes winners, I was fortunate enough to become a winner; bringing it up into my Chicago or Rockford days will be good. I can prove I can be a winner and I can prove that I can perform in those big situations."
The Memorial Cup also helped measure Knott's individual development against some of the NHL's top upcoming talent, including fellow Blackhawks' prospects Alex DeBrincat (Erie Otters), Matthew Highmore (Saint John Sea Dogs) and Nathan Noel (Saint John).
"With Alex, Nathan and Highmore… there's a lot of competition; you wanted to better them out there, but you also wanted to get the win for your team," Knott said.
With a taste of success in the OHL, Knott is now continuing to work on his game to prepare for the NHL. He began that transition last week at Chicago's prospect camp, where Knott was evaluated by the Blackhawks' development staff through the five-day workout period.
"We want to evaluate where they come from the end of the year," Director of Blackhawks Minor League Affiliations, Mark Bernard said. "We want to see where they are now and tell them what they need to work on and we can gage it when they come back for training camp in about six or seven weeks."
For Knott, that means developing all three aspects of his game on the ice as he begins his three-year entry level contract in the Blackhawks organization in 2017-18.
"My offensive side is something I want to pick up, putting the puck in the back of the net, finding that open ice and getting open for my teammates and creating offense" Knott said. "I want to work on that and hopefully I can showcase myself."