PROSPECT CAMP PROFILE: KYLE BAUN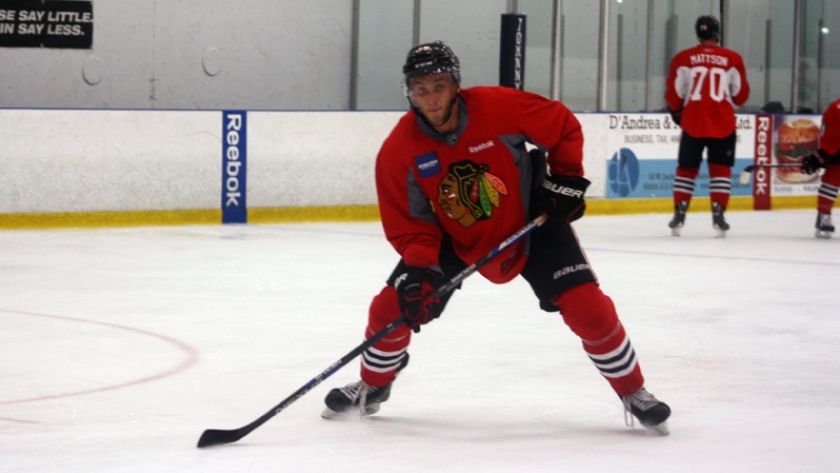 With the 2015-16 season under 100 days away, forward Kyle Baun was back at work. Baun was one of 57 players attending Chicago Blackhawks Prospect Camp in Chicago from July 12-17. IceHogs.com caught up with Baun after one of the practice sessions to get his thoughts on the offseason and his upcoming rookie campaign.

What has your experience been like so far at Prospect Camp? What are you hoping to learn and take away from your time here?

Kyle Baun: The skates have been good with a high temp. Barry [Smith] and Kevin [Delaney] have done a great job of teaching us different drills and stuff like that. I'll just take some of those back home and use them the rest of the summer to hopefully help improve for main camp.

With the Blackhawks making roster changes, as a player do you pay attention to that and look at it as an opportunity to turn some heads here early on?

KB: It's definitely a good opportunity to come here and continue to show my skills but I try not to pay too much attention to it. I'm assuming it might change more before camps comes around, so I'm just trying to improve my own game and do the best I can.

As you get ready for your first full season, is there anything specifically you've been working on here or over the summer?

KB: Just trying to improve my overall game. Skating is obviously one of the main things I am trying to work on, along with my shot and all the little things. I just want to keep getting better and better every day.

What was the experience like to join the Blackhawks and get a few National Hockey League games in after your season with Colgate?

It was surreal and a really good experience, especially to prepare for next year. It gets me a little more comfortable to be at that level. Overall, I think it just makes me more comfortable for the future.

Did you notice any differences from the college level to the pro game?

Positionally everyone is a lot better and everyone is a little bit faster and a little stronger. So it's just a matter of getting used to the speed and continuing to improve my game.