PROJECTED LATE FIRST-ROUND PICKS IN 2017 NHL DRAFT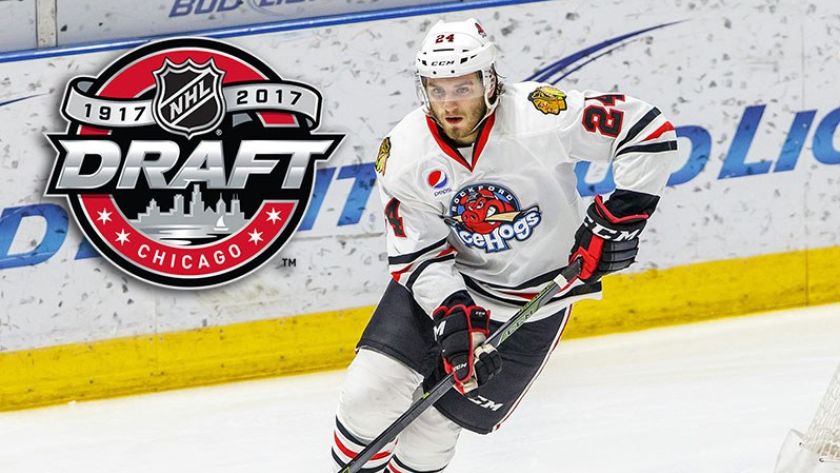 As the 2017 NHL Draft quickly approaches, the Chicago Blackhawks, like every other NHL club, look to add to their talent pool with promising young players. For the first time since the 2014 draft (Nick Schmaltz), the Blackhawks are poised to make a selection in the opening round.

Predicting even the first five picks of a draft usually works out to be an exercise in futility. Fortunately, NHL.com posts a list of player rankings for North American and European skaters and goaltenders. Below is a look at the skaters ranked 11 – 14th, for both regions, who may be available for Chicago when it makes the 26th overall selection on Friday night.

Note: Rankings are based on the location of the player's most recent team, not the player's nation of birth.

North American Skaters:
#11 – Jusso Valimaki (Defenseman – Tri-City Americans):
Valimaki brings size and scoring to the blue line, finishing the 2016-17 season with 19g-42a-61pts in 60 games. His 19 goals led all Tri-City (WHL) defensemen, and was named to the WHL's All-Second Team. The 6-2, 211 lbs. rearguard hails from Tampere, Finland, and helped his native country to a Gold Medal in the 2017 World Junior Championships.

Profile and Scouting Report

#12 – Callan Foote (Defenseman – Kelowna Rockets):
A native of Denver, Col., Foote takes after his father Adam Foote (two-time Stanley Cup champion with Colorado) with his towering 6-4, 215-lbs. frame. He also adds plenty of scoring power as he led all Kelowna (WHL) blue liners with 57 points (6g-51a) in 71 games. His 57 points ranked 11th among all WHL defenders, while his 51 assists were sixth.

Profile and Scouting Report

#13 – Ryan Poehling (Center – St. Cloud State University):
Measuring in at 6-2, 177 lbs., Poehling played 35 games for St. Cloud State University in 2016-17 and posted 7g-6a-13pts in his freshman campaign. The Lakeville, Minn. native also chipped in a pair of game-winning tallies for the Huskies. Before heading to the NCAA ranks, Poehling was a star at Lakeville North High School in Minnesota, where he notched 20g-34a-54pts in 25 games in 2015-16.

Profile and Scouting Report

#14 – Jason Robertson (Left Wing – Kingston Frontenacs):
A big left wing with plenty of scoring power, Robertson finished the 2016-17 season as the leading scorer for the Frontenacs with 42g-39a-81pts in 68 games. He then posted 5g-13a-18pts in 11 games in the OHL playoffs to once again pace the team. As a rookie in 2015-16, the 6-2, 196 lbs. forward led all Kingston rookies in goals (18), assists (14) and points (32).

Profile and Scouting Report

European Skaters:
#11 – Filip Chytil (Center – HC Zlin):
Chytin had a busy 2016-17 season, appearing in 38 games with HC Zlin in the top Czech Republic league (4g-4a-8pts) and helping the Czech U-18 Team capture their first-ever gold medal at the 2016 Ivan Hlinka Memorial Tournament (3g-1a-4pts in five games). He also notched five points (2g-3a) in five games at the 2017 IIHF U18 World Championships and recorded 1g-2a-3pts for Czech at the 5-Nations Tournament. In 2015-16, the Hulln, Czech Republic, native racked up 50 points (28g-22a) in 30 games for the HC Zlin U-18 club.

Profile and Scouting Report

#12 – Marcus Davidsson (Center – Djurgarden):
The 6-0, 191 lbs. center split the 2016-17 season between Djurgarden in the Swedish Hockey League and the club's affiliated junior club. In 45 games in the Swedish Hockey League, Davidsson collected 5g-4a-9pts. He averaged more than a point-per-game with the junior team, scoring 10 points (6g-4a) in nine contests.

Profile and Scouting Report

#13 – Alexei Lipanov (Center – Balashikha):
Hailing from Moscow, Russia, Lipanov got his first taste of professional action in 2016-17 with 3g-5a-8pts in 21 games in the Russian tier-two league. In addition, he collected three assists in 11 games for MVD Balashiikha in the junior league as well. The 6-0, 169 lbs. forward also competed for Russia at the IIHF U18 World Championships and represented his home country in the Ivan Hlinka Memoria Tournament.

Profile and Scouting Report

#14 – Ostap Safin (Right Wing – Sparta):
Safin primarily split time for Sparta in the top Czech league and Sparta Jr. in the country's top junior division in 2016-17, collecting a pair of points (1g-1a) in eight games with Sparta and 6g-12a-18pts in 24 junior games. A native of Prague, Czech Republic, Safin played alongside Filip Chytil to secure a gold medal in the U18 Ivan Hlinka Memorial Tournament and also represented the Czech Republic at the 2017 IIHF U18 World Championships.

Profile and Scouting Report

Season Tickets for 2017-18 on Sale Now: Don't miss a moment of the action by reserving your seats for the IceHogs 19th season of professional hockey and 11th as the top AHL affiliate of the Chicago Blackhawks. Opening night is Oct. 14 and ticket packages begin as low as $105 for a seven-game mini pack. Please contact us at (815) 847-6399 or visit icehogs.com to claim your spots for this upcoming season.