POINT STREAK CONTINUES AS DEFENSE LIFTS HOGS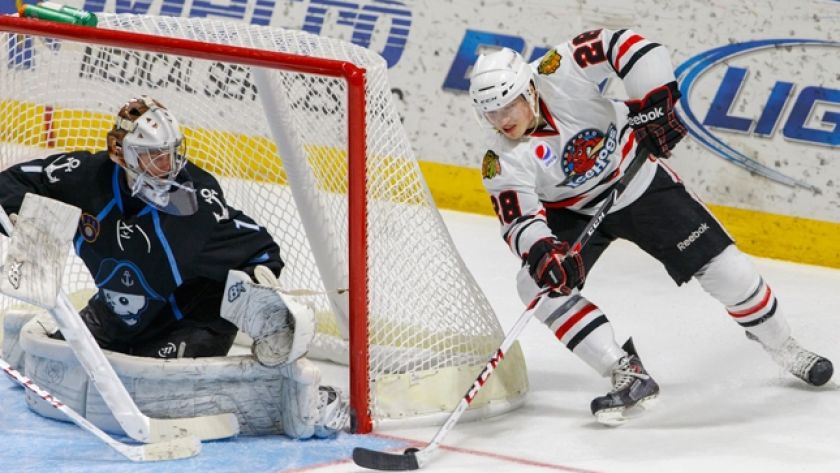 Hogs take two against Midwest opponents on back of stingy defense

Week 21 Recap:
Last week's slate of games marked the fourth and fifth straight games against Midwest Division opponents. On Friday night, the IceHogs faced their I-90 rival, the Chicago Wolves, and knotted up the Illinois Lottery Cup standings at eight points apiece in a close 2-1 contest. Rockford scored the first two goals before Chicago notched a marker in the third to break up Jason LaBarbera's possible shutout. Saturday night marked a more secure victory for the IceHogs as they took down the Milwaukee Admirals 4-1. Rockford notched goals in all three periods but once again gave up a third period goal to end another possible LaBarbera shut out.
Week 21 Audio Recap

Week 21 Results
Friday, Feb. 21: Chicago 1 vs. Rockford 2
Saturday, Feb. 22: Milwaukee 1 vs. Rockford 4

Week 22 Schedule
Tuesday, Feb. 25, at Iowa, 5:35 p.m.
Friday, Feb. 28, at Oklahoma City, 7 p.m.
Saturday, Mar. 1, at Oklahoma City, 7 p.m.

Bacon Bits:
-The IceHogs improved their point streak to nine straight games (8-0-0-1) with two big wins over Midwest Division opponents in Week 21 (Chicago and Milwaukee)
-On home ice the Hogs are currently in the midst of a seven game unbeaten streak (6-0-0-1), dating back to 1/25/14
-The IceHogs improved to 9-4-0-2 at home against Midwest Division opponents with a .667 win percentage
-10 of Rockford's remaining 20 games are against their Midwest Division rival Milwaukee Admirals and Chicago Wolves
-Rockford is now a season-best seven games above .500, sitting sixth in the Western Conference (28-21-4-3)
-Goaltender Jason LaBarbera extended his personal winning streak to six straight games, dating back to 2/4/14
-During the stretch, LaBarbera has posted a 2.49 goals against average with a .919 save percentage
-Winger Jeremy Morin continued his hot month by pushing his point streak to nine straight tilts
-Morin has racked up 15 points (7g-8a) over the hot stretch and tied Joakim Nordstrom for the longest point streak this season for the IceHogs
-Center Brandon Pirri extended his point streak to six straight contests, including three straight with a goal
-During Pirri's recent point binge, he has accumulated six goals and three assists
-Former captain Martin St. Pierre and forward Jeff Taffe hold Rockford's all-time longest point streak of 15 games, set during the 2007-08 and 2010-11 seasons respectively
-Since coming to Rockford, Pierre-Marc Bouchard has tallied points (1g-8a) in five of the six games he's suited up for the IceHogs
-The BMO Harris Bank Center hosted back-to-back sellout crowds on Friday and Saturday with a robust 12,272 fans in attendance over the weekend

Hot Hog: Week 21
Goaltender, Jason LaBarbera
The IceHogs continued their point surge, due in large part this week to solid goaltending from Jason LaBarbera. The 33-year-old netminder picked up two wins against Midwest Division rivals, only allowing a goal in each contest. LaBarbera began the week with a 21 save performance against the Chicago Wolves on Friday to help the Hogs to a 2-1 victory. The next night the Burnaby, British Columbia native earned the game's #1 star, stopping 36 of the 37 shots he faced, en route to a 4-1 win over the Admirals. LaBarbera has now picked up a win over his last six outings, posting a 2.49 goals against average and .919 save percentage.

Upcoming Games: Week 22
Tuesday, Feb. 25 at Iowa Wild: Puck drop will be at 5:35 p.m. Rockford plays Iowa in their last of six straight contests against the Midwest Division.

Friday, Feb. 28 at Oklahoma City Barons: Game time is set for 7 p.m. The IceHogs take on the Barons for the first time since two straight at home in December. This game will be the first of two straight games at Oklahoma City.

Saturday, Mar. 1 at Oklahoma City Barons: Opening face-off will be at 7 p.m. Ending a three-game road trip, the IceHogs face the Barons for the second straight night to end week 22.

Illinois Lottery Cup Series Standings
Teams Record Points
Chicago 3-2-0-1 8
Rockford 3-2-0-2 8

Upcoming Illinois Lottery Cup Games:
Mar. 21: Rockford at Chicago, 7:30 p.m.
Mar. 22: Chicago at Rockford, 7 p.m.
Mar. 30: Chicago at Rockford, 7 p.m.
Apr. 13: Rockford at Chicago, 3 p.m.
Apr. 18: Chicago vs. Rockford, 7 p.m.