PLAYOFFS WEEK 5 REPORT: HOGS TRIPPED UP IN TEXAS; HOMESTAND AHEAD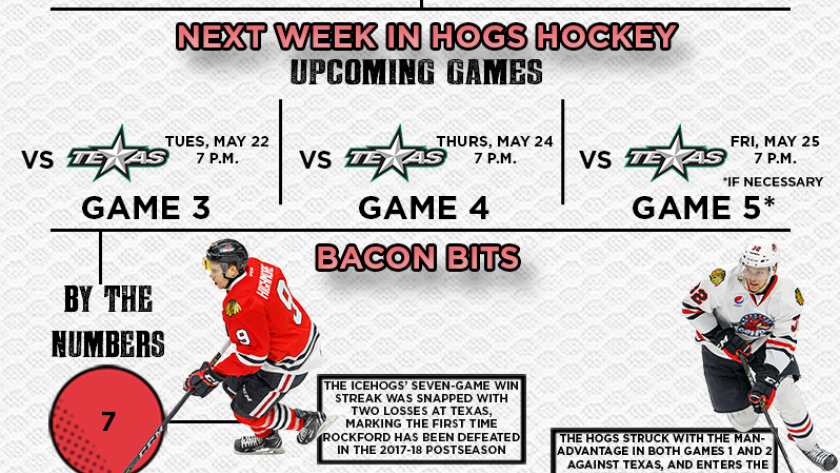 BACON BITS
-The Rockford IceHogs snapped a seven-game win streak and four-game road win streak with back-to-back losses at the Texas Stars...The Hogs have yet to win in regulation at Texas this season, posting a shootout victory and three losses in four trips to the H-E-B Center at Cedar Park...Rockford is now 7-2 this postseason and 3-6 all-time in the playoffs against the Texas Stars.
-The IceHogs converted on the power play in both Game 1 and Game 2 against Texas...Rockford has now scored at least one power-play goal in each of its first nine playoff games, and enters the week ranked first in both power-play goals (17) and power-play efficiency (34.7%)...Overall, the IceHogs have scored with the man-advantage in 11 straight games, and boast 30 power-play goals over the last 22 games since March 17.
-The Hogs led the league in shots per game during the regular season (33.82), while Texas ranked 26th with 28.61 shots/game...However, the Stars have outshot the IceHogs 189-170 through six meetings in 2017-18, with Rockford averaging 28.3 shots/game against Texas, and the Stars averaging 31.5 shots/game against the IceHogs.
-Chris DiDomenico leads the league in scoring with 14 points (6g, 8a) in nine games this postseason...His 14 points tie Rockford's AHL playoff points record set by Martin St. Pierre in 2008 (14 points, 12 games)...DiDomenico has notched at least one point in eight of nine games this postseason, and he is the only skater in the AHL with four multi-point efforts thus far in the Calder Cup playoffs.
-Chris DiDomenico scored a goal on Sunday with Adam Clendening and Cody Franson picking up the two assists on the marker...That trio has now combined for the goal and both assists on five separate goals this postseason (all power-play goals)...Overall, DiDomenico, Clendening and Franson have tallied at least one point in the same game in seven of the IceHogs' nine postseason contests.
-Adam Clendening tallied a pair of assists in Game 3 and leads the league with 11 helpers this postseason (his 11 assists are three more than any skater in the AHL playoffs)...Clendening has recorded 10 of his 11 assists while on the power play (including each of his first nine helpers this postseason), and 11 of his 12 total points while on the power play...He enters the week ranked first in the league in assists, power-play assists and power-play points.
UPCOMING GAMES
Tuesday, May 22 | Texas vs. Rockford (7 p.m.) The Rockford IceHogs return home for Game 3 of the Western Conference Finals at the BMO Harris Bank Center. Puck drop is 7 p.m. and Tuesday's promo slate features Chicago Blackhawks anthem singer, Jim Cornelison, and free rally towels to the first 2,500 fans courtesy of courtesy of LawnCare by Walter, Inc., Mr. C's Family Restaurant and Anderson Toyota.
Thursday, May 24 | Texas vs. Rockford (7 p.m.) The IceHogs host Game 4 against the Texas Stars at 7 p.m. Blackhawks mascot, Tommy Hawk, will be in attendance and the first 2,500 fans will receive a free rally towel.
Friday, May 25 | Texas vs. Rockford (7 p.m.) If necessary, Rockford will host its final home game of the Western Conference Finals against the Stars. The IceHogs are 3-6 all-time against Texas in the AHL playoffs.
ICEHOGS BROADCASTING NETWORK
Catch every IceHogs playoff game, home and road, on WIFR channel 23.2 Antenna TV in the Rockford market and online through AHLLive.com. Every TV broadcast will start with "IceHogs Warm Up" 30 minutes prior to puck drop. Fans can also listen to the action for free at IceHogs.com, and select games at sportsfanradio1330.com. For a full broadcast schedule, click here.
PLAYOFF TICKETS ON SALE!
IceHogs playoff tickets can be purchased by calling (815) 968-5222 to reserve your seats for all home postseason matchups. Tickets can also be purchased online at IceHogs.com, in-person at the BMO Harris Bank Center Box Office in downtown Rockford or at any Ticketmaster outlet, including Walmart.