PLAYOFF HOPES SINK WITH 5-3 LOSS TO CHICAGO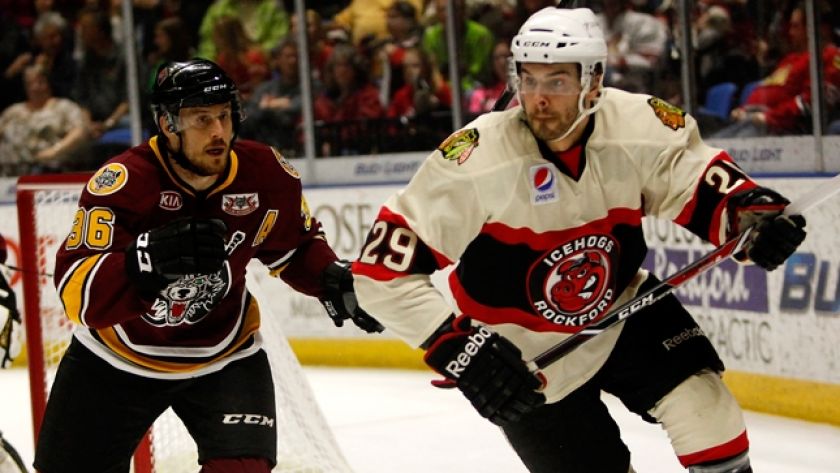 The IceHogs dropped out of playoff contention after a back-and-forth affai
Rockford, Ill. – The Rockford IceHogs had little room for error, needing to win their remaining two games heading into Friday's clash with the Chicago Wolves. Their intra-state rivals ended their playoff hopes and also took the Illinois Lottery Cup with a 5-3 win at the BMO.
With the IceHogs leading 3-2 in the second period, the Wolves got the equalizer with 4:03 reamining in the frame. Tyler Shattock received the puck from Keith Aucoin in the right face-off circle and fired a pinpoint wrist shot over the left shoulder of Jason LaBarbera for the 3-3 marker.
Nathan Longpre put the Wolves ahead, 4-3, with 9:46 left in regulation on his sixth goal of the season. Longpre and Jake Chelios stormed into the Rockford zone and Chelios hit Longpre right in front of LaBarbera and he tucked it home.
The Wolves sealed the game and the IceHogs fate with an empty-net tally with 18 seconds left in the contest. Alexandre Bolduc flipped the puck from center ice on a delayed penalty to stretch the Chicago lead to 5-3.
The scoring started early as the Wolves marked the first goal of the game at 1:07 of the first period. Sergey Andronov took a pass in front of LaBarbera from Shattock and skated across the goal mouth to find space and fired the puck home.
The score was evened at one with 5:51 left in the opening frame Wade Brookbank and Pat Mullane got the puck to David Gilbert in the left face-off circle. Gilbert took the pass and fired a wrister past Matt Climie for his first of the season and the game-tying goal.
One minute and 18 seconds later, Rockford took the lead, 2-1, when Terry Broadhurst found rookie Ryan Hartman storming toward the net. In his eighth professional game, Hartman put the puck on Climie and it rolled over the line for the winger's first professional goal.
At 5:28 of the sandwich frame, Michael Davies skated into the IceHogs zone on a 2-on-1 break but kept the puck the whole way. The winger flicked in his 12th goal of the season to tie the game back up at 2-2.
The IceHogs and Wolves continued to trade goals as Rockford took another lead at 9:42 of the second period. Phillip Danault was able to muscle the puck into the back of the net to give the IceHogs their second lead of the game at 3-2.
LaBarbera was saddled with the loss after stopping 25 of the 29 shots he faced. Climie earned his 11th win of the season with 32 saves.
Next Home Game: Saturday, April 19 against the Charlotte Checkers. The final puck of the regular season drops at 7 p.m. The first 2,500 fans at the game will receive a 2013-14 team photo courtesy of Proforma Dimensions.