PLAYER TRACKER (2018-19)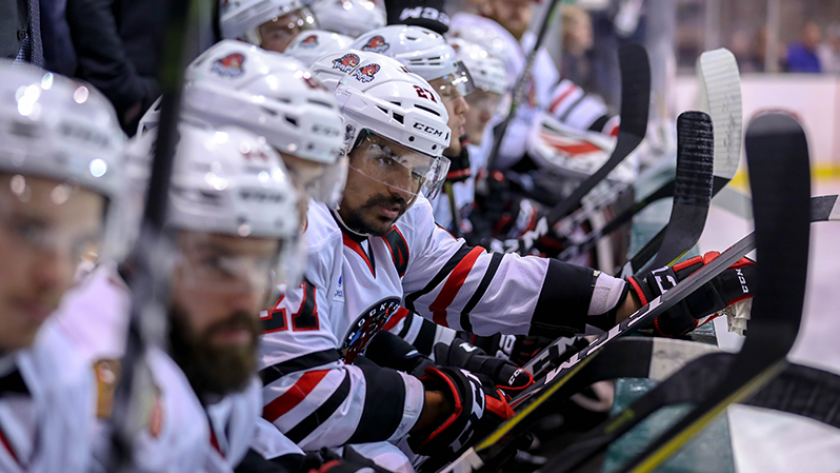 The Rockford IceHogs capped a strong playoff run during the 2017-18 season with the franchise's first trip to the Westeren Conference Finals. With the standout season officially in the books, fans can track player movement and get a glimpse of how the IceHogs roster is shaping up for 2018-19 with the team's official Player Tracker.
Below is a breakdown of contract situations for each of the players that played in Rockford last season. The list will be updated throughout the offseason.
*Updated 9/19/18
| | | |
| --- | --- | --- |
| PLAYER | 2018-19 TEAM (League) | TRANSACTION (YEAR EXPIRES) |
| Brandon Anselmini (D) | Utica Comets (AHL) | Signed one-year contract on 7/18/18 (2018-19) |
| Lance Bouma (F) | Genève-Servette HC (NLA) | Signed one-year contract on 8/14/18 (2018-19) |
| Adam Clendening (D) | Columbus Blue Jackets (NHL) | Signed a one-year contract on 7/1/18 (2018-19) |
| Laurent Dauphin (F) | Arizona Coyotes (NHL) | Signed a one-year contract on 7/14/18 (2018-19) |
| Chris DiDomencio (F) | SCL Tigers (NLA - Switzerland) | Signed a two-year contract on 6/13/18 (2018-20) |
| Cody Franson (D) | Avangard Omsk / KHL | Signed a two-year contract on 9/5/2018 (2018-20) |
| Mathias From (F) | AIK (Allsvenskan - Sweden) | Signed one-year contract on 5/24/18 (2018-19) |
| Jeff Glass (G) | Calgary Flames (NHL) | Signed PTO with Calgary on 9/4/18 |
| John Hayden (F) | Chicago Blackhawks (NHL) | Signed two-year extension on 6/15/18 (2019-20) |
| Vinnie Hinostroza (F) | Arizona Coyotes (NHL) | Traded to Arizona on 7/12/18 (2019-20) |
| Tomas Jurco (F) | RFA | RFA |
| Kyle Maksimovich (F) | Erie (OHL) | Announced one-year contract on 9/18/18 (2018-19) |
| Tommy Olczyk (F) | Cergy (France2 - France) | Signed one-year contract on 5/19/18 (2018-19) |
| Ville Pokka (D) | Avangard Omsk (KHL - Russia) | Signed one-year contract on 5/8/18 (2018-19) |
| Robin Press (D) | Färjestad BK (SHL - Sweden) | Signed one-year contract on 5/24/18 (2018-19) |
| Viktor Svedberg (D) | Calgary Flames (NHL) | Signed PTO with Calgary on 9/7/18 |
| Matt Tomkins (G) | Rockford (AHL) | Signed one-year contract on 6/19/18 (2018-19) |
| Nolan Valleau (D) | Orlando (ECHL) | Signed one-year extension on 9/12/18 (2018-19) |
| Alex Wideman (F) | Rochester (AHL) | Signed one-year contract on 9/11/18 (2018-19) |
The following are prospects that have signed with the Blackhawks or IceHogs and are eligible to play in the AHL during 2018-19:
Player
Position
2018-19 CONTRACT
TRANSACTION (YEAR EXPIRES)

J.F. Berube

G

Chicago Blackhawks (NHL)

Traded to Columbus on 6/27/18

Radovan Bondra

F

Rockford IceHogs (NHL)

Signed a one-year extension on 4/11/18 (2018-19)

Carl Dahlstrom

D

Chicago Blackhawks (NHL)

Signed a three-year contract on 4/14/16 (2018-19)

Collin Delia

G

Chicago Blackhawks (NHL)

Signed a two-year contract on 7/28/17 (2018-19)

Victor Ejdsell

F

Chicago Blackhawks (NHL)

Signed a two-year contract with NSH on 5/15/17 (18-19)

Gustav Forsling

D

Chicago Blackhawks (NHL)

Signed a three-year contract on 5/11/16 (2018-19)

Alexandre Fortin

F

Chicago Blackhawks (NHL)

Signed a three-year contract on 9/25/16 (2019-20)

Dennis Gilbert

D

Chicago Blackhawks (NHL)

Signed a three-year contract on 4/13/18 (2020-21)

Erik Gustafsson

D

Chicago Blackhawks (NHL)

Signed a two-year contract on 3/6/18 (2019-20)

Matthew Highmore

F

Chicago Blackhakws (NHL)

Signed a three-year contract on 3/2/17 (2019-20)

Matheson Iacopelli

F

Chicago Blackhawks (NHL)

Signed a two-year contract on 3/28/17 (2018-19)

Luke Johnson

F

Chicago Blackhawks (NHL)

Signed a three-year contract on 4/29/16 (2018-19)

David Kampf

F

Chicago Blackhawks (NHL)

Signed a two-year contract on 5/1/17 (2018-19)

Tanner Kero

F

Chicago Blackhawks (NHL)

Traded to Vancouver on 6/24/18

Graham Knott

F

Chicago Blackhawks (NHL)

Signed a three-year contract on 9/30/16 (2019-20)

Anthony Louis

F

Chicago Blackhawks (NHL)

Signed a two-year contract on 3/13/17 (2018-19)

Andreas Martinsen

F

Chicago Blackhawks (NHL)

Signed a one-year contract on 6/7/18 (2018-19)

Nathan Noel

F

Chicago Blackhawks (NHL)

Signed a three-year contract on 4/27/17 (2019-20)

Robin Norell

D

Chicago Blackhawks (NHL)

Loaned to

Djurgarden IF (2018-19)

William Pelletier

F

Rockford IceHogs (AHL)

Signed a one-year extension on 2/1/18 (2018-19)

Darren Raddysh

D

Chicago Blackhawks (NHL)

Signed a two-year contract on 5/21/18 (2019-20)

Henrik Samuelsson

F

Rockford IceHogs (AHL)

Signed a two-year contract on 4/11/18 (2018-19)

Tyler Sikura

F

Chicago Blackhawks (NHL)

Signed a one-year contract on 3/6/18 (2018-19)

Luc Snuggerud

D

Chicago Blackhawks (NHL)

Signed a three-year contract on 3/15/17 (2019-20)

Joni Tuulola

D

Chicago Blackhawks (NHL)

Signed a two-year contract on 3/27/18 (2019-20)