PLAY DARTS, POOL, AND SHUFFLEBOARD AGAINST THE ICEHOGS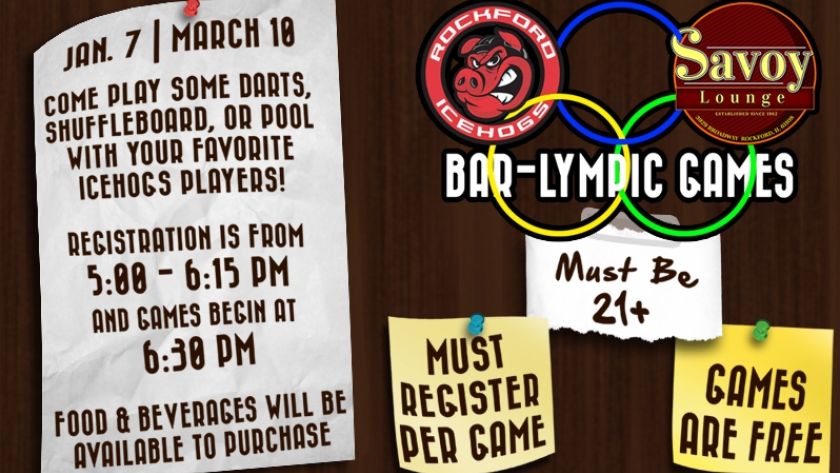 Rockford, Ill. – The Rockford IceHogs and Savoy Lounge announced details for the first of two Bar-lympic Games scheduled during the 2015-16 season.

The first round of games will be held at Savoy Lounge (3929 Broadway Ave). on Thursday, Jan. 7 from 6:30-8 p.m. Five IceHogs players will take on any challengers and participate in separate games of darts, pool, and shuffleboard.

Fans can pre-register to participate in any of the games from 5-6:15 p.m. The games are free but fans must be 21-and-over to enter the bar.

The IceHogs that will be taking on challengers include Chris DeSousa, Mike Liambas, Tanner Kero, Nolan Valleau, and Mark Visentin. Players are subject to change.

Food and drinks will be available to purchase throughout the night. The final Bar-lympic Games night at Savoy is scheduled for Thursday, March 10.

Next Home Game: Jan. 3 vs. Milwaukee Admirals at 4 pm. The first 2,500 in the gates will receive a pack of Rockford IceHogs trading cards compliments of the Rockford Register Star. After the game, the team will host a postgame skate where fans can skate with their favorite IceHogs on the BMO Harris Bank Center ice.