PETER REGIN Q&A- PLAYING THE SAME GAME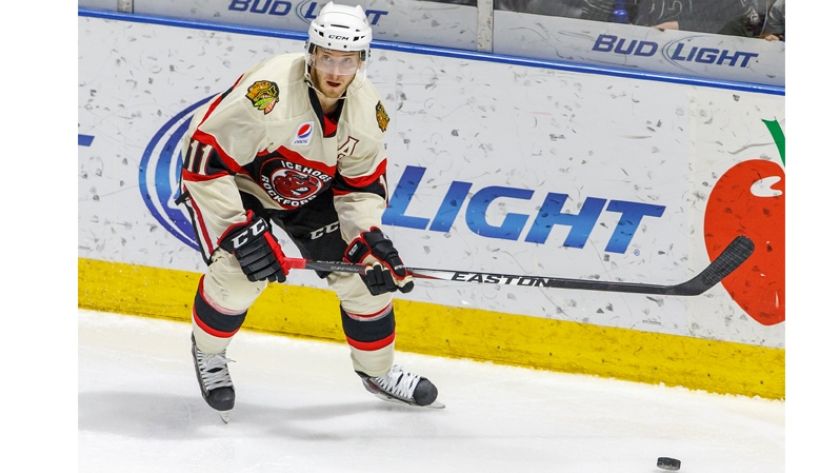 The game between the Rockford IceHogs and Grand Rapids Griffins on March 7 was just a normal game, but during a break in the action, IceHogs forward Peter Regin found out it was a special occasion for him. The contest was his 500th professional hockey contest. Regin was surprised by the special occasion and did not even realize it. The 28-year-old joins goaltender Michael Leighton as the only two IceHogs to have played in over 500 professional games.
Regin, 28, grew up in Herning, Denmark. Drafted in 2004 in the 3rd round (87th overall) by the Ottawa Senators, Regin made his NHL debut five years later on Jan. 20, 2009 as a member of the Senators. At the time of his debut, he was only the second Herning born professional hockey player to appear in an NHL game. The first was Frans Nielsen, a center for the New York Islanders. Regin and Nielsen grew up together and the duo remain best friends. Since 2009, only two other players from Herning have made appearances in the NHL (Frederik Andersen-Anaheim Ducks and Nicklas Jensen -Utica Comets).
As an experienced veteran on younger IceHogs team, Regin is one to make simple plays on the ice, but also one leading by the way of his actions rather than his words to his teammates. Regin has played alongside nearly every IceHogs forward this season and has been on tear of late, racking up seven points (2g-5a) in his last six games and 10 points (3g-7a) in nine of his last 11 games.
Age started playing hockey and why?
Regin: I started playing at age three. I also grew up playing tennis and soccer but I felt I was best at playing hockey and it was the most fun to play.
Do you and Nielsen still talk and how has the friendship developed over the years?
Regin: When our schedules are free, we do talk but it is not always about hockey during the season. He is a great guy and I am glad to see to him doing well with the Islanders. We both have summer cottages back home in Denmark and his cottage is right next to mine. Last summer, I was his best man in his wedding.
You were drafted in 2004 but didn't play in the Senators organization until 2008-2009 season, is that something you planned on?
Regin: I felt it was right for me to continue to improve my skill and work on my game. I moved to Sweden and played in the Swedish Elite league for three years. While my ultimate goal after being drafted was to play in the NHL, I also knew I did not want to play in the league without being ready. With Timra IK, I was able to improve my play each season so when I felt ready, I made the move to Ottawa.
Did you feel any pressure playing in the NHL or Ottawa?
Regin: Not really, the only pressure I had was the self-inflicted pressure because as a young new guy I wanted to succeed and be the best I could. Ottawa is a great hockey town, the fans there have a good mix and I enjoyed playing in the Senators organization.
How did you adjust to the North American lifestyle, hockey and culture?
Regin: It took some time for me to adjust. I did struggle for the first few months but over time I was able to get acclimated to the life. Since I moved from Denmark to Sweden for the three years it helped make the transition easier because I already knew how to live outside my comfort lifestyle.
As for on the ice, I am a social guy so that made the move onto a new team easier. I feel I can adjust but it is the same for any new move. At first it is not easy, but after getting to know the guys, it was good.
The North American ice surfaces are smaller than those elsewhere in the world, but the smaller rink was fairly easy to adjust to, but just made me simplify my game and play the way that got me drafted.
Is there one guy on an opposing team or on your own team that made you realize that you truly did make your childhood dream come true?
Regin:Being in the same locker room as my childhood idol, Daniel Alfredsson was a truly neat experience. To play alongside Alfredsson was great. As a younger guy on the team, he helped me adjust to both the professional life on and off the ice.
Were you aware of you closing on playing in your 500th professional game?
Regin: I was totally shocked until I heard the announcement and saw it on the video board. One of the guys on the bench tapped me on the helmet with their stick and jokingly said I should acknowledge the crowd with a salute. I knew I played about 150 games in the SEL another 250 in the NHL but didn't realize it was number 500.
Playing on the IceHogs, you have been on a hot streak lately, is there anything that you have done differently?
Regin: No, I have been able to play alongside different guys the last couple of games but I am feeling really good. I have not changed my style of play but that's really the sport of hockey; some nights when you are playing hot you are hot and show up on the scoresheet but other nights it seems you can't score no matter what. But I try to play the same way each night.
Any advice to younger players?
Regin: Be patient. If you are good, the other teams or your current team will give you a chance and you will go. I would say focus on things you can control and not worry about things that are out of your hand. You can only control the way you play on the ice. Focus on each shift and be the best player you can. Work hard and do the little things whether it is in the weight or training rooms or taking care of your body. Sometimes you might not want to do the extra stretching or repetitions, but in the long run it will pay off.