PELLETIER PACES HOGS TO FIFTH STRAIGHT VICTORY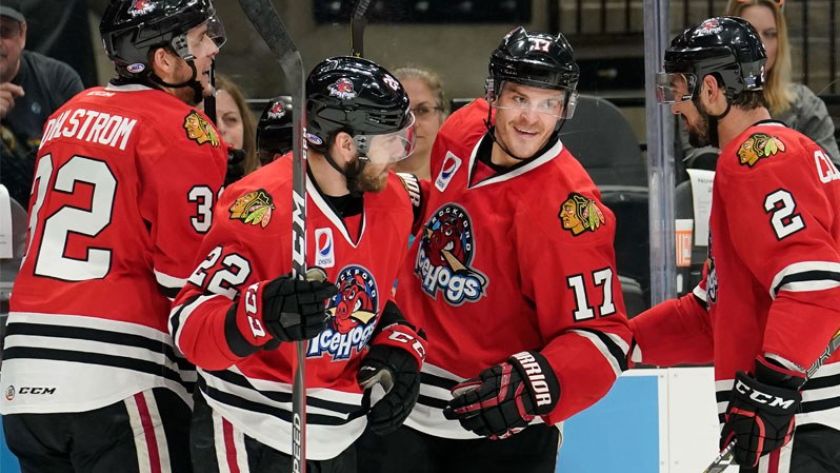 SAN ANTONIO, Texas – William Pelletier fired a wrist shot past netminder Spencer Martin on a shorthanded 2-on-1 rush 3:08 into the second period to notch his 12th goal of the season and provide the Rockford IceHogs a lead they would not relinquish, as they skated to a 4-2 win over the San Antonio Rampage at AT&T Center Wednesday night. The verdict marks Rockford's fifth consecutive victory, and seventh in its last eight outings.
Pelletier also added an empty-net tally late in the final frame to mark his third multi-goal effort in 65 games this season and seal the IceHogs' victory. The former Norwich Cadet now boasts 3g-2a-5pts across his last five contests as his team remained five points clear of fifth-place Milwaukee in the Central Division playoff race.
The Hogs also opened the scoring in the tilt, as Matthew Highmore potted his 23rd marker of the year just over four minutes into proceedings with a quick one-timer through Martin's legs. With an assist on Pelletier's initial strike as well, Highmore has now tallied multi-point affairs in two consecutive games and 3g-6a-9pts in his last eight AHL appearances.
After Michael Joly and Tommy Vannelli put the Rampage ahead 2-1 in the following four minutes, Lance Bouma again leveled the score with his sixth lamplighter in 15 outings since joining the Hogs.
Rockford goaltender Collin Delia stopped 24 of 26 shots in his first start since returning on loan from the Chicago Blackhawks on April 2. Delia has now recorded wins in nine of his last 12 starts between the pipes. San Antonio's Martin turned aside 29 of 32 pucks in the opposite cage.
Next Home Game: Friday, April 13 vs. Chicago
The IceHogs host their final home game of the 2017-18 regular season with an Illinois Lottery Cup series matchup against the Chicago Wolves. Friday is Fan Appreciation Night and the first 2,500 fans in attendance will receive a free copy of this season's team photo, courtesy of American Solutions for Business. Tickets can be purchased at IceHogs.com, by calling (815) 968-5222 or in-person at the BMO Harris Bank Center Box Office.