OVER $50,000 RAISED FROM ICEHOGS 18TH ANNUAL JERSEY AUCTION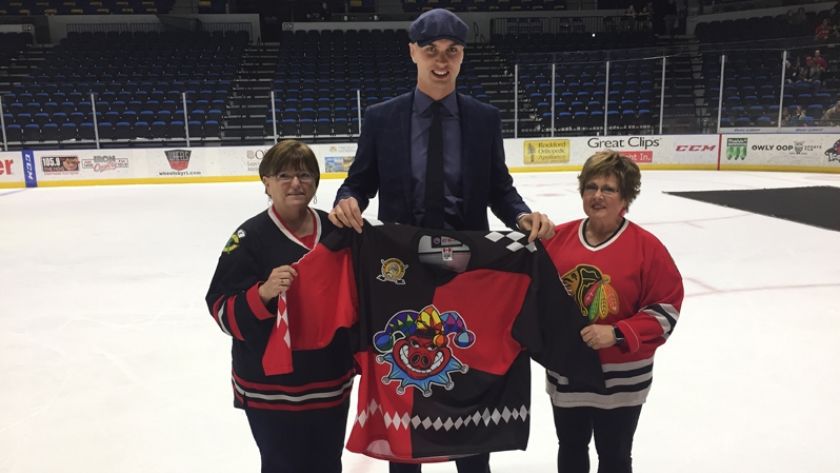 Rockford, Ill. - The Rockford IceHogs hosted their 18th annual Jersey Auction, presented by Insurance King, on Saturday night following the team's thrilling 4-1 victory over the Central Division-leading Grand Rapids Griffins at the BMO Harris Bank Center. Through the live-auction on the ice and a silent auction and jersey raffle during the game, the IceHogs and their fans helped raise $51,115. A portion of the proceeds will benefit Special Olympics - Illinois.
In honor of April Fools' Day, the IceHogs wore special court-jester themed jerseys while taking a 4-1 win over division rival Grand Rapids. The live auction on the ice garnered $41,600, while the jersey raffle and concourse-based blind-silent auction contributed an additional $9,915 for a grand total of $51,115 raised for local charities.
Through 18 years of the event, the IceHogs and their fans have helped raise $934,926 for Rockford-area charities.
Fans who were unable to attend tonight's jersey auction game or did not win an IceHogs Court Jester Hammy jersey can still take home one of the specialty sweaters. Later next week, the IceHogs will post jerseys for Martin Lundberg, Nick Schmaltz and Vince Hinostroza on the team's eBay store.

The IceHogs will donate a portion of the funds from the 17th Annual Jersey Auction to Special Olympics - Illinois. Special Olympics is a global organization that unleashes the human spirit through the transformative power and joy of sport, every day around the world. Through programming in sports, health, education and community building, Special Olympics is changing the lives of people with intellectual disabilities solving the global injustice, isolation, intolerance and inactivity they face. Special Olympics - Illinois provides opportunities for more than 22,000 athletes, more than 20,000 Young Athletes, 45,000 volunteers and thousands more people statewide through 18 Area programs in all 102 counties of the state.

| | | |
| --- | --- | --- |
| | Player | Amount |
| 8 | Viktor Svedberg | $1,700 |
| 9 | Tyler Motte | $1,800 |
| 11 | Jake Dowell | $2,100 |
| 31 | Lars Johansson | $1,700 |
| 53 | Brandon Mashinter | $2,000 |
| 6 | Erik Gustafsson | $1,600 |
| 14 | Chris DeSousa | $1,800 |
| 27 | Kyle Baun | $1,900 |
| 17 | Jeremy Langlois | $1,600 |
| 35 | Mac Carruth | $2,000 |
| 19 | Gustav Forsling | $1,400 |
| 21 | Robin Norell | $1,700 |
| 20 | Matheson Iacopelli | $1,700 |
| 13 | Anthony Louis | $1,700 |
| 37 | Luke Johnson | $2,000 |
| 32 | Carl Dahlstrom | $1,700 |
| 26 | Evan Mosey | $1,800 |
| 29 | Ville Pokka | $1,700 |
| 30 | Jeff Glass | $1,800 |
| 2 | Luc Snuggerud | $1,900 |
| 24 | Michael Latta | $2,000 |
| 22 | Pierre-Cedric Labrie | $3,600 |
| | Jersey Auction Total | $41,600 |
| | Silent Auction/Jersey Raffle | $9,915 |
| | Total | $51,115 |