OPPORTUNITY KNOCKS, PELLETIER ANSWERS THE CALL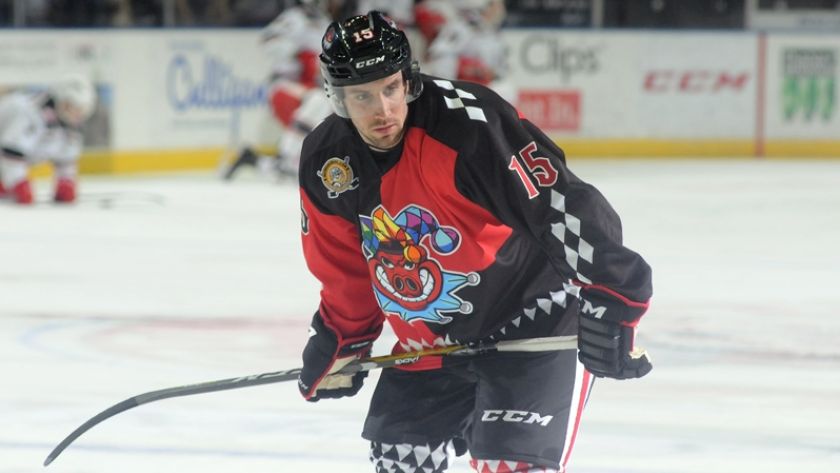 Rockford, Ill. - According to the NCAA, only 11.7 percent of high school hockey players make the transition to the NCAA level. Less than six percent of those college athletes play professional hockey. With the odds stacked against him, five-foot-seven-inch forward William Pelletier made the jump from NCAA Division III Norwich University (VT) to the IceHogs for the final eight regular season games.
After helping the Cadets capture their fourth NCAA Division III Ice Hockey National Championship and being named the NCAA Division III Tournament Most Valuable Player on March 25, Pelletier signed an amateur tryout (ATO) contract with the IceHogs five days later on March 30. He became just the second player in Norwich hockey program history to make the jump straight from college to the AHL.
"It went pretty fast," Pelletier said of joining Rockford after the National Championship. "I talked with my agent after the national and he said like just go there and try to do your best and we will see after that. The plan was just to practice at first. I just told myself I have to go day by day and try to make the most of it."
The 24-year-old St. Jean Chrysostome, Quebec, Canada native did much more than practice with the IceHogs, and made the most of his time in Rockford, starting in each of his first three career professional games and notching seven points (3g-4a) in the final eight games.
Pelletier's good friend from Quebec, Pierre-Cedric Labrie, recalled that Pelletier looked very comfortable in his first practice with the IceHogs and was quickly accepted by the guys in the locker room.
Labrie spoke with Chicago Blackhawks Senior Director of Minor League Affiliations Mark Bernard about the possibility of Pelletier joining Rockford at the end of the season and was crucial to his transition to the pro ranks.
"He (Pelletier) helped himself a lot by just winning the MVP and winning the national championship," Labrie said of his pitch to Bernard. "He put his name on the map himself and I just had to pass the word that he did great."
Pelletier relished the opportunity to play in four games with Labrie and the veteran forward treated his friend to lunch and made him feel comfortable when he first arrived in Rockford.
"You always want to play professional somewhere but to play with a good buddy of mine which is P.C., it was just awesome to play a couple games with him," Pelletier said. "He's just an unbelievable guy on and off the ice."
In Pelletier's second career professional hockey game, clad in a court-jester themed April Fools' Day jersey, he celebrated the occasion with a four-point (2g-2a) explosion. The outing marked the only time in the 2016-17 season that an IceHogs player had recorded four points in a single game.
"It was just my second game, it's just unbelievable," Pelletier said in his postgame interview where he credited his teammates for his offensive output. "My first goal I think Gus (defenseman Erik Gustafsson) did a great job with a fake shot that I tipped in and then Mash (left wing Brandon Mashinter) did a great pass on my second goal too. I think sometimes you have those nights when everything is clicking and I think that was one of those nights."
Now, when Pelletier returns to Norwich during the summer to finish his degree in Management, he truly will be the big man on campus with plenty of stories to share after defying the odds and making the jump from NCAA Division III hockey to the AHL.
"He deserved to have a chance and they gave him one and he made the rest his story," Labrie said. "I think there is a good story to come here."