ONE GAME, ONE POINT IN WEEK 24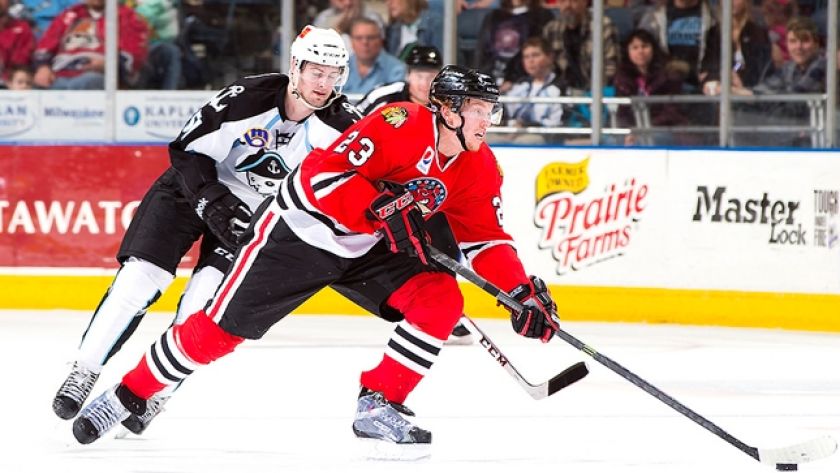 Home-and-home set on tap for Rockford and Chicago

Week 24 Recap:
Having played the most games in the Western Conference this season prior to Week 24, the Rockford IceHogs played only one contest during Week 24. Rockford travelled to Milwaukee to play the Admirals for the third straight game on Friday night. After dropping the first two contests of the series to the Admirals by a combined nine goals, the IceHogs took the Admirals to a shootout. Milwaukee took the W but the IceHogs earned a needed standings point in the 6-5 defeat.

Week 24 Results
Friday, Mar. 14: Rockford 5 at Milwaukee 6 SO

Week 25 Schedule
Friday, Mar. 21, at Chicago, 7:30 p.m.
Saturday, Mar. 22, vs. Chicago, 7 p.m.

Bacon Bits:
-Winger Brandon Mashinter recorded a career-high three assists on Friday in Milwaukee
-Forward Jeremy Morin notched two goals on Friday, his team best fourth multi-goal game of the season
-Morin now leads Rockford with 24 goals and shows points in 15 of his last 16 games, totaling 13g-10a-23pts
-For the second time in eight days, Rockford and Milwaukee equaled a Rockford single-game high with 11 combined goals
-The IceHogs fell 6-5 in a shootout Friday and 8-3 in Milwaukee on 3/7/14
-Adam Clendening marked his 41st assist of the season on Friday, tying the all-time season record for assists by a defenseman set by Brian Connelly during the 2010-11 season
-Pierre-Marc Bouchard is riding a five-game point streak and has 1g-5a-6pts during the streak
-Over their past six games, Rockford has given up 32 goals, an average of 5.33 goals per contest
-The IceHogs are 1-3-1-1 in those six contests
-Rockford has allowed a power play goal in all six of those games as well, going 12-27, penalty kill rate of 55.6%

Hot Hog: Week 24
Left Wing Brandon Mashinter
With just one game on the schedule in Week 24, winger Brandon Mashinter made a mark for Rockford. The forward totaled three assists in Rockford's 6-5 shootout loss in Milwaukee on Friday night. The three assists are a single-game career high for Mashinter. On the season, Mashinter now shows 11g-18a-29pts in 45 games including 10g-12a-22pts in 34 contests with Rockford.

Upcoming Games: Week 25
Friday, Mar. 21 at Chicago Wolves at 7:30 p.m.: Friday starts a home-and-home series against the Chicago Wolves. The IceHogs travel to the Allstate Arena to take on their Midwest Division rival in another Illinois Lottery Cup Matchup.

Saturday, Mar. 22 vs. Chicago Wolves at 7 p.m.: Ending their two-game set against the Wolves, the IceHogs host Chicago at the BMO Harris Bank Center in a Midwest Division clash. The contest will be Country Night at the BMO. The first 1,500 fans to the game will receive a cowboy hat courtesy of Frito Lay. The country band, Gunnar and the Grizzly Boys, will be performing live at the game as well.

Illinois Lottery Cup Series Standings
Teams Record Points
Chicago 3-2-0-1 8
Rockford 3-2-0-2 8

Upcoming Illinois Lottery Cup Games:
Mar. 21: Rockford at Chicago, 7:30 p.m.
Mar. 22: Chicago at Rockford, 7 p.m.
Mar. 30: Chicago at Rockford, 7 p.m.
Apr. 13: Rockford at Chicago, 3 p.m.
Apr. 18: Chicago vs. Rockford, 7 p.m.