NINE FORMER ICEHOGS INVITED TO PROSPECT TOURNEY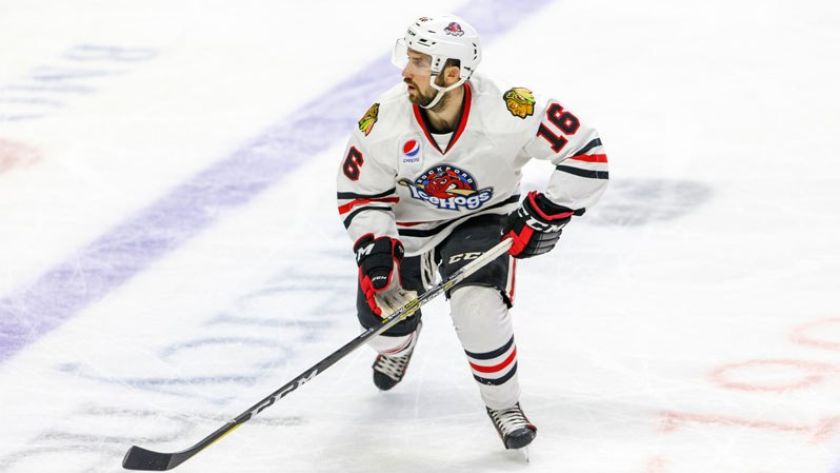 Chicago, Ill. - The Chicago Blackhawks today announced their roster for the 2017 Prospect Tournament, which will be held at Centre ICE Arena in Traverse City, Mich., from Sept. 8-12. The team includes 24 players (14 forwards, seven defensemen and three goaltenders) and will be coached by Rockford IceHogs new Head Coach, Jeremy Colliton, and Assistant Coaches Derek King and Sheldon Brookbank.
The Blackhawks' roster is highlighted by 2016-17 Ontario Hockey League Most Outstanding Player Alex DeBrincat, and nine players who skated for the Rockford IceHogs last season, including forwards Matheson Iacopelli and Anthony Louis and defenseman Luc Snuggerud.
Chicago's prospects will compete against teams from the Carolina Hurricanes, Columbus Blue Jackets, Dallas Stars, Detroit Red Wings, Minnesota Wild, New York Rangers and St. Louis Blues during the five-day showcase. Teams are split into two divisions and will square-off against each club within their division during round-robin play, before the first-place finishers from each division will meet for the championship on Tuesday, Sept. 12.
Tickets for the 2017 Prospect Tournament can be purchased at Centre Ice Arena or www.centreice.org.
A brief bio of each participating player is included
HERE.
---
Season Tickets for 2017-18 on Sale Now:
Don't miss a moment of the action by reserving your seats for the IceHogs 19th season of professional hockey and 11th as the top AHL affiliate of the Chicago Blackhawks. Opening night is Oct. 14 and ticket packages begin as low as $105 for a seven-game mini pack. Please contact us at (815) 847-6399 or visit icehogs.com to claim your spots for this upcoming season.