NEW SEASON, EXPECTATIONS AWAIT KING & ICEHOGS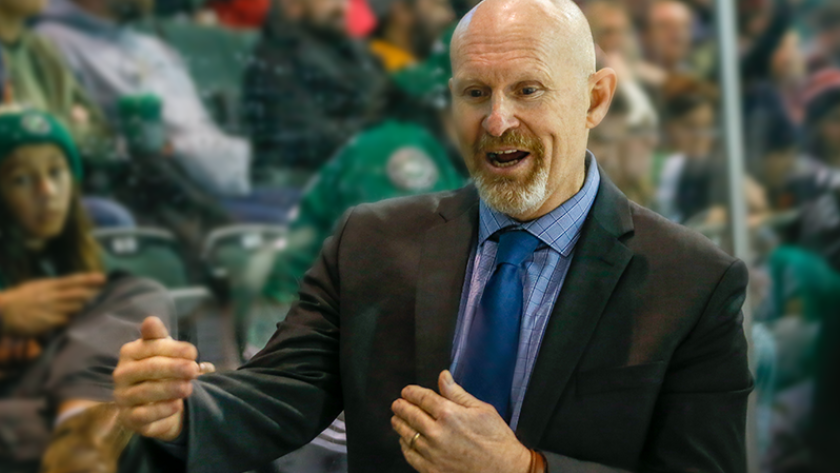 ROCKFORD, Ill – A lot has changed for Derek King since this time last year. He began last season as an assistant coach for the Rockford IceHogs, was named interim head coach one month into the campaign and is now preparing to enter his first full season as the established bench boss in Rockford.
Other than that, it's business as usual.
"It goes back to when to Jeremy (Colliton) got the job (with the Chicago Blackhawks) and I took over, we didn't have to change anything," said King after the final workout of Development Camp last week in Chicago. "The big thing here is the development is the same. We have to work with these kids – obviously we'd like to win some games and hopefully get into the playoffs – but the big thing for me is to keep everything the same and keep working with these kids."
King has plenty of experience perfecting that balance from his extensive tenure behind an AHL bench. The first-year head coach has eight seasons under his belt as an assistant in the AHL between the Toronto Marlies (2009-15) and IceHogs (2016-18). His path to his current role atop Rockford's coaching staff featured three Division Championships, two trips to the Western Conference Finals and one Western Conference Championship.
The results speak for themselves. The players he's coached, however, have plenty to say for him.
"He's a great communicator as a coach. You know I wasn't sure going into the year what type of coach we were going to have in Rockford, and he's been awesome," said defenseman Chad Krys. "He has a line where he's hard on guys, but at the same time he can talk to guys, he can communicate. I think that's a fine line that not a lot of coaches have."
King led the IceHogs to a record of 29-28-3-4 after taking over as interim head coach on Nov. 6. Despite injuries to several key players along the way, King helped the Hogs navigate a tough Central Division that featured seven of eight teams collecting 80+ points. And although this year's roster won't take shape for a few months, he's begun outlining the road to success for the 2019-20 version of the IceHogs.
"It's already started," King said of planning for the 2019-20 campaign. "I've had meetings with (assistant coach) Anders, (video coach) Gill and (developmental goaltending coach) Aubry. And obviously I've been talking to (IceHogs general manager) Bernie all summer, so we've been going back and forth and trying to get a game plan together for the start of Traverse City (for the Prospect Tournament) and what we're doing moving forward."
Speculating on the Rockford's potential team for the upcoming season, King expects the Hogs to have a skilled set of forwards with the ability to score goals in waves. The defense will be young, he said, and goaltenders, whichever of the three between Collin Delia, Kevin Lankinen and Matt Tomkins, will again help anchor the IceHogs after leading the team to the best save percentage in the AHL last year.
King also specifically mentioned 2018-19 IceHogs skaters Brandon Hagel, Reese Johnson and Philipp Kurashev, as well as Antti Saarela, Josiah Slavin and Michal Teply as players who stood out during Development Camp last week.
"Development Camp sets it up nice for us, tees (the season) up for us," said King. "You get the chance to see some of the prospects, but you also have some of the players you may be getting, and get to know them and kind of put them on the board and get their magnet up (on the depth chart) where we think they fit onto the team."
As for challenges the 2019-20 IceHogs may face, King admitted there might be some growing pains from a new wave of prospects learning the ropes of professional hockey. Last year's team featured 17 different players to make their AHL debut, and 2019-20 might shape out in similar fashion.
"The biggest challenge is going to be a lot of young kids, new faces," said King. "And getting them on board as quick as we can on our system and how we play. That's going to be the challenge."
The IceHogs currently have 12 players under AHL contract for the upcoming season. In addition, there are 15 players with an NHL deal with Chicago who also skated with Rockford at some point during the 2018-19 campaign, and a few key offseason acquisitions like two-time Stanley Cup champion Kris Versteeg and a 30-goal scorer in Aleksi Saarelaa.
Somewhere between it all are the 20 players who will take the ice for the IceHogs on Opening Night Oct. 4. King will man his post behind the bench, where his full-time role now comes with the expectations of both developing players for Chicago and winning games for Rockford.
All that's left until then is a quick stop in Traverse City, Michigan for NHL Prospect Tournament in September and a couple of weeks for training camp. Then the offseason will officially be over.
"It's been a long one," said King. "I'm looking forward to getting back to the ice and to start working on what we're going to have this year."
Season Tickets for 2019-20 on Sale Now:
Don't miss a moment of the action next season. Reserve your seats for the IceHogs' 21st season of professional hockey in Rockford and 13th as the top AHL affiliate of the Chicago Blackhawks. The IceHogs' home opener is set for Saturday, Oct. 12 vs. Grand Rapids and ticket packages begin as low as $132 for an eight-game mini pack. Contact us at (815) 847-6399 or visit IceHogs.com to claim your seats for this upcoming season.