MULLANE NAMED ICEHOGS 2013-14 IOA/AMERICAN SPECIALTY AHL MAN OF THE YEAR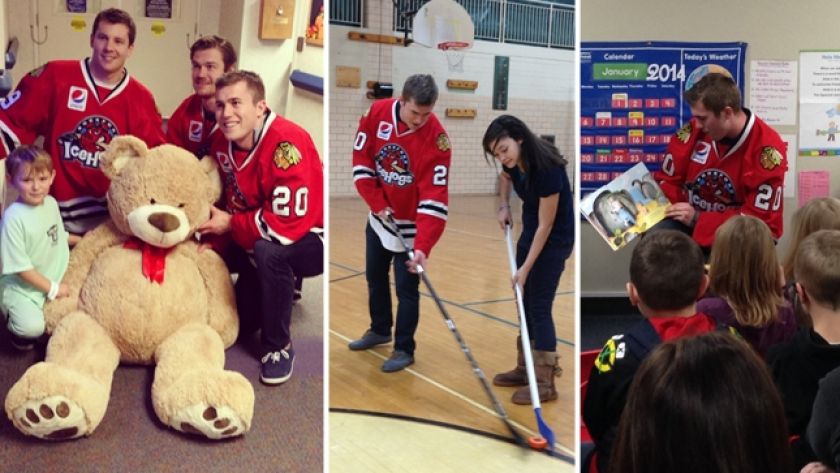 Rockford, Ill. - The Rockford IceHogs are proud to announce that Pat Mullane has been named the team's winner of the IOA/American Specialty AHL Man of the Year award for his outstanding contributions to the Rockford community during the 2013-14 season.

On a young IceHogs squad that has featured up to 11 rookies in the lineup throughout the season, including himself, Mullane came into Rockford and began to set an exemplary model of what it is to be a professional both on and off the ice.

During the week leading up to the IceHogs annual Pink in the Rink game to benefit breast cancer research and awareness, Mullane took it upon himself to add to the IceHogs contribution towards breast cancer research. Through a Twitter initiative sparked by the 23-year-old, over $5,400 was donated by Mullane and matching donors for each follower he gained leading up to the game. Add in the amount raised at the game ($17,000) and over $22,000 was donated to local charities for breast cancer research.

Additionally, Mullane has always jumped at the opportunity to represent the IceHogs in the community. Throughout the campaign, the Wallingford, Conn. native made numerous visits to area schools to read to students or talk about his road to professional sports and battling through adversity. During his visits with area students, Mullane even shared his own personal story of dealing with the loss of his father at a young age.

Mullane has participated in numerous IceHogs community events such as hospital visits, assisting with Jr. IceHogs hockey practices, school reading nights, and helping with the distribution of school workbooks as a part of the IceHogs Adopt-a-School program.

Mullane is now one of 30 finalists for the AHL's 2013-14 Yanick Dupre Memorial Award, honoring the overall IOA/American Specialty AHL Man of the Year. The league award is named after the former Hershey Bears forward and AHL All-Star who died in 1997 following a 16-month battle with leukemia. The winner of the Yanick Dupre Memorial Award will be announced by the American Hockey League later this month.

Next Home Game: Friday, Apr. 11 vs. Milwaukee Admiral. Puck drop is slated for 7 p.m. The IceHogs return home after three games on the road, finishing their season series against the Admirals on Friday night.