Mitchell, Hogs Surge Past Griffins in Morning Showdown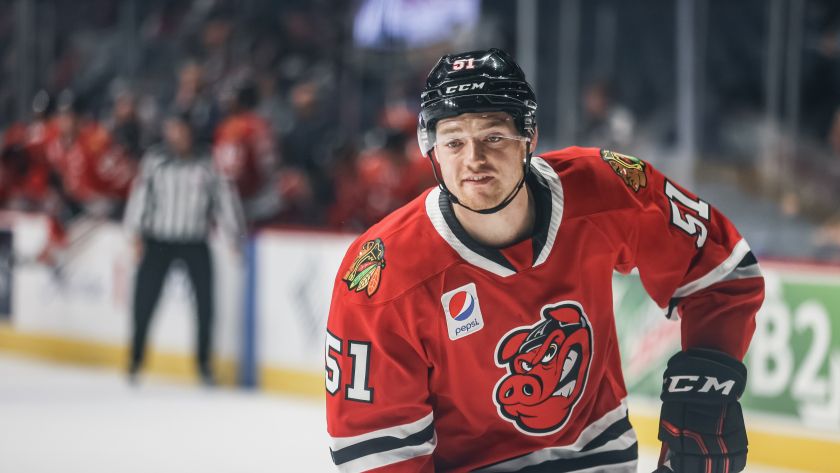 Grand Rapids, Mich. — The Rockford IceHogs (6-5-0-1) throttled the Grand Rapids Griffins (6-7-1-0) to earn a 5-1 victory on the back of a Tic-Tac-Toe scoring second period on Wednesday morning at Van Andel Arena in Grand Rapids, Mich. Defenseman Ian Mitchell notched a four-point day with his first two tallies of the season, both in the form of power play goals and a pair of assists.
After being activated from the Injured Reserve and assigned by the Blackhawks to Rockford, Mitchell marked one assist in his season debut in Texas before stealing the show against the Griffins by taking the Hogs' first lead of the game and putting the final nail in the coffin in the final period at 4:57 on the power play for the 5-1 Rockford win.
After falling 1-0 at the end of the first period, the IceHogs offense dominated the middle frame with four unanswered goals. Luke Philp quickly tied the contest at 1:10 with a fluttered chip shot over the shoulder of Grand Rapids netminder Victor Brattstrom off a sequence from David Gust and Mitchell.
Taking the lead on the advantage, Mitchell deflected a one-timer off a Griffins defender at 3:02 before forward Lukas Reichel scored a 4-on-4 goal at 12:42 and Buddy Robinson found the back of the net at 18:44 to end the stanza with the Hogs on top 4-1.
The Griffins struck first late in the introductory period as forward Joel L'Esperance poked the puck past IceHogs goaltender Dylan Wells off a rebound. Wells did not allow a goal after that initial tally and notched 29 saves to earn the win. Getting tagged with the loss, Brattstrom faced 33 shots and marked 28 saves.
It didn't take long for the action to start as IceHogs forward Morgan Adams-Moisan and Grand Rapids' Cedric Lacroix dropped the gloves five minutes after the puck dropped, and the penalties didn't stop there. The Hogs went 2-7 on the advantage while the Griffins marked 1-3 power play goals.

Tune In LIVE on the IceHogs Broadcast Network Presented by BMO
Watch and listen to every game this season on the IceHogs Broadcast Network presented by BMO! Listen from your favorite device, at home, or on the road at IceHogs.com and on the IceHogs app and watch LIVE on AHLTV and selected games on 23.3 Circle TV! Fans can also tune in on all of Mid-West Family's local stations including 104.9 The X, B103, 95.3 The Bull, and Rockford Greatest Hits 100.5 and featured on Rock River Current, the Stateline's premiere source for local events, news and culture.