MILESTONES, RECORDS HIGHLIGHT HISTORIC 2017-18 SEASON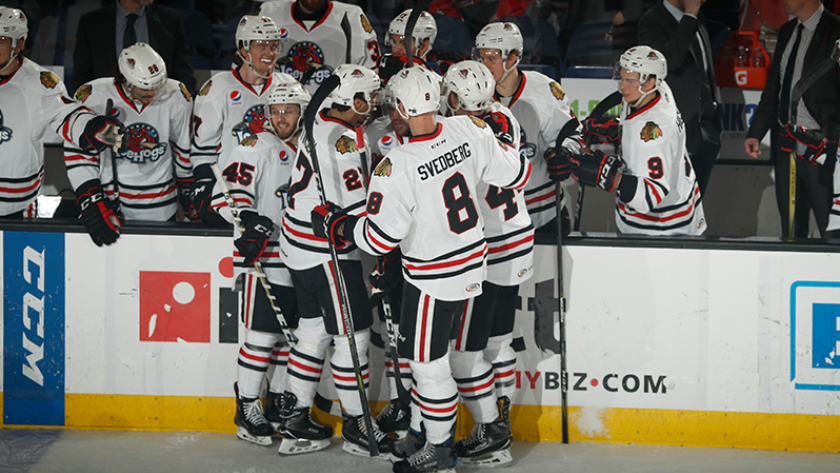 ROCKFORD, Ill. – The Rockford IceHogs hit a variety of milestones during their impressive run to the 2018 Calder Cup playoffs. In addition to reaching the Western Conference Finals for the first time in team history, here are several additional notable achievements and records from the 2017-18 campaign:
SEASON RECORDS
Most Overtime Wins: 7
The IceHogs went 7-4 in overtime last season, ranking sixth in the AHL in overtime wins behind only Rochetster (9), Utica (9), Wilkes-Barre/Scranton (9), Tucson (10) and Texas (11). Rockford won three of its first four overtime games in 2017-18 and capped the season with the same record over its final four OT contests. (Previous record: 6 in 2010-11)
Fewest Penalty Minutes: 785
The Hogs posted 23 fewer penalty minutes than any other team in the league, recording just 785 PIMs on 345 minor penalties and 11 majors in 76 games (10.33/game). In addition, the IceHogs' 11 major penalties were six fewer than all other teams in the AHL in 2017-18. (Previous record: 973 in 2016-17)
Longest Game: 4:59
Rockford and the Chicago Wolves dueled for four hours and 59 minutes in a triple-overtime thriller during the series-clinching Game 3 of the first round of the Calder Cup playoffs. The contest ranked as the ninth-longest game in AHL history. (Previous record: 3 hours, 39 minutes, 4/19/08 vs. Houston)
Most Goals, Rookie: 24 (Matthew Highmore)
Rookie of the Year, Matthew Highmore, became the first IceHogs rookie to score more than 20 goals with his marker on Feb. 24 at Hershey. Highmore went on to pot three more goals before the conclusion of the regular season to finish with a rookie-record 24 tallies during his first pro campaign. (Previous record: 20, Tanner Kero, 2015-16)
Longest Goal Streak: 5 games (Tyler Sikura)
Team MVP Tyler Sikura matched the franchise's record with goals in five straight games during the 2017-18 campaign. Sikura, who tallied a goal on Jan. 6 vs. Cleveland, Jan. 7 vs. Milwaukee, Jan. 10 at Ontario, Jan. 12 at San Jose and Jan. 13 at Bakersfield, matched Rob Klinkhammer's streak during the 2008-09 season as the only two IceHogs skaters with five-game goal streaks during AHL affiliation. (Record: 5, several times)
Most Hat Tricks: 2 (Matthew Highmore)
Rookie standout Matthew Highmore logged five multi-goal games during his debut season, including a franchise record-tying two hat tricks. Highmore netted each of the two hat tricks against the Iowa Wild last season, completing the feat on Nov. 22 at the BMO Harris Bank Center and Dec. 28 at Wells Fargo Arena. (Record: 2, several times)
Rookie Goaltender, Wins/GAA: 17 wins, 2.72 GAA (Collin Delia)
Despite early struggles in the ECHL with the Indy Fuel, netminder Collin Delia was superb during his time with the IceHogs, posting a 17-7-4 record with a 2.72 GAA in 28 AHL appearances. Delia is now one of just two rookie netminders in team history with 17 wins, and his 2.72 GAA was 11 points better than the previous record from the 2013-14 campaign. (Previous record: 17 wins, Alec Richards, 2010-11; 2.83 GAA, Antti Raanta, 2013-14)
Fastest Goal, Start of a Period (AHL): 10 seconds (Andreas Martinsen)
Andreas Martinsen set a record by rifling home a goal just 10 seconds into the third period during a 3-0 blanking of Wilkes-Barre/Scranton on March 3 at the BMO Harris Bank Center. The tally beat Rockford's previous AHL record by just one second, and is four seconds short of the all-time mark during the team's UHL affiliation in 2006. (Previous record: 11 seconds, Jeff Taffee, 2nd period, Feb. 27, 2011 at Houston)

CAREER RECORDS
Points/Assists by Defensemen: 148 points, 122 assists (Adam Clendening)
Blueliner Adam Clendening eclipsed both the all-time points and assists records by an IceHogs defenseman with his helper on Feb. 28 against the Texas Stars. The former Rockford standout skated with the IceHogs for parts of four seasons from 2012-15 and 2017-18 and capped his Hogs tenure with 148 points, 26 goals and 122 assists in 223 games. (Previous record: 134 points, 110 assists, Brian Connelly)
Consecutive Games Played: 193 games (Ville Pokka)
Rockford ironman Ville Pokka skated in each of Rockford's 76 games in both the 2015-16 and 2016-17 campaign before extending his games-played streak well into the 2017-18 season. The stout blueliner suited up in 193 consecutive games from Oct. 9, 2015 – Jan. 20, 2018 to surpass the previous mark by 37 games. (Previous record: 156 games, Steve Pelletier, Oct. 21, 2004 – April 15, 2006)
Playoff Games/Wins (AHL): 13 games, 9 wins (Jeremy Colliton)
First-year head coach Jeremy Colliton set both the career games played and wins records for the AHL playoffs in just one year behind Rockford's bench. Colliton, who led Rockford to the Western Conference Finals with a 9-4 record, surpassed the previous records set under Mike Haviland. (Previous record: 12 games, 7 wins, Mike Haviland)
---
Season Tickets for 2018-19 on Sale Now:
Don't miss a moment of the action by reserving your seats for the IceHogs' 20th season of professional hockey in Rockford and 12th as the top AHL affiliate of the Chicago Blackhawks. The IceHogs' home opener is set for Oct. 13 and ticket packages begin as low as $105 for a seven-game mini pack. Please contact us at (815) 847-6399 or visit icehogs.com to claim your spots for this upcoming season.