MCNEILL, RICHARD NET DOUBLES AS ADS DROP HOGS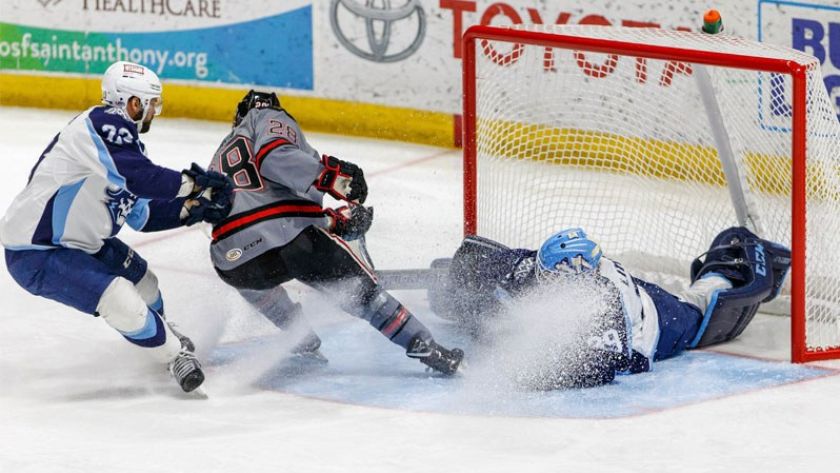 ROCKFORD, Ill. – Mark McNeill, Anthony Richard and Bobby Butler combined for four goals in the third period to pace the Milwaukee Admirals to a 5-2 victory over the Rockford IceHogs at the BMO Harris Bank Center Friday night. Rockford's regulation loss snapped its season-high-tying seven-game point streak.
The teams entered the final frame tied at one goal apiece before McNeill put Milwaukee ahead 3:28 into proceedings. Six minutes later, though, Lance Bouma again leveled the score for Rockford with a blast from the right circle for his second goal with the IceHogs. Cody Franson nabbed an assist on Bouma's marker, and has now posted 11 points in his last 10 outings.
But before the crowd could finish celebrating the tying tally, Bobby Butler potted what would become the game-winner just 48 seconds later. Rockford attempted a comeback, but two empty-net goals from McNeill and Richard sealed the win for the Admirals.
The IceHogs did put themselves on the right foot with a fast start in the contest, as Henrik Samuelsson recorded his fifth goal of the season five minutes into the affair. Tyler Sikura dragged the puck out in front of the net and forced it through netminder Anders Lindback, leaving a juicy rebound for Samuelsson to easily deposit. Victor Ejdsell, one of three new IceHogs to join the team in the past week, bagged his first AHL assist and point on the play.
Richard then knotted the scoreline late in the second period, setting up Milwaukee's high-octane attack in the deciding 20 minutes.
Lindback starred with 36 saves on 38 shots for the Ads, while Rockford's Jeff Glass blocked aside 33 of 36 in the opposite cage.
Next Home Game: Saturday, March 24 | Rockford vs. Chicago
The Hogs continue the 2017-18 Illinois Lottery Cup Series with a showdown against the Wolves on Fitness Night. The first 1,000 fans will receive a free dri-fit IceHogs shirt, courtesy of Peak Fitness. In addition, Fans will be treated to a behind-the-scenes look at the IceHogs players' fitness routines through several in-game videos on the video board. Tickets can be purchased at IceHogs.com, by calling (815) 968-5222 or in-person at the BMO Harris Bank Center Box Office.