MCNEILL REFLECTS ON STRONG SOPHOMORE SEASON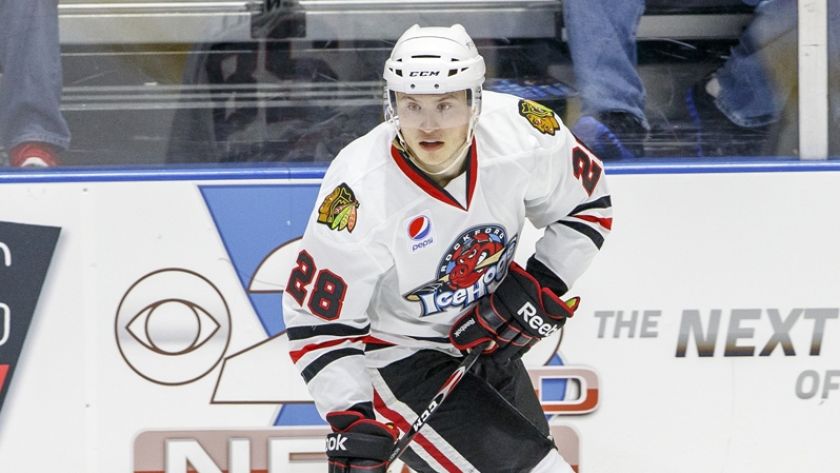 Deep in his defensive zone, Texas Stars defenseman Esa Lindell looked to release pressure and backhanded the puck up the boards. Rockford IceHogs forward Mark McNeill read the play, bodied down the puck and kicked it skate-to-stick. McNeill quickly shook off a check, skated below the goal line protecting the puck on his backhand, while scanning the front of the net for a passing option. With no IceHogs in the vicinity, McNeill flipped a backhanded shot off the unsuspecting head of Texas goaltender Jack Campbell and into the net.

The game tying goal in late March embodied everything about the offensive game the former first round draft pick of the Chicago Blackhawks has to offer. McNeill's unique combination of strength, speed and creativity are what contributed to his team leading 23 goals in just his second professional season. To the casual observer it was clear where McNeill found success.

"The way I look at it is, a lot of times the goalie may not be expecting a shot from a weird angle and especially if he is off the post or there is a little crack. I like to throw pucks and sometimes they go in," McNeill said with a grin.

It is not to say McNeill relied on shots from behind the goal line to collect goals, but skating in with speed and his shoulder lowered, he was a force near the front of the net. Whether by lifting sharp backhanded shots or finding space with a moving goaltender, he generated plenty of goals and scoring chances by being unafraid to get to the front of the net and firing shots.

"A lot of times in practice, in drills, we'll finish out plays. You get a shot, and the rebound goes behind the net or something and I'll finish out the play," McNeill explained.

It was clear much was to be expected from the young forward coming into Rockford's training camp after spending time with the Blackhawks. The 22-year-old was looked upon to be the goal scoring threat the IceHogs would rely on throughout the season. These expectations were first articulated by McNeill himself.

"I just want to come here and dominate," McNeill said in his first interview with Rockford this season back in October. "It's not going to be easy but I have that ability in my game."

While listening to McNeill set those expectations there was no sense of arrogance to the sentiment. Those comments came from a player with high self-confidence looking to make his mark.

Coming out of the gates of the 2014-2015 season, McNeill backed up his words and then some. The IceHogs roared to second place in the Midwest Division on the back of an eight game winning streak and the honed-in play of McNeill. Mustering two goals and four assists in the month of October, McNeill really blossomed in early November when he scorched the stat sheet with seven goals in just six games The fantastic start to the month earned him Player of the Week honors in the AHL. However, just as McNeill was hitting his stride, he was sidelined with a lower body injury that would keep him off the ice for 13 games.

"That was a bit of a setback for me. You want to be out there with the guys, you want to be playing and it's tough mentally but you push through it and I felt I came back strong from my injury," McNeill said.

His absence was felt, but the IceHogs were able to maintain their winning ways backed by their suburb goaltending and balanced attack. Rockford pushed on collecting an 8-4-1-0 record with their leading goal scorer in the press box. However, the most unfortunate part of the time missed for McNeill might not have been with the IceHogs.

In late November, the Blackhawks were in need of a few reinforcements and they looked to Rockford for help. Phillip Danault, McNeill's roommate and line mate, earned his first recall to the parent club and ended up making his NHL debut. It is impossible to say whether or not McNeill, if healthy, would have been called up. Danault had certainly earned his opportunity with staller play of his own racking up ten points (3g-7a) in 14 games with the IceHogs and he was a large part of McNeill's early season success.

One, however, can't help but wonder if the great start to the season would have garnered McNeill a roster spot in Chicago alongside Danualt, but McNeill never let his time injured get him down. "People get injured, it's part of the game. I just used it as motivation for myself," McNeill said.

After the long absence, McNeill returned to the ice in mid-December looking to regain his scoring touch, but the IceHogs were mired in their worst spell of the season. In McNeill's first 11 games back, Rockford went 3-6-1-1 and they struggled to score goals averaging just 1.8 per game. An offensively skilled player like McNeill could have easily let his play suffer after returning from such an absence in the middle of a tough stretch, but the other facets to his game are where McNeill stands out.

"I really enjoy both [offense and defense]. One of the best parts of my game is my all around game; to be able to contribute at both ends of the ice," McNeill said.

It would be easy to look at the box score and see McNeill just as an offensive player, but really watching how Rockford Head Coach Ted Dent utilized him this season proves he is much more than that.

What makes McNeill such a dynamic player can be easily missed. Racking up huge minutes on the penalty kill and blocking shots might not be as glamorous as banking in shots off of a goalie's helmet from behind the net, but in many situations it leads to offense. Being relied on by his team and head coach in the tough defensive situations was something McNeill relished.

Many times, the top line of McNeill, Danault and Garret Ross matched up against the opposing teams top lines and many times they were up to the task. Although occasionally a misleading statistic, it says something when a line facing the toughest competition night in and night out accumulates a +54 rating on the season as McNeill, Danualt and Ross did.

These defensive skills do not come without hard work during the week. Taking the time to watch a hockey practice, let alone a Rockford one, it is easy to see players working on their one-timers and other skills to develop their offensive game. McNeill enjoys the other aspects of a tough practice as well.

"Tracking back hard from the offensive zone, making sure we have good numbers in front of the net and it's having a willingness to block shots," are all things McNeill noted he works on in practice.

These qualities McNeill possesses at both ends of the ice were major contributing factors to his selection in the first round by the Blackhawks in 2011. From Edmonton, Alberta, McNeill played his junior hockey with the Prince Alberta Raiders and the scouting report on him reflected his abilities in both zones according to NHL Central Scouting:
His on-ice awareness is very good and he's paid attention to detail at both ends of the rink. He has good defensive-zone coverage as well as being offensive at the other end.

These types of high praises from scouts in the NHL and Chicago landed McNeill at the #18 spot with the Blackhawks.
"Something I'll remember for the rest of my life for sure. I had my mom, dad, my brother and sister with me and when I heard my name called it was tons of excitement and joy," McNeill said as he reminisced of that special day in June.

But McNeill knew the journey was far from over and the road to the NHL was far from a sure thing. "I was ready to get my work boots on and ready to take that next step forward. Trying to make it to the NHL," McNeill said of his initial thoughts after being selected.

The 2011 draft class for the Blackhawks was a fruitful one. It saw prospects Danault (26th overall), Adam Clendening (36th overall), Brandon Saad (43rd overall), Michael Paliotta (46th overall), Klas Dalhbeck (79th overall), and Andrew Shaw (139th overall) selected among others alongside McNeill. Many of those players have spent significant time with Rockford in development looking for a shot in the NHL. However, getting to the NHL after draft day is never as straightforward as players may expect and this season saw quite a bit of shuffling in the organization.

The NHL trade deadline can be a nerve-racking time in a prospects career. When the parent club has as much success as the Blackhawks have had, moving pieces at the deadline is sure to happen. This season was no exception for Rockford as a trio of young defensemen was traded to other organizations including Clendening (Vancouver), T.J. Brennan (Toronto) and Dahlbeck (Arizona). Seeing teammates traded is nothing new for hockey players but a few of these trades were more significant to McNeill as he was drafted in the same class as Clendening and Dahlbeck.

Watching these transactions occur around the team could most certainly bring a player to think about his own trade possibilities.
"Yeah, (Clendening and Dahlbeck) are guys I came up and got to know pretty well in the last couple of years and I'm happy for them," replied McNeill. "You never know. You could sit around thinking about being traded or stuff like that. There is always that possibility. But at the end of the day, we are here in Rockford right now, we are playing hockey trying to get better each and every day. Trying to help our team as much as we can and that is what our main focus is."

When the book was closed on the 2014-15 season for the IceHogs after a 4-1 series loss at the hands of the Grand Rapids Griffins in the Western Conference Finals, there was a lot to reflect on for the team and McNeill. The season statistically was a successful one for McNeill (23g-21a-44pts) as he led his team in goals (23) but even more can be taken from his second professional season.
"Obviously you know how things work and know how things go. Maybe a little bit more relaxed and comfortable with my surroundings. Basically, I went out and played hockey and had fun with it," McNeill said.

Now comes the offseason for McNeill as he looks to continue to take strides and close in on achieving his dream of playing in the NHL. With the potential roster shake up due to the salary cap for the Blackhawks, McNeill has a lot to look forward to this summer. Trying to work himself into the lineup that breaks camp next fall, McNeill already knows his goal.

"What I'm focusing on is this next training camp," McNeill said. "I've got to be in great shape. I've got to be ready to perform. This is my shot."

A prospect never truly knows when their first chance at the NHL will come and for Mark McNeill, after a productive campaign with Rockford, his shot may be right around the corner.