McARDLE RETURNS TO HIS ROOTS IN PURSUIT OF PRO HOCKEY CAREER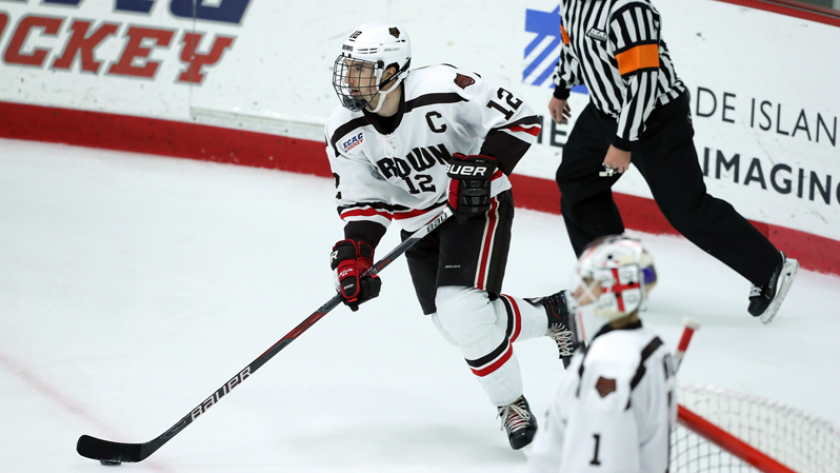 ROCKFORD, Ill – Josh McArdle's parents won't be looking for tickets when their son makes his American Hockey League debut with the Rockford IceHogs next year.
They've been IceHogs season-ticket holders since 1998.
"I grew up going to IceHogs games," said McArdle. "I would honestly say that's probably what got me into the sport. I was going probably when I was seven or eight years old."
Growing up in the Roscoe and Rockford area, McArdle and his family were rooted in the local hockey scene. Along with attending Hogs games, McArdle began skating in the Rockford Park District's "Learn to Skate" program. He progressed through local camps and clinics and eventually played organized youth hockey with the Rockford Hockey Club and Junior IceHogs.
By age 13 and 14, he was captain of his youth team. His bantam coach, Frank Casalena, said McArdle was a leader on and off the ice, and earned the respect of his teammates in the locker room with his work ethic and competitiveness.
"The one thing that really struck me about Josh is there are very few players that have 'that look' in their eye, and Josh had that look, he will not be denied," said Casalena. "(Josh) played that way, he worked hard that way, knew what his goal was. He was very special kid – Talented hockey player, yes, but very smart and very hard working."
McArdle starred with the Junior IceHogs from 2005-09 and led the Rockford Icemen to a state title in 2008-09. He was a four-time honor roll student while attending Hononegah High School from 2009-12, and skated with the Madison Capitols U16 team during his sophomore year, Team Illinois U16 during his junior year and the Tri-City Storm as a senior.
Reflecting on those seasons in Juniors, McArdle credits his development in Rockford for his quick and sustained success.
"It was an incredible experience (participating in the youth programs)," said McArdle. "I think it prepared me well. I would put a lot of emphasis on what Rockford did for me."
The defenseman completed his final season of Juniors with the Nanaimo Clippers in the British Columbia Hockey League in 2013-14. He recorded a career-high 50 penalty minutes in 49 games that season, somewhat setting the stage for his style of play at the collegiate level with Brown University.
McArdle debuted with the Bears in 2014-15 and skated in each of the team's 31 games during his freshman season. From his sophomore season on, he was whistled for the 6-1, 194-lbs blueliner racked up at least 25 PIMs each year, culminating in finishing second among team defensemen with 28 PIMs during his senior season in 2017-18.
"I would definitely say there's a physical aspect to my game and it's something that I definitely brought out on the college level as I got older," McArdle said. "I would say it's the best, most standout part of my game. I'm definitely a fast player, a puck-moving player. I'm really strong defensively, but in order to be strong defensively in my mind I think you have to be pretty physical. It's definitely something that you'll be seeing."
By "you'll be seeing," McArdle is referring to is IceHogs fans, as the blueliner signed his first career AHL contract with Rockford on June 28. The former Junior IceHogs skater is returning home to a team with which both him and his family grew up watching over the years.
And in doing so, McArdle becomes the first Rockford Youth Hockey alumnus to sign with his hometown IceHogs.
"It's crazy. I never in a million years thought I'd be coming back to Rockford to be a pro," said McArdle. "It's a childhood dream of mine, and it's been a long road."
McAdrle's youth coaches share the excitement. Several have followed his career as he climbed from Rockford Icemen to the United States Hockey League (USHL), through four collegiate seasons with Brown and a brief stint in the ECHL. And one in particular has watched up close through it all; Rockford Park District's General Manager of Facilities, Scott Burfoot.
"It's extremely exciting, we've known Josh since he was 11 years old," said Burfoot. "It's a feather in the cap for the city of Rockford, and our hockey program. He's such a great kid and he worked hard and did everything right and it's great to see a kid like this have success and to have him be the first one to sign with the IceHogs and come back is awesome."
As for playing time on a team that made a run to the Western Conference Finals last season, the rookie McArdle may have his work cut out for him. But in the eyes of those who have watched him succeed at every level along the way to the AHL, they have confidence in the Junior IceHogs product can crack the lineup of the professional IceHogs.
"He's a great skater, good sized defenseman, he moves the puck well, he can shoot, he sees the ice very well," said Burfoot. "So I can see him jumping in and being a part of this team right away."
McArdle, however, having grown up watching the IceHogs, acknowledged there's plenty more to do before he's ready to take the ice with his hometown team.
"Obviously I know there's a lot of work ahead of me," said McArdle. "Signing is only the first step. I'm hoping to have a really big summer out east training. Head into camp in September ready to compete and earn a spot on the roster."
Season Tickets for 2018-19 on Sale Now:
Don't miss a moment of the action by reserving your seats for the IceHogs' 20th season of professional hockey in Rockford and 12th as the top AHL affiliate of the Chicago Blackhawks. The IceHogs' home opener is set for Oct. 13 and ticket packages begin as low as $105 for a seven-game mini pack. Please contact us at (815) 847-6399 or visit icehogs.com to claim your spots for this upcoming season.