MARK BERNARD TO DONATE TEDDY BEARS TO CHARITY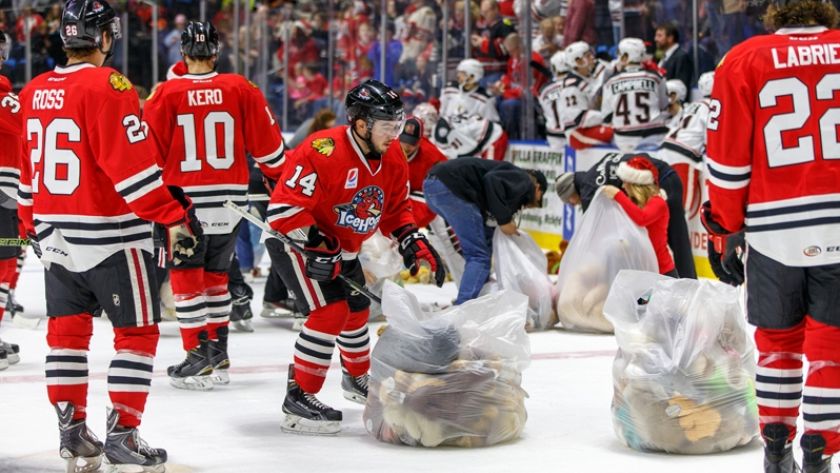 Rockford, Ill. – In addition to adding more tallies to the scoreboard, the Rockford IceHogs have another reason to score more goals in November. Chicago Blackhawks General Manager of Minor League Affiliations Mark Bernard has once again launched the "Bernie's Bears" initiative, where he will make a donation to charity for every goal the IceHogs score in the month of November.

The initiative began on Nov. 1 and continues up to the IceHogs annual Teddy Bear Toss game on Saturday, Dec. 3, Bernard and his wife Julie, will donate a stuffed animal to charity for every goal the Hogs score over that span. The IceHogs have recorded two goals since the beginning of the month and look to continue to score in their remaining 10 contests before Teddy Bear Toss.
"Julie and I are once again thrilled to donate to Teddy Bear Toss for each IceHogs goal leading up to the game," said Bernard. "The city of Rockford and the community have always been outstanding and this is small way for us to give back as a family. We would also like to challenge any local businesses or families to jump on board and match the donation to make this the biggest Teddy Bear Toss in IceHogs history. The Chicago Blackhawks have already decided to match the donation, and we are looking forward to adding many other partners."
Any fan, company or organization who would like to match or participate in the Bernie's Bears donation should contact the IceHogs at [email protected] or 815-968-5222. All those who agree to participate will be recognized on the jumbotron during the game.

All fans are encouraged to participate in the annual Teddy Bear Toss game by bringing a new or gently used stuffed animal to the game. Then, after the IceHogs score their first goal during the Dec. 3rd game against Grand Rapids, fans are encouraged to throw the stuffed animals onto the ice. The furry friends are then collected and donated to local hospitals and charities.

Last season the IceHogs and their generous fan base donated 2,287 bears for charity. To date, the IceHogs have accumulated 24,244 teddy bears for local charities.

Next Home Game: Saturday, November 12 vs. Charlotte Checkers: Face-off is set for 7 p.m. Rockford faces the Checkers in the third of four season meetings. Charlotte makes their first visit to the BMO Harris Bank Center on Nov. 12 and takes on the IceHogs for the fourth and final time on Feb. 18. It's Brovember Night at the BMO in support of local prostate cancer research and education.